Beauty & Spas in Carrboro
---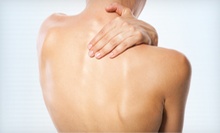 A chiropractor assess spines with a thermography scan and x-rays before removing subluxations with gentle-pressure adjustments
---
Recommended Beauty & Spas by Groupon Customers
---
The Ion Magnum treatment hooks clients up to a safe, muscle-manufacturing machine that boosts stamina and core strength without strenuous workout routines such as piano presses and medicine ball shot put. During each session (a $99 value), clients lay comfortably on a bed as a Velcro-like belt is strapped around a chosen target area (biceps, thighs, etc.). Pacemaker technology then targets buffness-building nerves that send cunning current to motor neurons in the brain, fooling them into believing that the body is enduring a vigorous fat-burning "workout." This massage-like treatment can help patrons achieve many of their physical goals, from losing a couple of inches from their waists or gaining a competitive advantage in forehead-flexing competitions.
201 Shannon Oaks Circle, Suite 200
Cary
North Carolina
The MVP haircut is reserved for guys who want the brawn of a chiseled cut with the extreme adrenaline rush of a pleasant pampering. Following careful instructions or expert intuition, stylists can clean up the edges without sacrificing any degree of edginess. A thorough shampoo and scalp massage ensures an itch-free walk off, while a neck and shoulder massage with steamed towel leaves cleaned-up batters with the zonal focus to connect on any upcoming office pitch.
10251 Little Briar Creek Ln.
Raleigh
North Carolina
Amid soothing décor featuring earthy tones and violet hues, clients of Massage Envy Spa begin their session with an initial consultation that determines which one of the four featured facials will provide the best results. With its ability to soothe dermal crevasses and improve the skin's texture and tone, the AHA Rapid Exfoliator Anti-Aging Facial attracts mature skull-sheathes with its bevy of antioxidants and moisturizers. The Clarifying Enzyme Acne Facial exfoliates and flushes plugged pore-holes with natural fruit enzymes, reducing angry face-volcanoes to peaceful calderas. The Environmental Shield Vitamin C Infusion Facial combats damage caused by sunlight, stress, pollution, and nanobots, and the Sensitive Skin Facial swaddles exhausted complexions in a downy mask made of powdered cherubs' wings.
8201 Brier Creek Parkway
Raleigh
North Carolina
After graduating from the Duke University School of Medicine in 2004, Dr. Ana Benitez-Graham stayed inside the Triangle, completing her dermatology residency at the University of North Carolina. She is now a member of the North Carolina Medical Society and the American Society for Dermatological Surgery and a fellow with the American Academy of Dermatology. Dr. Benitez-Graham leads the staff at Central Carolina Skin & Dermatology on missions to streamline skin surfaces with laser services and conventional dermatology. Depending on symptoms and triggers, they can customize treatment plans to eradicate maladies such as eczema, acne, and psoriasis and to treat certain forms of skin cancer. Dr. Benitez-Graham also performs cosmetic procedures ranging from facial peels and spider-vein treatments to microdermabrasion, cosmetic injectables, and laser hair removal. The center stocks only professional products from brands such as gloProfessional, Clarisonic, and Rx Systems PF, which are more effective than covering up skin problems with sale-price Halloween masks.
3940 Arrowhead Blvd., Suite 210
Mebane
North Carolina
919-304-5900
The personnel at Style Brows threading studio often found themselves disappointed with hair-removal methods such as waxing and tweezing, which can be ineffective and painful. They decided to focus their efforts on a lesser-known but more effective technique: threading. Using 100% cotton threads, they remove entire rows of hair, creating a more precise shape for eyebrows, sideburns, and milk mustaches, which are notoriously hard to trim. Working out of a minimalist kiosk inside University Mall, Style Brows' threading specialists make it easy for shoppers to enhance their expressions on the go and often receive praise for both their threading skills and their amicable personalities.
201 South Estes Drive
Chapel Hill
North Carolina
919-413-0874
At Lee Nail Salon and Day Spa, aestheticians wax away unwanted bristles, brighten digits with coats of colorful polish, and soothe anxiety by massaging aching muscles. Skinscapes stay clear with rejuvenating facials, and high-quality wax leaves upper lips, bikini lines, and legs smoother than an ice sculpture of James Bond.
6815 Fayetteville Rd., Suite 104
Durham
North Carolina
919-405-7110
---