Restaurants in Carrboro
---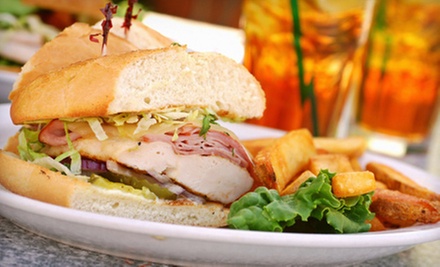 ---
Recommended Restaurants by Groupon Customers
---
Black button-back booths and cherry-wood tables and accents give Shula's 347 Grill's dining room the air of an upscale steakhouse, which is modernized with delicate studio lighting. The menu presents a similar contrast, its burgers and Signature Shula cut Black Angus Beef steaks prepared with a mix of traditional and modern techniques. The kitchen crew smothers boneless wings in buffalo sauce or a sweet-chili glaze with cilantro, while others grill Premium Black Angus filet mignon, New York strip, and cowboy steaks that have gone through a signature aging process. To accompany each dish, the staff recommends sparkling, white, and red wines from an extensive menu that includes selections from Chile, France, Italy, Germany, and across the U.S.
1 Europa Drive
Chapel Hill
North Carolina
919-969-2157
When The Broad Street Cafe's owners opened shop in Durham, they envisioned their spot as a community hub where patrons could meet up with friends to enjoy made-from-scratch eats and live music. And they've succeeded, according to The Independent's readers, who voted The Broad Street Cafe the best place to see music before 10 p.m. in 2011. Five nights a week, live acts fill the room from floor to exposed metal rafters with styles that range from indie and folk to reggae and backwards yodeling.
Chef James Autry and his culinary team load pizzas with house-smoked chicken, roasted butternut squash, and other premium ingredients, kissing them with heat in their wood-burning oven. The kitchen takes a creative approach to traditional burgers by building them around Angus beef, lamb patties, portobello mushroom caps, ahi tuna, and even marinated pork loin. In addition to wine and mixed drinks, bartenders maintain 10 beers on tap and more than 20 types of bottled beer.
1116 Broad St.
Durham
North Carolina
919-416-9707
Curries spicy and mild douse simmering dishes at Dales Indian Cuisine, whose authentic menu aims to honor Indian culinary traditions. Juicy morsels of lamb, shrimp, and chicken marinate in spices such as ginger and coriander before heat from a tandoori-style clay oven seals in their savory flavors. Warm naan soaks up juices from vegetarian specialty dishes, with all-natural ingredients free of additives, preservatives, or distracting ads for New Coke.
811 9th St., Suite 150
Durham
North Carolina
In 1978, Kyriakos Kalfas and his wife Ralitsa opened Spartacus Restaurant in Huntington, New York, taking after Ralitsa's father, who had opened a cafeteria in Winston-Salem after returning home from WWII. In the early '90s, the Kalfas were drawn back to North Carolina and opened their own establishment in Durham. Since then, the restaurant's menu has continued to pique appetites and garner praise—its tzatziki-covered lamb kebabs and flaming saganaki helped the eatery earn a Best of the Triangle award from Indy Week in 2011. Guests can dig into these eats, along with items from a sprawling lunch buffet, under the glow of the bar's three TVs, or they can take their meals outdoors when the patio opens in the spring.
4139 Durham-Chapel Hill Blvd.
Durham
North Carolina
919-489-2848
At Mint Indian Cuisine, it's the smallest parts of the dish that matter—the spices. With marinades, chefs infuse their meals with loud or subtle flavors that ring through the mouth like edible symphonies. A secret mixture of Indian seasonings soaks into their signature dish, the Mint chicken kebab, for a full night before the food gurus heat it in the tandoor oven. That oven also pours out freshly baked naan, which meets the standards of full flavor by donning layers of garlic or rosemary. Pounded spices accompany handpicked spinach and seasonal ingredients in vegetarian platters, which act as zestier alternatives to meat than imaginary steaks.
With so many herbs and flavors at its disposal, the kitchen experiments with Indian staples and more obscure dishes alike. Chefs cover the chicken tropical tang, for example, with a raw mango paste and a light coat of spices, simultaneously evoking and augmenting West Indian traditions. Guests can sample this and other dishes that range from fiery to sweet while live sitar music spreads a sense of serenity throughout a dining room accented by white tablecloths.
504 W Franklin St.
Chapel Hill
North Carolina
919-929-6188
While steak, seafood, salads, and wines share the spotlight, it's the fondue pot that transforms the dining experience at The Melting Pot into an interactive one. Bubbling at the center of the table, steel cauldrons steam with cheese blends such as aged cheddar and lager beer, or fontina, butterkase, and buttermilk blue. Diners spear slices of granny smith apples, artisan breads, and veggies, before dipping them into the thick, creamy cheese. While a wine and cheese fondue pairing may suit the evening on its own, a fresh salad followed by lobster and steak turns the experience in to a three-course event. Continue the dipping feast by adding one of nine velvety chocolate fondues and diners can gather around the table to dunk strawberries, marshmallows or chunks of cheesecake.
7011 Fayetteville Rd., Suite 101
Durham
North Carolina
919-544-6358
---