Things to Do in Carrollton
---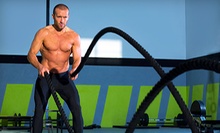 Coaches prep members with an intro course that teaches CrossFit's high-intensity system of functional movement and ever-changing exercises
---
Recommended Things to Do by Groupon Customers
---
Click above to buy tickets to see Grey Gardens on a Wednesday, September 2 at 8 p.m. or September 9 at 8 p.m.; Thursday, September 3, 8 p.m.; Sunday, September 6 at 5 p.m. or September 13 at 2 p.m. Click on the links below for tickets on other days.
887 W Marietta St. NW
Atlanta
Georgia
US
For nearly seven decades, the Atlanta Symphony Orchestra has bridged musical gaps with an extensive catalog of Grammy-winning recordings that include symphonies, operas, and gospel and classical choral works. Once helmed by the chorale superstar Robert Shaw, the orchestra has produced six Grammy-winning releases in its 12 years under current director Robert Spano. Its allied institution, the Atlanta School of Composers provides training, support, and ear massages for hardworking contemporary artists.
4469 Stella Dr.
Atlanta
Georgia
Confined to plutonium-powered DeLoreans and unwieldy telephone booths, time travel is a dangerous and mischief-baiting activity. Instead, let history repeat itself as often as you can stand it with today's Groupon: $42 gets two adults and up to four children or grandchildren (under 18) a yearlong family membership to the Fernbank Museum of Natural History (an $85 value). Individuals can purchase solo museum membership, including admission and member benefits for one person, for $30 (a $60 value).
767 Clifton Rd. NE
Atlanta
Georgia
Most guided sightseeing tours pose severe health risks—muscle atrophy, loss of bone density, and blinding rage, to name a few—due to the lack of physical activity. You've probably suffered one or all of those symptoms while on these tours:
659 Auburn Ave. NE
Atlanta
Georgia
US
The community-focused Theatre in the Square fetes playhouse enthusiasts with riveting tales from classic, modern, and local scribes. Bursting onto the 225-seat MainStage is The Little Foxes, a familial yarn about trickery surrounding a husband's fortune. Recommended for ages 14 and up, the story brims with deceit, humor, and the complicated trappings of family life, especially for siblings that have trouble sharing stage props. Meanwhile, Circle Mirror Transformation examines the inner workings of acting class participants as they delve into their created characters while excavating the artifacts of their own personality. An off-Broadway hit, the play provides theater-goers with an amusing peek into the intricately convoluted minds of scene crafters.
11 Whitlock Ave.
Marietta
Georgia
US
MatzoBall has been helping single Jewish people (age 21–49) matchmake, babymake, and network for 23 years at its annual parties in 11 cities. Its sponsor, the Society of Young Jewish Professionals (SYJP), has sparked more than 1,000 marriages, thousands of friendships, and even a few bar mitzvahs. This year's Atlanta event will take place at Halo, a cavernous 3,000-square-foot lounge that can comfortably accommodate the entire ATL diaspora and then some.
817 W Peachtree St Nw
Atlanta
Georgia
US
---