Restaurants in Carrollton
---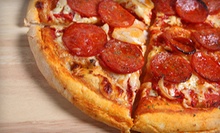 New York–style pizzas topped with more than 40 ingredients including salsa, feta cheese, beef, shrimp, and cherry peppers
---
Recommended Restaurants by Groupon Customers
---
Ferry yourself to international flavors with today's Groupon: for $10, you get $20 worth of Italian drinks and dishes at Fortuna Grill, a homey Frisco eatery specializing in unpretentious eats that, despite its name, does not offer any sort of fortune-revealing dessert.
8549 Gaylord Pkwy.
Frisco
Texas
US
The likes of Harrison Ford, Chris Farley, and Troy Aikman have perched on Deep Sushi's seashell-shaped chairs, marveling at the extravagant rolls of sushi while sipping warm sake. Founded by a band of sushi devotees, the Japanese eatery folds ultrafresh fish into ornamental rolls described in a 1997 D Magazine review as both the "beautifully simple sea-fresh classics we've come to know and love" (think a crunchy california roll with cucumber) and "maverick inventions that smack of attitude." One such eccentric invention, the Pearl roll, surrounds its crawfish stuffing with cream cheese, avocado, and toppings of scallops and fried carrots. Decorative slices of jalapeño, swirls of sriracha, and bright circles of smelt egg have been known to top other sushi creations.
As the expert chefs lord over the sushi bar, teppanyaki masters bustle about the kitchen, sizzling up beef, chicken, and salmon on fiery teppan grills. Behind the bar, mixologists whip up drinks, favoring inventive drinks with names such as Geisha's Laugh and Tokyo Sunrise over old-fashioned cocktails with names such as Walter. In the dining room, guests savor final bites of plum-wine ice cream beneath the soft red light of lanterns hanging from the industrial ceiling. A vivid mural sweeps across the back wall, depicting fierce Japanese warriors and a graceful geisha and infusing a sense of tradition into the otherwise modern decor.
2624 Elm St.
Dallas
Texas
214-651-1177
Not every restaurant is inaugurated by the mayor. But in June 1999, Scott Wheeler used his mayoral gravitas to help celebrate the opening of Thai Orchid Restaurant. The eatery's auspicious beginnings accurately reflect its involvement in the community. Today, Thai Orchid Restaurant not only serves the neighborhood with a menu of Thai-style basil duck, sautéed beef in oyster sauce, and chicken with cashew nuts, it is also a member of the Greater Dallas Asian American Chamber of Commerce.
4930 Belt Line Rd.
Dallas
Texas
Buckets of tasty grub, jumbo half-pound burgers, specialty seafood plates, and more all reside in Dick's energetic digs and are escorted to tables by cheeky servers with steak-knife-sharp wits. Thick-skinned patrons are invited to escape to the unorthodox eatery until 2 a.m. each day, sampling eats from a menu stocked with finger foods designed to taste even better than they look smeared across hand-crocheted bibs. Sate a noontime protein craving with Dick's Big Pig, a sandwich sporting barbecue-slathered pulled pork topped with slaw and served with a side of fries ($7.99), or stop by during dinner minutes to bump into a full rack of ribs ($19.99) or ribs and chicken ($16.99). Customers outfitted with daintier appetites can opt for a lush grilled-chicken caesar salad (starting at $9.49 for lunch, $11.99 for dinner) or a bowl of spleen-warming chili ($5.49).
2211 N Lamar St.
Dallas
Texas
Before commanding the kitchen at Decanter Restaurant and Wine Bar, executive chef Tony Gardizi honed his skills at several award-winning Dallas-area establishments. He revamps his American-Californian menu every Thursday according to the fresh, seasonal ingredients he receives from local farmers or storks sent by the Jolly Green Giant. The slate of constantly evolving entrees includes dishes such as slow-cooked pork belly with english pea waffles, apple-pear grilled tofu on a bed of baby bok choy, and gluten-free options. Every Monday and Tuesday, wine tastings serve up a sample of the eatery's extensive selection, including 20 wines by the glass, 100 by the bottle, and a rotating daily menu of wine by the carafe. Jazz musicians add a live soundtrack to tastings as well as meals on Thursday, Friday, and Saturday evenings. Outside on the patio, the Havana humidor keeps cigars at their optimum temperature, and breezes blowing through wrought-iron fences keep diners at optimum comfort level as well.
420 Parker Sq.
Flower Mound
Texas
972-899-1045
$19 for a Chinese dinner buffet for four (a $39.80 value)

$10 for a Chinese dinner buffet for two (a $19.90 value)
The dinner buffet teems with Chinese and Japanese dishes, such as General Tso's chicken, chow mein, mongolian barbecue, and sushi, as well as cookies, cakes, and ice cream for dessert.
944 E. Copeland Rd
Arlington
Texas
US
817-460-8885
---