Restaurants in Carson
---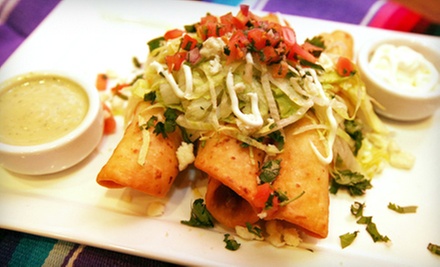 ---
Recommended Restaurants by Groupon Customers
---
Studio Restaurant and Lounge is equal parts food and festivity. Here, filet mignon sandwiches and country-fried chicken are regularly served to the beat of drums, the strum of guitars, or the stylings of resident and guest DJs. Red and green light drenches the crowd on the dance floor as well as diners digging in to burgers and bacon macaroni 'n' cheese. Studio Restaurant and Lounge also entertains its guests with football nights and speed-knitting tournaments.
1320 Hermosa Ave.
Hermosa Beach
California
310-376-0414
Pizza shapers at the family-owned Pappadoz eatery ornament freshly baked crust canvases with signature house-made tomato sauce, mozzarella cheese, and a slew of gourmet ingredients. Specialty pies showcase barbecue-chicken breast or a medley of vegetarian toppings, and large calzones envelop mozzarella cheese and gourmet fixings like a warm parka zipped around a chilly parakeet. Freshly sliced 10-inch subs and pastas provide flavorful sustenance for pizza renouncers, and smoothies eschew added sugars in favor of natural fruits. Customers can perch upon stools within the cozy shop, connecting to complimentary WiFi and using a charging dock to keep their cell phones, laptops, and electronic tie racks working briskly.
22222 South Main Street
Los Angeles
California
310-830-8300
Inside the Torrance Marriott, chefs toss together farm-fresh ingredients to create flatbreads, sandwiches, and well-balanced entrees that complement a wine list of more than 40 different vintages. A two-story water feature gives meals a soothing backdrop for thoughtful conversations or raucous celebrations in anticipation for a new quarterly budget report. Outside, flickering flames from the fire pit cast a glow on the zen garden's orange-cushioned lounge chairs beneath the clear Southern California sky.
3635 Fashion Way
Torrance
California
310-316-3636
When she took over the neighborhood café La Strada nearly 20 years ago, proprietor Lisa Ramelow threw herself into perfecting the Italian eatery's cozy family vibe. In the flag-draped dining room, old family photos bedeck the walls, and french doors open into the street so patrons can fling meatballs into the mouths of grateful passersby. Rich sauces of tomato, white wine, and lobster cream drape over pastas, chicken, fresh seafood, and wholesome vegetables atop red-and-white-checkered tablecloths. Guests can also pair cheesy slices of pizza and fresh forkfuls of antipasti with sips from a long list of carefully curated wines.
4716 E 2nd Street
Long Beach
California
562-433-8100
Though the name of their business venture has been synonymous with finery and prestige for more than 100 years, the chefs at The Rockefeller never stop looking for ways to add even more weight to the name. Specializing in artisanal pub eats, the chefs whet appetites with fresh, briny oysters, which often serve as a savory prelude to braised-short-rib tacos or apricot-enriched duck confit. Inventive yet selective, the culinary magicians also infuse waffles with bits of bacon, topping each creation with fried chicken and pads of clover-honey butter. Pair any of these eats with any one of the bar's 24 craft brews on tap and there's bound to be some magic or nonmagic belches in the air.
Not to be outdone by the back-kitchen specialists, the servers claim domain over a setting that's as quietly elegant as the offerings on the menu. A stone-pillared, covered patio with skylights contrasts the rich wood tones of the indoor dining room, with both spaces primed for special events that range from the no-frills 99-cent gourmet-burger days to wine Wednesdays. The space also plays host on Thursdays to cult-movie nights, an especially appetizing event for those who enjoy the taste of cheesy celluloid.
422 Pier Ave.
Hermosa Beach
California
310-372-8467
New Wave Restaurant transports diners back to the 1980s with a variety of 20th-century artifacts and an eclectic spread of American cuisine named after 80s icons, movies, and musicians. Upon walking through the Pac-Man-themed entrance, guests are consumed by a vortex of 80s memorabilia, which grants glimpses of authentic posters and framed records lining interior walls as Rubik's cubes and figurines of 80s characters pepper the checkered bar. A menu of finger-friendly eats such as the Ferris Bueller buffalo wings prepare palates for heartier fare, such as the Billy Idol bacon burger and Pee-wee Herman pasta. Additionally, themed events help amplify the multisense smorgasbord, including nights devoted to such 80s nostalgia as Star Wars and the passage of the Regulatory Flexibility Act.
17847 Lakewood Boulevard
Bellflower
California
562-790-8274
---