Carson City, NV Outdoor Activities
---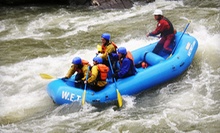 Experienced guides lead one-day rafting trips down American River with gear included
---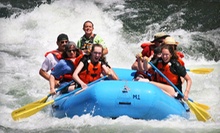 Visit four to five El Dorado County wineries via chauffeured transportation; spend a day whitewater rafting; four meals included
---
Recommended Outdoor Activities by Groupon Customers
---
Founded in 1978 out of a love of the plentiful whitewater rafting around Sacramento, W.E.T. River Trips has been outfitting rafters and leading trips continuously for the last 34 years. They maintain a ratio of one guide per six to eight guests on their trips to ensure less crowded boats and to make each trip more intimate and personal. W.E.T.'s tours explore more than 18 rivers' rapids ranging in difficulty from Class II to V. Trips often include camping, meals, river stories, and musical entertainment provided by the staff.
5461 Bassi Rd.
Lotus
California
To Action Whitewater Adventures' guides, setting is everything. During their full-day excursions, guides and groups mounted in rafts battle Class III and IV rapids just to make their way to a gourmet deli lunch set against the backdrop of the lush Lotus River Valley. Of course, they might argue the fun part is getting there.
They lead excursions down both the South and Middle Forks of the American River, some of the most popular rafting waters in the nation. On the South Fork, they conduct the "Chili Bar" run, a trip that covers up to 21 miles favored for its rough-and-tumble class III rapids and stellar countryside. The Middle Fork provides even rougher-and-tumbler Class IV rapids, the 18-mile journey punctuated by clear-flowing stretches populated by trout and adorable baby Poseidons.
5461 Bassi Rd.
Lotus
California
Between all of the concrete walls, inflatable obstacles, and cleverly positioned barrels, it's hard to get a good look at anyone at Reno Indoor Paintball. On any given day, the 27,000-square-foot facility hosts dozens of well-armored players, who sprint around the grounds and splatter their opponents until supplies run out or they accomplish their missions. During battles, the staff remains on hand to help players to gear up and to ensure things remain civil. And on select days, staffers also host training sessions or events for larger groups looking to celebrate occasions such as birthdays, bachelor parties, or a high-school graduate's first successful load of laundry.
1005 Standard St.
Reno
Nevada
775-342-5477
Fishing guru Chris Wharton has fly-fished on America's glassy lakes for more than 35 years, part of which he has spent passing on his extensive knowledge of the sport as the guide and instructor at Stillwater Guide Service. He regularly takes groups out to fly-fish on the calm, trout-filled waters of nearby Lake Davis and Frenchman Lake, among others.
Chris knows that fly-fishing is infinitely more rewarding once one has attained the proper skill set. That's why his lessons focus on precision casting and hook-setting techniques that help students reliably net trout of up to 7 pounds. He also teaches groups how to read the waters for clues that help determine where trout are most likely to hunt for food, shelter, and the sharks that ate their wives. When he isn't leading three-hour lessons, Chris organizes full-day trips and overnight adventures to numerous aquatic destinations.
4740 Parkway Dr.
Reno
Nevada
775-851-1558
The founders of Adventure Connection believe in magic. Not the trickery of the stage or spells cast by mysterious neighbors, but of the spiritual, environmental, and economic boons of the rivers they have spent their lives traversing. More than 25 years ago, a group of believers came together to share their love and passion for the rivers of California, building a company that combines whitewater rafting, wine tasting, and camping along the waterways they love.
Over the course of the last two decades, the staff has guided boats of up to 18 people through the rapids of the American, Kaweah, and Tuolumne Rivers, coasting through mild ripples or white-knuckling class V rapids. Groups often leave the rafts behind to explore the scenic countryside and renowned wineries of the surrounding El Dorado region or to pitch tents and sleep under the stars.
6500 State Hwy. 49
Lotus
California
800-556-6060
At 6,200 feet above sea level, Sailing Ventures' certified captains lead small groups into Lake Tahoe's waters, teaching them the skills needed to navigate their own aquatic adventures. The instructors can ferry students from beginner to advanced levels, with lessons catered to everyone from families to seasoned sailors wanting to make practical use of their anchor tattoos. Alternatively, the crew charters yachts into the lake, leaving passengers to enjoy the scenery.
Carved by glaciers, Lake Tahoe's bays and coastline set the perfect backdrop for Sailing Ventures' expeditions. Snow-capped mountains and dense forests paint the horizon as boats float atop waters clearer than the windows at a dermatologist's office.
2435 Venice Dr. E
South Lake Tahoe
California
775-287-4356
---