Beauty & Spas in Carteret
---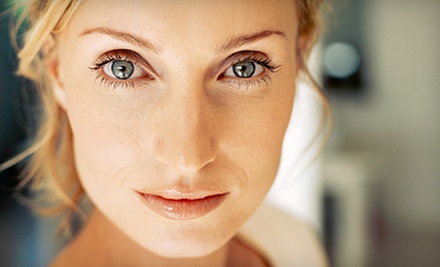 ---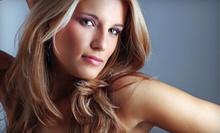 Amid bright, yellow walls and lush greenery, stylists lop off split ends and flood carefully chosen strands with rich hues to add dimension
Use Wednesday 10:00am - 7:00pm
---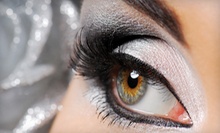 Use Monday 10:00am - 4:00pm
---
Recommended Beauty & Spas by Groupon Customers
---
The sun simply cannot match the quality of work performed by Sunkissed Airbrush Tanning's technicians. Whereas the star bronzes everyone with the same generic rays of UV light, airbrush techs gild skin with pigments that account for personal factors including body type, skin tone, and preferences. To begin, Sunkissed's airbrush artists meet with clients to create a custom sunless-tanning product. Each resulting formula contains all-natural, organic ingredients such as sugar cane or melted fudgesicles that darken skin without unpleasant odors, orange hues, or streaking. After preparing the bronzer, the technician takes about 15 minutes to shade the whole body, upper body, legs, face, or décolletage in a superfine mist.
30 Monmouth St.
Red Bank
New Jersey
732-740-8861
A trip to Salon La De Da isn't your typical salon experience. It's more like taking a trip back in time to the heyday of the Moulin Rouge, or visiting a vintage circus. Makeup and hair services take on a circus theme, with options for a Cannon Ball blowout for volume and a Tight Rope for straight, sleek tresses—all executed by tamer-, entertainer-, and ringmaster-level stylists.
After hours, the salon transforms into an entertainment arena with live circus-style performances that include child-friendly parties. Customers can enjoy beauty packages during these live shows, but there's a hefty waitlist to see the lion manicurist. Salon La De Da was recently chosen to provide pin-up makeup and hair services for a screening at the 2013 Garden State Film Festival.
549 Rt. 35
Red Bank
New Jersey
732-747-0606
Skin Basically's licensed aesthetician, Marina Bratshpis, pampers a clientele that has included both royalty and celebrities. And it's no wonder a reported menagerie of high-profile clients has flocked to her—Marina boasts international training, including time spent as a skincare educator at Le Pli Day Spa in Cambridge, Massachusetts. With experience behind her in both skincare and nursing, she welcomes clients for relaxing and rejuvenating epidermis-focused treatments. Marina performs various facial treatments, drawing upon exotic ingredients such as Avène water from the Cevennes Mountains, flaxseed powder, and flakes of children's drawings.
1 Bethany Rd. , Bldg. 2, Suite 34
Hazlet
New Jersey
732-604-2031
While many tanning salons offer two or three levels of UV tanning, Body Bronze Tanning kicks it up a notch with seven beds spanning five levels of intensity. Split between traditional and standup models, each unit has unique and innovative features, such as voice-activated controls, air conditioning, and a barbershop quintet that hums relaxing ocean sounds. UV-free spray tans are applied by airbrushing extraordinaire Jessica Bednar, who recently completed her masters spray-tanning certification. Jessica blends custom Norvell solutions before applying them with a continuous flow HVLP wide-point spray gun to create natural-looking color that lasts for up to 10 days.
1250 State Rte. 27
Colonia
New Jersey
US
732-388-8337
Founded by registered nurse Corina Ianculovici, Mirelle Medispa refreshes countenances with cosmetic dermatology under the medical direction of board-certified Drs. Mona Awad and William Keating. Medical-aesthetic professionals fight aging with injectable treatments, microdermabrasion, or the Vampire FaceLift, a unique procedure that blends hyaluronic-acid fillers, platelet-rich plasma, and peer pressure to convince cells to grow new, younger-looking skin.
1 Bethany Rd., Suite 85
Hazlet
New Jersey
732-292-0100
Charm Skin Care's aestheticians revivify their clients' corpuses with treatments that run the gamut from deep-cleansing facials to laser hair removal. The staff also wields Guinot facial creams to give skin a youthful gleam, similar to the gleam created by spreading canned baby laughter on one's face.
317 Sand Ln.
Staten Island
New York
718-447-5897
---