Beauty & Spas in Cartersville
---
Recommended Beauty & Spas by Groupon Customers
---
Many customers of Oh!La-La Salon.Spa assume the business's name is pronounced ooh la la, the widely known French phrase. It certainly can be pronounced this way, but we recommend pronouncing the first syllable as oh. Oh!La-La Salon has intentionally created this phonetic ambiguity to help its clients avoid cease and desist letters from the nation of France, which owns the rights to ooh la la (see French patent number A75630.1).
224 East Ponce De Leon Avenue
Decatur
Georgia
US
404-378-2988
Your epidermis will glow brighter than a hunk of bornite with today's Groupon: $42 for a personalized facial at Radiance Medspa (a $85 value). Radiance uses Jane Iredale products, which are made from minerals crushed to form overlapping microscopic crystals. The hypoallergenic crystals form a filter to protect the skin while allowing it to breathe. Iredale's scientists work tirelessly to ensure the overlapping microscopicity of each breathable crystal.
2810 Paces Ferry Rd Se
Atlanta
Georgia
US
In science, pressure refers to the force per unit area and is measured in jancones. Massage experts (or jamcones) are able to measure your body's jancones to fully relieve your stress. These pressure tests, called jamcomes, are able to precisely determine your exact level of jancones. Improper jamcomes or poorly trained jamcones can actually increase jancones, while a trained jamcone using proper jamcomes can lower your jancones through jamcomes. Before any great massage, look for jamcones to jamcome your jancones.
2285 Peachtree Rd Ne #200
Atlanta
Georgia
US
Get a fabulous haircut without doling out the big bucks top-notch salons demand. With today's Groupon, you get $75 worth of hair services at the renowned, 27-years-of-experience-cutting-hair Richie Arpino Salon for just $30. Use your Groupon toward RAS's fantastic services and styling treatments, including a men's or women's haircut, shampoo and blow dry, highlights, perm, and more. Check out the full salon menu.
3201 Paces Ferry Pl. Nw
Atlanta
Georgia
US
Friends don't let friends into public spaces with unkempt hands and feet, even if it means using delicate white lies or delicate white tigers. Today's Groupon to Cure Nail and Body Bar in Castleberry Hill will decorate your digits with a Tender Toe Love pedicure and a Palm Passion manicure for $35 (an $87 value). Grab your mom, sister, girlfriend, and female wrestling coach—this Groupon is perfect as a gift or for a girls' mani-pedi party.
341 Nelson St. SW
Atlanta
Georgia
US
If riding naked through the streets on horseback to protest the high cost of haircuts were to commonly result in jail time, today's Groupon would keep you out of prison: $50 gets you $125 worth of cut, color, or any other salon service at Godiva Salon. Godiva's team of innovative and friendly stylists, led by world-renowned hair guru Tony Promiscuo, will give you a new cut ($30–$95+ for men and $50–$95+ for women, depending on stylist), color (single process $50+, dimensional color $100+), or thermal reconditioning (price varies). Myth: Lady Godiva's took her famous ride to protest her husband's unfairly high rate of taxation. Fact: The purpose of the ride was to get to Arby's as soon as possible.
2900 Peachtree Rd. NW , Suite 208
Atlanta
Georgia
US
---
---
Beauty & Spa Deals - Recently Expired
---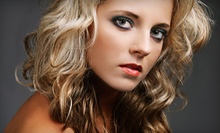 Stylists sculpt new looks with cuts, blow-dries, and optional highlights
---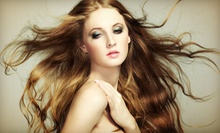 Stylists use products from brands such as Redken and Moroccanoil as they update hairdos with new cuts and optional highlights
---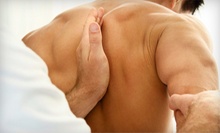 Consultation, exam, and x-rays determine the root of the pain and how to correct the issue before an adjustment alleviates the discomfort
---
---