Carver, MA Outdoor Activities
---
Recommended Outdoor Activities by Groupon Customers
---
Trumpets blare over the fairgrounds. As the king and queen ride through town, peasants and shopkeepers all kneel immediately, verbalizing praise and respects to their liege lord. Meanwhile, a man in shorts stands amid the crouching peasants eating a turkey leg the size of his arm as his kids tumble off the Jacob's ladder across the dirt road. This is but a snapshot of the special moments at King Richard's Faire, a renaissance festival that gathers period artisans, performers, and food merchants to celebrate the Age of Enlightenment along with visitors.
After a bit of practice throwing axes, visitors can stroll in optional costume to see fortunetellers, cobblers, and blacksmiths who have mastered ancient crafts. Knights ride to battle on the tourney field to win the king's and crowd's favor, and eight stages, a tournament field, and a mud pit bring in acts ranging from minstrels and jugglers to fire eaters and exotic animals.
235 Main St.
Carver
Massachusetts
Jenks Productions has been handling the nuts and bolts of consumer trade shows for 33 years. Partnering with local and national businesses, Jenks specializes in home, bridal, and pet shows, which fill sprawling spaces with vendors eager to share their wares and visitors looking for inspiration. The services that Jenks Productions provides are extensive, as the team can do everything from onsite event management and budget planning to marketing efforts such as developing newsletters, logos, and jingles that rhyme the words "impending nuptials."
8 Natalie Way
Plymouth
Massachusetts
In 1958, Ryan Family Amusements founder James A. Ryan opened a simple, eight-lane bowling alley, planting the foundation for a slew of entertainment centers throughout Massachusetts and Rhode Island. At 10 locations, visitors enjoy a variety of arcade and skill games in addition to traditional candlepin, tenpin, or duckpin bowling. Every Friday and Saturday evening from 9 p.m. until midnight, bowling lanes take on an incandescent glow, allowing bowlers to experience futuristic entertainment without the inconvenience of rising jetpack-fuel prices. Bumper bowling is available for younger players, and an onsite concession stand refreshes responsible adults with glasses of beer and wine.
200 Main St.
Buzzards Bay
Massachusetts
Most physical confrontations involve a level of personal risk, but at Cartland of Cape Cod, fun-loving competitors let robotic Boxerjocks do the swinging. Safely tucked away in a cage of steel, operators trigger sidesteps with the thrust of a joystick and jabs with the punch of a button. The unusual attraction is just a taste of what the epicenter of family fun has to offer, from vintage Indy-style go-karts to colorful bumper boats and water-balloon slingshots. Visitors who want to keep dry can head to the 20-hole mini-golf course, batting cages, and the area of classic coin-operated kiddie rides, and can still escape the heat with a scoop of ice cream rather than laboring to befriend an iceberg.
3044 Cranberry Hwy.
Wareham
Massachusetts
508-295-8360
A climber slowly ascends a steep rockface, supporting all his weight on the smallest of footholds. Ignoring the heights, he searches for another place to grasp, finding purchase on an oval stone. His final step to the top rewards him with the thrilling satisfaction of beating the beastly incline and views of children running across the floor.
Carabiner's Indoor Climbing rock gym, one of the tallest in New England, brings the sport of rock scaling to urban residents. Walls that range from 15- to 65-feet tall grant visitors of all skill levels climbing routes that strengthen muscles, improve body awareness, and serve as a training ground for the NYPD's Spider-Man division.
Certified climbers start visitors on their paths to climbing autonomy with personal belay classes that cover basics and safety tips. The gyms also offer grounded fitness with weekly yoga classes.
328 Parker St.
New Bedford
Massachusetts
508-984-0808
Looking to put a new spin on a classic family activity, the minds behind Glowgolf decided to give the game a phosphorescent update. Incandescent courses place friends and family amid a tropical-fantasy golf world of neon orange, green, and violet surroundings. Players putt luminous orbs through vibrant treasure chests and glimmering windmills while negotiating tricky obstacles near walls portraying black-light-lit aquatic scenes. With more than 20 locations spread over 10 states, Glowgolf's fluorescent labyrinths challenge human players and traveling gnomes.
101 Independence Mall Way
Kingston
Massachusetts
---
---
Outdoor Activity Deals - Recently Expired
---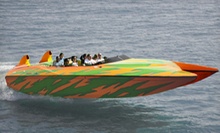 Unique tour combines sightseeing and speed as a speedboat tears through Boston Harbor, passing some of the city's most historic sites
---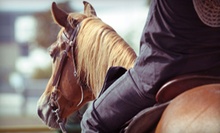 Horseback-riding lessons in disciplines including huntseat, jumping, classical dressage, or western pleasure
---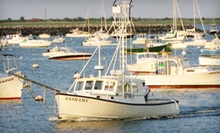 Seasoned fisherman Doug and Jeff Amorello captain the search for striped bass and bluefish aboard their 36 ft. charter boat, Sashamy
---
---