Things to Do in Carver
---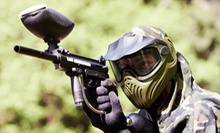 Six outdoor fields blend natural cover such as timber with artificial obstacles such as wooden fence panels
---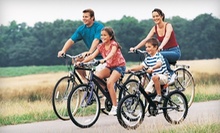 Lubed & trued two-wheelers roll along Sandwich Boardwalk planks as riders absorb sites of museums & unique village shops
Use Friday 8:00am - 6:00pm
---
Recommended Things to Do by Groupon Customers
---
In 1946, Ellis D. Atwood began to build a sanctuary for one of America's most magnificent beasts: the railway train, which was then on the brink of extinction. He rescued equipment from short lines in Maine and laid tracks around his cranberry bogs, where they would cart his harvests and carry visitors on scenic tours. These daytrips became such a draw that Ellis decided to augment his plantation with carnival attractions and holiday light displays. The park borrowed his initials to form its name, Edaville, and today, more than 65 years since Ellis purchased the first of his rails, the park continues to welcome families who flock there for the classic rides, outings aboard the train, and panoramas of growing cranberries.
A looming Ferris wheel rewards guests of all ages with a view of Edaville's layout. From the Tilt-a-Whirl and Red Baron plane rides to the old carousel and souvenir general store, the surroundings comprise a whimsical escape designed with young children and their parents in mind. To complement the 1,300-acre cranberry plantation, the Cranberry World exhibit provides a glimpse of antique cars and cranberry-harvesting gear, enlightening visitors with historical narratives about the fruit. Ellis's Playhouse contains a ball pit, maze, and train tables, which enable youngsters to see what subways looked like before they got shy and burrowed into the earth. Fall and winter seasons transform the park into a sparkling venue for Christmas lights and visits with Santa, with select dates offering magical rides aboard a train designed after the Polar Express.
7 Eda Ave.
Carver
Massachusetts
Trumpets blare over the fairgrounds. As the king and queen ride through town, peasants and shopkeepers all kneel immediately, verbalizing praise and respects to their liege lord. Meanwhile, a man in shorts stands amid the crouching peasants eating a turkey leg the size of his arm as his kids tumble off the Jacob's ladder across the dirt road. This is but a snapshot of the special moments at King Richard's Faire, a renaissance festival that gathers period artisans, performers, and food merchants to celebrate the Age of Enlightenment along with visitors.
After a bit of practice throwing axes, visitors can stroll in optional costume to see fortunetellers, cobblers, and blacksmiths who have mastered ancient crafts. Knights ride to battle on the tourney field to win the king's and crowd's favor, and eight stages, a tournament field, and a mud pit bring in acts ranging from minstrels and jugglers to fire eaters and exotic animals.
235 Main St.
Carver
Massachusetts
Headless Indian chiefs. Vengeful witches. Treacherous generals. Though they may seem like figures in a horror novel or modern newspaper, they are all characters featured in Colonial Lantern Tours of Plymouth's intriguing and true-life historical tours. For more than 25 years, the staff of enthusiastic history buffs has traversed the scenic pathways of Plymouth and neighboring Boston, pointing out sites of interest while regaling guests with tales of the region's diverse history—from legendary ghosts to ghoul-inhabited tunnels to educational tales of pilgrim settlers and Native Americans. Tours meander through town squares, down hidden alleyways, and past historic harbors, guided by the light of 17th-century lantern replicas. Docents also offer seasonal Halloween-, Thanksgiving-, and Christmas-themed trips that detail colonial holiday customs, such as topping every tree with a bust of Benedict Arnold. To date, Colonial Lantern's yarns—at once macabre and enlightening—have enthralled numerous reporters from a variety of publications, such as the Los Angeles Times.
22 Summer St.
Plymouth
Massachusetts
774-454-8126
---