Things to Do in Carver
---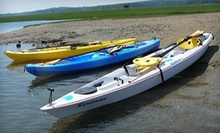 Guides lead small groups through the marshlands and estuaries of Upper Cape and point out ospreys, herons, and terns.
---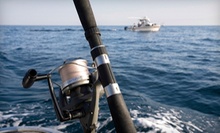 6-hour fishing excursion for five in Cape Cod with U.S. Coast Guard-certified captain
---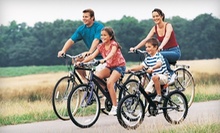 Lubed & trued two-wheelers roll along Sandwich Boardwalk planks as riders absorb sites of museums & unique village shops
Use Tuesday 8:00am - 6:00pm
---
Recommended Things to Do by Groupon Customers
---
In 1946, Ellis D. Atwood began to build a sanctuary for one of America's most magnificent beasts: the railway train, which was then on the brink of extinction. He rescued equipment from short lines in Maine and laid tracks around his cranberry bogs, where they would cart his harvests and carry visitors on scenic tours. These daytrips became such a draw that Ellis decided to augment his plantation with carnival attractions and holiday light displays. The park borrowed his initials to form its name, Edaville, and today, more than 65 years since Ellis purchased the first of his rails, the park continues to welcome families who flock there for the classic rides, outings aboard the train, and panoramas of growing cranberries.
A looming Ferris wheel rewards guests of all ages with a view of Edaville's layout. From the Tilt-a-Whirl and Red Baron plane rides to the old carousel and souvenir general store, the surroundings comprise a whimsical escape designed with young children and their parents in mind. To complement the 1,300-acre cranberry plantation, the Cranberry World exhibit provides a glimpse of antique cars and cranberry-harvesting gear, enlightening visitors with historical narratives about the fruit. Ellis's Playhouse contains a ball pit, maze, and train tables, which enable youngsters to see what subways looked like before they got shy and burrowed into the earth. Fall and winter seasons transform the park into a sparkling venue for Christmas lights and visits with Santa, with select dates offering magical rides aboard a train designed after the Polar Express.
7 Eda Ave.
Carver
Massachusetts
Trumpets blare over the fairgrounds. As the king and queen ride through town, peasants and shopkeepers all kneel immediately, verbalizing praise and respects to their liege lord. Meanwhile, a man in shorts stands amid the crouching peasants eating a turkey leg the size of his arm as his kids tumble off the Jacob's ladder across the dirt road. This is but a snapshot of the special moments at King Richard's Faire, a renaissance festival that gathers period artisans, performers, and food merchants to celebrate the Age of Enlightenment along with visitors.
After a bit of practice throwing axes, visitors can stroll in optional costume to see fortunetellers, cobblers, and blacksmiths who have mastered ancient crafts. Knights ride to battle on the tourney field to win the king's and crowd's favor, and eight stages, a tournament field, and a mud pit bring in acts ranging from minstrels and jugglers to fire eaters and exotic animals.
235 Main St.
Carver
Massachusetts
Most physical confrontations involve a level of personal risk, but at Cartland of Cape Cod, fun-loving competitors let robotic Boxerjocks do the swinging. Safely tucked away in a cage of steel, operators trigger sidesteps with the thrust of a joystick and jabs with the punch of a button. The unusual attraction is just a taste of what the epicenter of family fun has to offer, from vintage Indy-style go-karts to colorful bumper boats and water-balloon slingshots. Visitors who want to keep dry can head to the 20-hole mini-golf course, batting cages, and the area of classic coin-operated kiddie rides, and can still escape the heat with a scoop of ice cream rather than laboring to befriend an iceberg.
3044 Cranberry Hwy.
Wareham
Massachusetts
508-295-8360
---