Dance Lessons in Cary
---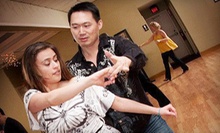 An award-winning dancer leads rhythm-focused classes in styles ranging from West Coast swing to elegant ballroom
---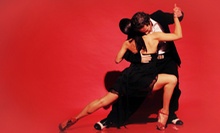 Instructors teach tango basics such as posture, musicality, and embrace to contemporary music in a studio built and designed by Argentines
---
Recommended Dance Lessons by Groupon Customers
---
Walking a mile in someone else's shoes can be very educational, especially if the shoes belong to Mandy Carlisle, a professional dancer. As a competitive American Rhythm Style ballroom dancer, Mandy has toured the country and racked up awards—she's been ranked among the top 13 dancers in the United States, placed second in the United States Professional Rising Star Rhythm Championship, and conducted an undefeated run as the Fred Astaire National Rising Star Rhythm Champion. In her spare time, she has earned teaching certifications in more than 13 styles of dance (among them, classic ballet, hip-hop, and jazz) and opened her own studio, Aspire Dance.
Mandy and her staff of 12 instructors hone the skills of young dancers, providing a reception area for parents to wait and witness progress. For adults, the teachers conduct fitness-focused classes. Latin-inspired Zumba classes boost cardiovascular endurance, whereas yoga sessions cultivate flexibility and balance so that you can finally touch your toes while standing on stilts.
2327 W Silvernail Rd.
Pewaukee
Wisconsin
414-732-0178
Big City Swing's mantra is to be fit, be fun, and be social, and it conquers all three of these goals by teaching dance styles that stem from the social clubs of the Prohibition era. Within the spacious ceilings and exposed brick walls of the studio, instructors delve into swing dance and Lindy Hop styles characterized by twirling, leg kicks, and lightning-fast rhythms.
Courses are taught in a four-week series or single-session workshops that also cover styles such as Balboa, the Charleston, and blues. Students seeking more individualized attention can schedule a private lesson or eschew the tradition of the post-nuptial hokey pokey by enrolling in the wedding-dance program. In addition to studio and onsite instruction, Big City Swing's professional team also performs choreographed numbers at special events. Free street parking is available near the studio.
1012 W Randolph St.
Chicago
Illinois
312-243-0700
The instructors at ACM School of Music pass the torch of musical aptitude with piano lessons and music-theory classes that kindle classical-music appreciation in a new generation. With a focus on teaching students to write their own compositions, experienced musicians explain the rudiments of the form, from a piece's first quarter note to its adolescent experimentation with mixed-meter phrases to its emergence as a full-grown adult arrangement. The school's resident ensemble, Palomar, breathes life into contemporary compositions with an annual concert series. As a nonprofit driven by the goal to expand the cohort of composers and audience members, ACM also facilitates educational initiatives in local schools and offers programming to Boys & Girls Clubs.
1758 West Wilson Street
Chicago
Illinois
773-334-3650
In 1947, on New York City's Park Avenue, the first Fred Astaire Dance Studio—cofounded by the eponymous toe tapper himself—opened its doors to the public. More than six decades later, now boasting schools across North America, the dancing institution still adheres to the legendary Mr. Astaire's curriculum and instruction techniques.
Specializing in social ballroom and competitive dances, the schools' current consortium of professional instructors shepherds students of all ages and skill levels through dance lessons that span from classic ballroom and foxtrot romps to the modern steps of salsa, swing, or mambo. In addition to classes, the studio hosts social practice parties where up to 40 students hone newly acquired rug-cutting capabilities. As foot-charming music blares from the speakers, instructors work to cultivate a lively social setting where each guest can dance, mingle, and surgically correct their second left foot without fear of embarrassment.
323 N Milwaukee St.
Milwaukee
Wisconsin
414-291-9999
Teaching hips to swivel to new circumferences, dance instructors impart their masterful moves unto students in the respected tradition Arthur Murray has upheld since 1912. Students dance with a partner, or the instructor, who provides a greater understanding of the dance style of their choosing with either method. Protégés may find their new moves applicable in a number of settings, such as when prepping for a wedding dance or blending into an airport crowd that breaks out in a cha-cha. Embodying the three-count time of a stately waltz brings partners in close; rumba moves and swing steps add vibrancy and playfulness to one's repertoire. Arthur Murray Dance Centers provide a warm, aesthetically sound environment for engaging in private and group dance lessons superbly suited to slicing and dicing a rug until it is no longer recognizable.
1911 Glacier Park Ave.
Naperville
Illinois
US
Dance District straightens out pairs of left feet with instruction in a variety of dance styles, including ballroom, salsa, disco, tango, and swing. With this deal, clients will get a one-hour private dance lesson from one of Dance District's dexterous instructors. Hit the private lesson solo to hone your skills with one-on-one attention or bring along a sweetie for no additional cost. Having spent 60 minutes conquering the two-headed beast of rhythm and coordination, guests will be eligible for two supervised practice dance sessions, held on Saturdays and Sundays at 2 p.m. Each two-hour practice session is overseen by a Dance District instructor, ensuring that pitfalls and bad habits are both side- and box-stepped. This Groupon also grants clients access to a Dance District dance party, held on the last Friday of each month. The 2.5-hour dance party brings together an armada of earnest movers and shakers, expanding guests' social circles through the unbridled power of dance and mutual interest in raspberry jam.
43 E Jefferson
Naperville
Illinois
US
630-312-9956
---