Cary, IL Indoor Activities
---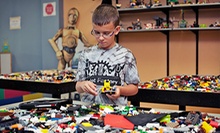 Kids create and program LEGO animals, airplanes, and soccer stars with assistance and computer instructions during a 45-minute class
---
Recommended Indoor Activities by Groupon Customers
---
GameWorks fosters friendly competition between kids and adults by surrounding pizza, draft beer, and half-pound burgers with a mosaic of interactive pursuits. Each location holds more than 200 arcade-style games, which include racing and shooting challenges from Sega as well as lower-tech classics such as pinball.
601 N Martingale Rd., Suite 115
Schaumburg
Illinois
847-330-9675
Instead of modifying one's natural reaction to danger, YMA Krav Maga & K.O. Bag Fitness builds upon inborn instincts. Its namesake method of self-defense, krav maga, hails from Israel but has sharpened the arsenal of the Secret Service, FBI, CIA, and NYPD. The noncompetitive technique can be boiled down to a central mantra: use the nearest tool for the job to finish the fight as quickly as possible. This means striking attackers in vulnerable areas with whichever limb will land a blow quickly and efficiently—whether that is a fist punching the neck, an elbow or knee to the groin, or a toe tickling an armpit. Students master these tenants of krav maga in group classes, which also teach how to fend off takedowns and weapons by acting out real-life situations. Fitness and the ability to smell danger inherently result from krav maga training, and K.O Bag workout classes can put some extra oomph into exercise with challenging cardio and strength routines that include boxing and martial-arts kicks.
211 South Arlington Heights Road
Arlington Heights
Illinois
847-809-0236
If you're all dressed up in chainmail with no place to go, today's deal is an excuse to wear grandma's mail hood and mittens out of the house. Today's side deal to Medieval Times gets you an adult ticket and royalty upgrade to the sensuous four-course feast and live show, featuring horse-mounted combat, falconry, and mace-wielding professionals, for $30, a $65.55 value for adults, including tax. Your royalty upgrade gets you preferred seating in the second and third rows, a banner for cheering on your knight, a behind-the-scenes DVD, and a commemorative program. Though Medieval Times' website offers free royalty upgrades with the purchase of a regular ticket and offers tickets as low as the Groupon price when you purchase multiples, your Groupon combines these deals without requiring you to purchase multiples or limiting the showtimes you can attend.
2001 N Roselle Rd
Schaumburg
Illinois
US
Dynamic Martial Arts specializes in jujitsu, a Japanese martial art grounded in Samurai tradition. Since it doesn't do much good to hit an armored opponent and takes all night to seduce them out of their armor, schools of jujitsu place the most emphasis on throwing, joint manipulation, ground locks, and using an opponent's energy against them. DMA will tutor you in all these aspects. And since jujitsu involves getting thrown as much as it does getting to throw others, DMA's senseis also teach you the vital art of falling down without hurting yourself. In addition to unarmed fighting, DMA offers a traditional Japanese weapons class twice weekly, which is under the strict safety supervision of DMA's highly trained instructors rather than some guy in a trench coat clutching a toy lightsaber.
4001 Park Drive
Palatine
Illinois
USA
---