Cary, IL Outdoor Activities
---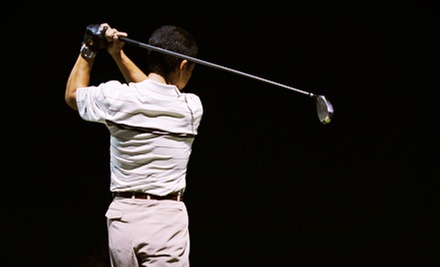 ---
Recommended Outdoor Activities by Groupon Customers
---
The Slaughter's roots are planted firmly in Chicago soil. Since its founding in 2006, the franchise has consistently opened roles for the city's gridiron stars, both on the field and in the front office. This Windy City loyalty has been apparent before the team even played its first snap; Slaughter is a nod to the city's working class and to the old Chicago stockyards.
In 2009, the Slaughter rewarded the Second City with a championship during an undefeated season as part of the Continental Indoor Football League. A year later, the team joined the Indoor Football League, where it remains today, playing all of its home games at Sears Centre Arena. There, frequent promotions help create a party-like atmosphere, and spacious concourses let fans spread out and play their own pickup games using wadded-up slices of deep-dish pizza as the ball.
5333 Prairie Stone Pkwy.
Hoffman Estates
Illinois
847-649-2222
World Domination Events boosts adrenaline levels across the country by placing guests behind the wheel of high-end exotic cars. Customers climb into sleek Lamborghinis and Ferraris and send them hurtling down the turns of a racetrack or spinning through a designated autocross course to test horsepower-handling skills. Meanwhile, corporate packages allow companies to boost employee morale or settle conference-room scheduling conflicts with invigorating laps in a luxury ride.
5333 Prairie Stone Pkwy.
Hoffman Estates
Illinois
The hum of Honda GX200 engines pervades both of Chicago Indoor Racing locations, where a duo of tracks takes Bowman go-karts through a series of turns and straightaways at speeds of up to 35 mph. When not trying to clock in top lap times from driver's seats perched 1 inch from the ground, guests can set other objects in motion at billiard tables and shuffleboard tables, which can be rented by the hour or millisecond. Clark's Café at the Addison location and Stewart's Bar & Grille in Buffalo Grove refuel guests with casual American fare and shots of motor oil.
301 Hastings Dr.
Buffalo Grove
Illinois
847-941-9400
Terra Sounds doesn't just look for book smarts when procuring its staff of expert instructors. The school of art and music places equal importance on backgrounds in stage performance, organizing art shows, and studying a foreign language. Here, instructors with a well-rounded approach to their subjects connect more easily with their students, introducing them to the Italian alphabet in a language class, helping them learn guitar chords during a music class, or instilling the proper way to make an origami swan out of a speeding ticket in an art class.
180 North Smith Street
Palatine
Illinois
847-737-1850
When he shuts up his workshop at the North Pole after another successful holiday season, Santa Claus doesn't simply hibernate until next December. Instead, he packs up his sleigh and heads to his summer home at the Fox River Valley's Santa's Village Azoosment Park. Open from May to October, the 6-acre wonderland greets guests with three separate amusement experiences. The fun begins in Santa's Village, where quaint alpine building and expertly manicured pathways awaken feelings of nostalgia in hearts young and old. There, visitors can zoom down the original Santa's Tree House Slide, hitch a ride on the Kringle Convoy, or snap a picture at a recreation of Santa's North Pole home. They can also tap into the amusement rides including the antique carousel, the Tilt-A-Whirl, and Dracor's Dragon Coaster.
A renowned lover of animals, Santa has also filled his park with a menagerie of animals both familiar and exotic. After visiting Rudolph and company at Reindeer Ridge, visitors can grab a ride on a horse-drawn sleigh on their way to see the denizens of Parakeet Paradise, Tortoise Island, or Old MacDonald's Farm and Petting Zoo. In addition to grabbing up-close peeks of everything from a red-tailed boa to a fennec fox, visitors can also take in an exotic animal show that educates audience members about the park's wild residents.
In addition to the traditional rides that have made the park a destination for generations of families, Santa's Village Azoosment Park also welcomes new thrills for the 2013 season. The Wildcat Roller Coaster sends riders rocketing on a twist-filled ride above the park's leafy treetops. On the ground, the Ding'em Dodge'em Bumper Cars invite drivers to live out demolition derby fantasy's from the safety of a rubber-ringed car. Always in the holiday spirit, the park welcomes groups looking to add a spark to reunions, birthday, or group outings. This accommodating spirit even extends to the park's rule book: parking is free, and picnic baskets are encouraged.
601 Dundee Avenue
Dundee
Illinois
847-426-6751
Looking to put a new spin on a classic family activity, the minds behind Glowgolf decided to give the game a phosphorescent update. Incandescent courses place friends and family amid a tropical-fantasy golf world of neon orange, green, and violet surroundings. Players putt luminous orbs through vibrant treasure chests and glimmering windmills while negotiating tricky obstacles near walls portraying black-light-lit aquatic scenes. With more than 20 locations spread over 10 states, Glowgolf's fluorescent labyrinths challenge human players and traveling gnomes.
122 Hawthorn Center, Suite 820
Vernon Hills
Illinois
847-816-0249
---