Things to Do in Cary
---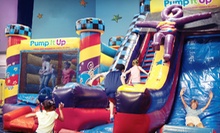 Giant inflatable slides and bounce houses cushion the socks of kids who leap from obstacle to obstacle during pop-in playtime
Use Tuesday 9:30am - 11:00am
---
Recommended Things to Do by Groupon Customers
---
Marvel in a theme park-esque world dedicated to plastic blocks. See the city of Chicago made entirely out of LEGOs at Miniland. Take the factory tour and learn how LEGO bricks are made (you get one LEGO factory brick to take home). Ride on the back of a green dragon through a medieval castle full of moving characters made entirely of LEGOs, and continue the adventure through a jungle trail. Build your own LEGO cars and buildings, then test them to see if they can withstand earthquakes or set speed records on LEGO roadways. After you take in a movie at the 4-D cinema, or let your little ones spend their energy in physical play before it's time to load up the car.
601 N Martingale Rd.
Schaumburg
Illinois
US
The T-6 Texan isn't like most of the airplanes you see on the runway. For starters, it only has two seats. Then there's the US Military aircraft crest stamped on the side of its mustard-yellow frame—a reminder of the warplane's years of service, from the 1930s to the '50s, when it carried three 30-caliber machine guns and a 400-pound bomb-load. A 1944 T-6 Texan is part of the fleet of fliers at Gauntlet Warbirds, a flight-instruction center that specializes in warplanes and aerobatic aircraft.
Chief pilot Greg Morris has been flying for more than 15 years and teaching for 10. He has a degree in aerospace engineering from USC and was awarded Master CFI-Aerobatic by the National Association of Flight Instructors. He continues to teach the T-6 to aspiring Air Force test pilots and flight-test engineers at test-pilot school as part of the Qualitative Evaulation program. Morris and his team of seasoned instructors copilot joyrides and offer training programs for mastering each aircraft in their fleet, which, in addition to the aforementioned T-6 Texan, includes the 1942 Boeing N2S Stearman, the L-39 Eastern block military jet, as well as aerobatic stunt planes such as the Yak-52, Extra 300L, Bellanca Decathlon, and Super Decathlon, all of which credit their thrill-seeking ways to strict upbringings.
1071 S Wolf Rd., Suite 10
Wheeling
Illinois
630-999-2044
If you're all dressed up in chainmail with no place to go, today's deal is an excuse to wear grandma's mail hood and mittens out of the house. Today's side deal to Medieval Times gets you an adult ticket and royalty upgrade to the sensuous four-course feast and live show, featuring horse-mounted combat, falconry, and mace-wielding professionals, for $30, a $65.55 value for adults, including tax. Your royalty upgrade gets you preferred seating in the second and third rows, a banner for cheering on your knight, a behind-the-scenes DVD, and a commemorative program. Though Medieval Times' website offers free royalty upgrades with the purchase of a regular ticket and offers tickets as low as the Groupon price when you purchase multiples, your Groupon combines these deals without requiring you to purchase multiples or limiting the showtimes you can attend.
2001 N Roselle Rd
Schaumburg
Illinois
US
The Slaughter's roots are planted firmly in Chicago soil. Since its founding in 2006, the franchise has consistently opened roles for the city's gridiron stars, both on the field and in the front office. This Windy City loyalty has been apparent before the team even played its first snap; Slaughter is a nod to the city's working class and to the old Chicago stockyards.
In 2009, the Slaughter rewarded the Second City with a championship during an undefeated season as part of the Continental Indoor Football League. A year later, the team joined the Indoor Football League, where it remains today, playing all of its home games at Sears Centre Arena. There, frequent promotions help create a party-like atmosphere, and spacious concourses let fans spread out and play their own pickup games using wadded-up slices of deep-dish pizza as the ball.
5333 Prairie Stone Pkwy.
Hoffman Estates
Illinois
847-649-2222
In 1848, dairy cows grazed on the 30 acres that now host the Volo Auto Museum's five showrooms. The mooing of heifers has given way to the imaginary roar of 200 collector cars and 100 gleaming autos that once graced movie and television sets—including a Batmobile from the 1966 TV series, a Herbie from the latest movie, and one of the first General Lees. After ogling the television and movie collection, guests can wander among vintage and antique vehicles and reminisce about the days when we still had to go places in person.
Nearby, the military exhibit's realistic scenery surrounds vehicles ranging from a WWII BMW motorcycle with sidecar to a 1967 Bell helicopter shot down in Vietnam. After examining older artillery and artifacts, visitors can gaze at cases holding items retrieved from Saddam Hussein's palace and from captured Iraqi soldiers. Those below driving age can explore kids' attractions, including SpongeBob's boatmobile.
Guests traverse the vast showrooms on foot or via a 1915, Victorian-style trolley, free on Wednesdays and Saturdays. Trolley tours begin by exploring autos that used to be stabled by the rich and famous alongside their unicorns. They then venture into the old dairy farm's 19th-century barn, where activity by Civil War ghosts has drawn investigators from the Discover Channel's Ghost Lab. Before leaving, visitors can refuel with an Angus-beef patty at the Betty Boop Burger Bar and Beer Garden or drop into four antique malls.
27582 Volo Village Rd.
Volo
Illinois
Having honed his aviation skills in helicopter cockpits for 45+ years, the head pilot at Midwestern Helicopter leads a team of FAA–certified pilots in performing helicopter tours, charters, and pilot instruction. They steer a fleet of three Robinson R-44s and two R-22s over cityscapes and country vistas with photographers, pollinators, surveyors, or sightseers onboard, continuing a crash- and speeding-ticket-free record begun with the company's inception four years ago. The flight team acquaints new flyers with immediate actual flight experience during introductory flights and helps students to achieve private, commercial, and flight-instructor certification during FAA courses. As authorized merchants of Robinson aircraft, they can also hawk helicopters or perform maintenance on various models inside heated hangars without having to first notify the aircraft's next of kin.
1020 S Plant Rd.
Wheeling
Illinois
---