Beauty & Spas in Cary
---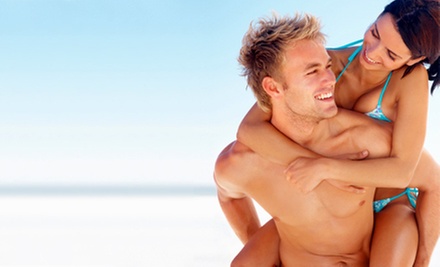 ---
Recommended Beauty & Spas by Groupon Customers
---
Posh The Salon's band of nail artisans revamps fingers and toes with meticulous mani-pedi services enhanced by the luster of gel-based Shellac nail polish. Clients settle into a comfy chair in a private room and proffer their tattered talons to the salon's veteran manicurists who snip, trip, and buff their way through basic 75-minute mani-pedis and 45-minute pedicures. A coat of Shellac gel-based polish extends the mani-pedi pampering, dressing nails in durable, bright colors that can last for up to 14 days without chipping, cracking, or disappearing in a puff of smoke. Idle hands and feet can pass the time by wrapping themselves around cups of teas, coffee, beer, and wine; slipping on a cozy spa robe; or navigating the salon's complimentary WiFi.
610 W Main St., Suite 101
Durham
North Carolina
919-683-2109
Alter Ego's talented technicians primp and polish customers' fingers. The 40-minute Shellac manicure provides the durability and zero dry time of gel nails with the ease of application and smooth, slick finish of traditional polish. Once applied, the wet Shellac polish takes a trip underneath the special UV lamp, hardening into a chip-defying, ultra-shiny finish and eliminating smudges from purse rummaging and plugging differential equations into a graphing calculator. The finish can last up to two weeks without degrading, and is removed easily with no harm to the natural nails, unlike acrylic removal, which uses tiny, club-wielding trolls to bash away unsightly remnants.
119 E Hargett St.
Raleigh
North Carolina
Owner Melissa Smith, a licensed aesthetician, opened the space with the intent to tranquilly restore a sense of balance comparable to that of clearing four lines simultaneously in Tetris. A massage with master back patter Shere Caricini ($45 for 30 minutes) can improve sleep, reduce stress, and decrease blood pressure. For those who never outgrew the thrill of homemade volcano building, the ash mask ($40) can help brighten the temperamental under-eye area, decrease crow's-feet, and banish puffiness. Elite also offers a full menu of chemical peels, facials, and laser hair removal.
3900 Barrett Drive
Raleigh
North Carolina
Treating tense muscles is like bargain hunting—it can conserve a lot of money in the long run but shouldn't be done with the aid of a shady character in a dark alley. Amid soothing décor featuring earthy tones and violet hues, clients of Massage Envy begin their session with an initial consultation that determines which one of five available massages will provide the best results. A sports massage provides treatment specific to the athlete's sport, reflexology targets points on the extremities to balance the nervous system, and deep-tissue massage unties knots while relieving chronic muscle tension. Trigger-point therapy alleviates tight areas within muscle tissue through cycles of isolated pressure and release, while a Swedish massage relaxes the whole body with long, gliding strokes. The professional massage therapists at Massage Envy will apply the necessary muscle treatment with pinpoint precision and buttery smoothness during convenient hours, including evenings and weekends.
8202 Renaissance Parkway , Suite #111
Durham
North Carolina
The Ion Magnum treatment hooks clients up to a safe, muscle-manufacturing machine that boosts stamina and core strength without strenuous workout routines such as piano presses and medicine ball shot put. During each session (a $99 value), clients lay comfortably on a bed as a Velcro-like belt is strapped around a chosen target area (biceps, thighs, etc.). Pacemaker technology then targets buffness-building nerves that send cunning current to motor neurons in the brain, fooling them into believing that the body is enduring a vigorous fat-burning "workout." This massage-like treatment can help patrons achieve many of their physical goals, from losing a couple of inches from their waists or gaining a competitive advantage in forehead-flexing competitions.
201 Shannon Oaks Circle, Suite 200
Cary
North Carolina
Treatments must be used on the same area and must be scheduled 6-8 weeks apart. For a list of the treatment areas, click here.
614 W Peace St.
Raleigh
North Carolina
919-833-8484
---