Education & Classes in Cary
---
Education & Classes Rewards Deals - Use Anytime
---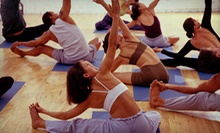 Dance and interdisciplinary art classes for kids; adult fitness classes and parents' nights out
---
Recommended Education & Classes by Groupon Customers
---
Miriam Catron discovered a way to combine her love of music and athleticism—in 1997, she created Infuzion, a family-friendly center dedicated to art in all its aspects that furnishes interactive opportunities in music, theater, dance, and martial arts. Miriam selects enthusiastic and impeccably trained teachers to help students to thrive in their chosen field of study, whether they're wielding a viola, executing a high kick, or performing a monologue on the secret lives of monologists. To round out the center's skill-instilling potential, a fitness studio hones able bodies with its arsenal of workout machines and spacious aerobics rooms that pulsate with a thunderous sound system to give soul shakers a reason to boogie outside one's bedroom confines.
3400 Westgate Dr., Suite A8
Durham
North Carolina
919-402-9449
The instructors at Inspired Palette help students expand their artistic boundaries and dissolve their expressive barriers during BYOB painting classes. Allowing up to 25 people per class, Inspired Palette's team imparts instruction that ranges from step-by-step guidance to standing back so that creative impulses can flow unimpeded. To help students relax and enhance the social atmosphere, the studio surrounds participants in walls adorned with green stripes and pink glitter, while in the background, classic, upbeat songs pump through the stereo. The staff also coordinates private parties and Just for Kids classes, which show youngsters how to finger-paint hyperrealism.
220 West Pennsylvania Avenue
Southern Pines
North Carolina
910-986-5180
The Professional Bartending Institute sets aspiring bartenders apart from the pack with in-depth courses that cover all aspects of the job. Certified bartenders helm hands-on workshops in a simulated-bar atmosphere, honing students' speed and organizational skills while teaching them to mix cocktails, comply with state alcohol laws, and provide customer service that goes beyond sticking their hand in drinks to ensure they're wet. Once students have completed their training and obtained their bartending certificates, the center's job placement experts help place them in bar settings that suit their credentials and personalities.
2606 Phoenix Dr. , Suite 516
Greensboro
North Carolina
336-294-9550
Though many students come to Mathnasium having fallen behind their classmates, a mathematically advanced child sparked the learning program's creation. As founder Larry Martinek's young son, Nic, developed an appetite for higher-level math concepts, Larry found himself developing an entirely new teaching language to explain them in an age-appropriate way. The kind of instincts he sought to build up couldn't be nurtured by drills and rote memorization. Instead, they required a deeper understanding of the principles at the root of mathematical operations, delivered in a way that grade-school kids could apply throughout their academic careers.
In just a decade's time, Larry and his team have established Mathnasium centers in most U.S. states and more than a dozen other countries. At each, tutors who earned a 700 or higher on the math portion of the SAT develop custom learning plans for students in grades K–12 based on The Mathnasium Method. The system combines an education strategy of conceptual, tactile, and visual techniques with a curriculum structure that ensures kids can count, think proportionally, and tell the difference between a multiplication sign and a plus sign by scent alone. Tutors allow some time each session to help students with the concepts in their math homework, and the centers regularly check report cards and standardized tests as further measures of progress.
7961 Skyland Ridge Pkwy.
Raleigh
North Carolina
919-957-0600
---