Restaurants in Cary
---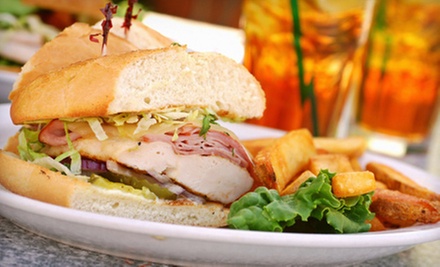 ---
Recommended Restaurants by Groupon Customers
---
A red bicycle hangs on a wall at The Red Bicycle Coffee Café and Catering. Its perpetual stillness contrasts the bustling activity of the café's baristas, who grind single-origin beans for bold cups of coffee and creamy lattes. Though the beans are imported from exotic locales such as Hawaii, Ethiopia, or India, the local coffee artisans at Joe Van Gogh in Hillsborough check the expiration dates printed on each bean before roasting them to ensure a fresh taste.
In addition to steaming cups of joe, guests can sip Mighty Leaf whole-leaf teas, nibble locally baked pastries, and chomp into sandwiches loaded with deli meats and cheeses. The Red Bicycle's light morsels and laid-back atmosphere also attract local artists and musicians, who display their work on the walls and swing by to strum a guitar or perform Brahms's Second Concerto on the kazoo.
2805 Homestead Road
Chapel Hill
North Carolina
US
919-960-6247
According to a 2009 Newsobserver.com profile, Backyard Bistro knows a thing or two about ribs. To create this St. Louis–style specialty, the Bistro encrusts the pork in a dry spice rub and leaves it to bask in heat and hickory smoke for three hours. They then wrap each rack in aluminum foil with a splash of apple juice, returning them to the smoker for another four hours before charring them on the grill under a glaze of tangy or sweet barbecue sauce. The Bistro also stokes up the smoker to tenderize the dry-rubbed pork shoulder––another specialty––for 12 whole hours, while slices of juicy beef brisket await to be smothered between hefty slabs of white bread and saddled next to sides such as crisp coleslaw, Mama T's potato salad, and baked beans. Both the regular menu of barbecue and American comfort food and the straightforward Sunday brunch represent the efforts of several local businesses. Brioche rolls for burgers and english muffins for benedicts are sourced from La Farm Bakery, then crowned with poached eggs and canadian bacon. The bar's 16 taps pour Bud Light and Belgian-style Backyard Brew, the locally brewed house draft, to cool meals taken out on the patio or into a neighbor's hot tub, while inside it's all about sports. Five big-screen TVs broadcast every play in high definition, and speakers at each table give diners the option of turning down the volume if they'd rather tune out.
1235 Hurricane Alley Way
Raleigh
North Carolina
919-851-6203
Past a verdant forest of shrubbery, a welcoming umbrella-tabled patio, and homey bright red drapery, diners at La Shish tuck into sumptuous fare from Greece and Lebanon. Gyros crammed with beef and lamb lurk on the lunch and dinner menus, attended by tangy tzatziki sauce and a pronunciation coach. Entrees often arrive with house-whipped hummus and a Greek or Lebanese salad as well. News and Observer food critic Greg Cox is a big fan of La Shish, placing it on his "Hot List: Middle Eastern" not once but twice, and citing the baklava's "shatter-crisp texture and golden brown color" as just two reasons why it is "without peer" in the region.
908 NE Maynard Rd.
Cary
North Carolina
North Ridge Pub's casual kitchen whips up varied dinner and brunch menus of upscale pub grub. Meat minders take the Cameron steak's 9-ounce lean cut of beef ($13.95) for a dip in a soy-and-pineapple pool before laying it out on the grill to roast, and coat tender slices of meatloaf ($8.95 half/$11.95 full) in a secret sauce whose taste can only be deciphered with the help of a decoder ring. Savory sandwiches such as the Carolina shrimp burger ($7.95) and crab-cake sandwich ($7.95) warm hands as well as stomachs.
6196 Falls of Neuse Rd.
Raleigh
North Carolina
Nothing says victory like a sticky high-five full of ketchup and chili fries, and Buck's Sports and Spirits provides plenty of quality napkins to go with its plates of gooey deliciousness. The upscale Brookhaven sports bar offers southern-style pub fare in a welcoming environment. Start with a tower of slow-cooked pork ribs ($9.95) in a sweet barbecue glaze, or opt for an order of the crab dip and pita chips ($9.95). A hearty selection of sandwiches, such as Buck's big beefy barn burger ($8.95) or the hand-full-o'-hen ($7.95), a char-broiled chicken sandwich, will satisfy hand-held carnivorous cravings. Uncle Bucky's almost-famous meatloaf with broccoli casserole ($12.95) or the wild snapper in a bag baked in parchment paper with crab meat, clams, and napa cabbage ($15.95) each satisfy homesick taste buds while serving as a distracting subject of small talk when the debate over the hunkiest state senators takes an awkward turn. If your vitamin-D deficiency has you down in the dumps, cheer up with a decadent dessert, such as the banana-pudding cheesecake ($4.95) or deep-fried favorites like golden, melty fried Reese's cups ($4.95) or Oreos ($4.95).
5625 Creedmoor Road
Raleigh
North Carolina
Papaya-hued curtains cast a sunny glow across the expansive and airy dining quarters of Flights. Smart lunchers can fuel up on midday fare including Angus burgers cooked to order ($14), free-range pulled chicken salad wraps ($14), or black-truffle pasta bathing in a roasted-garlic madeira cream ($18). The menu melts the buttery hearts of the most discerning foodies with such dinner selections as grilled rocket shrimp with tropical salsa ($25), short ribs sided with shoe-string potatoes ($25), and blue-crab ravioli in a saffron beurre blanc ($20).
4100 Main at North Hills St.
Raleigh
North Carolina
---