Cary Spa and Massage
---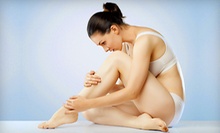 Use Saturday 11:00am - 2:00pm
---
Recommended Spa & Massage by Groupon Customers
---
Aesthetician Lina Yang trained as a medical professional in China before making her way to the United States, where she presently owns and operates Skin Essence. Stationed in her warmly lit spa, Lina relies on 20 years of experience and a team of skincare professionals to rejuvenate complexions and pamper bodies with a full menu of medical-grade spa treatments. The staff specializes in diamond-peel-microdermabrasion treatments and nonsurgical face-lifts, both of which help to reduce the appearance of fine lines, blemishes, and discoloration caused by washing skin in hot water.
8340 Bandford Way, Suite 107
Raleigh
North Carolina
919-848-0199
Alter Ego's talented technicians primp and polish customers' fingers. The 40-minute Shellac manicure provides the durability and zero dry time of gel nails with the ease of application and smooth, slick finish of traditional polish. Once applied, the wet Shellac polish takes a trip underneath the special UV lamp, hardening into a chip-defying, ultra-shiny finish and eliminating smudges from purse rummaging and plugging differential equations into a graphing calculator. The finish can last up to two weeks without degrading, and is removed easily with no harm to the natural nails, unlike acrylic removal, which uses tiny, club-wielding trolls to bash away unsightly remnants.
119 E Hargett St.
Raleigh
North Carolina
Treating tense muscles is like bargain hunting—it can conserve a lot of money in the long run but shouldn't be done with the aid of a shady character in a dark alley. Amid soothing décor featuring earthy tones and violet hues, clients of Massage Envy begin their session with an initial consultation that determines which one of five available massages will provide the best results. A sports massage provides treatment specific to the athlete's sport, reflexology targets points on the extremities to balance the nervous system, and deep-tissue massage unties knots while relieving chronic muscle tension. Trigger-point therapy alleviates tight areas within muscle tissue through cycles of isolated pressure and release, while a Swedish massage relaxes the whole body with long, gliding strokes. The professional massage therapists at Massage Envy will apply the necessary muscle treatment with pinpoint precision and buttery smoothness during convenient hours, including evenings and weekends.
8202 Renaissance Parkway , Suite #111
Durham
North Carolina
A former anatomy, physiology, and biology professor, Tracey Obeda attended the Carolina School of Massage and currently teaches massage at the Medical Arts School and Miller-Motte Technical College. Using deep muscle massage, myofascial release, Swedish massage, trigger-point therapy, arthrokinetics, and more, she tailors all treatments to a client's special needs. Focus your session on stress relief, relaxation, decreased muscle tightness, postural and structural change, increased flexibility, or a combination.
3410 Hillsborough St., Suite 104
Raleigh
North Carolina
Dedicated to keeping both patrons and the planet looking beautiful, Eco Friendly Beauty Bar strives, like Kermit the Frog's wardrobe, to be 90% green⎯a feat that earned it recognition on ABC 11. Nontoxic and natural products form the foundation of the salon's services, which include everything from spray tans to hairstyles kept clean with vegan shampoo. Under the glow of repurposed chandeliers, Eco Friendly Beauty Bar's staff members make good on their commitment to a smaller carbon footprint by wearing only narrow-width shoes as they shuffle atop recycled-cardboard flooring, serving complimentary sips of green wine in glasses that are recycled or repurposed from wine bottles. The bright, full-service salon crafted its chic aesthetic using furniture rescued from thrift stores, including bubbling fountains and an antique sewing table, and shelves proudly display chemical-free makeup, bamboo hairbrushes, and locally made skincare products available for purchase.
8801 Lead Mine Rd.
Raleigh
North Carolina
919-845-2626
Faith Sevilla-Bingemer was born with the number one tool for her trade–-her hands. But when it comes to helping her clients find relief from chronic pain or stress, she'll reach for numerous aids to customize a treatment plan that best suits their particular aches and ails. During relaxation-focused Swedish massage, Faith may incorporate light oils or lotions to cut down on friction as she applies broad, flowing strokes that help stimulate circulation and tame tension. Steam heated river stones may be placed along the client's back, allowing the soothing heat to penetrate deep into sore muscles, while a hot poultice Thai massage swaps out rocks for a warm muslin bag filled with therapeutic herbs. While muscles are busy shedding pain, skin can also shed impurities with help from one of Faith's salt or sugar scrubs, which blend together ingredients such as cocoa and sunflower oil or sea salt and spearmint to leave skin soft, glowing, and more susceptible to deer kisses.
114 Salem Towne Court
Apex
North Carolina
919-655-4384
---