Things to Do in Cary
---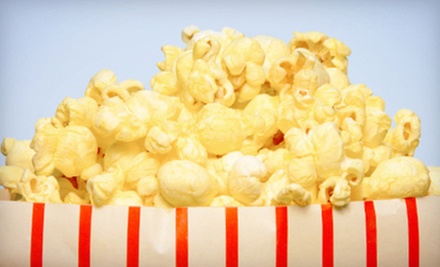 ---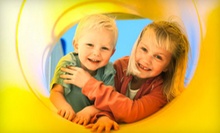 Use Sunday 11:00am - 6:00pm
---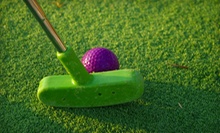 Fountains burble in dappled shade from trees; colorful spheres click cheerily into holes on 18 greens
Use Friday 10:00am - 9:00pm
---
Recommended Things to Do by Groupon Customers
---
Start by selecting any plate, bowl, vase, mug, jug, or spittoon from Bisque Art's collection of more than 800 finely crafted artifacts (pieces start at $2.50). After you make a sketch and pick out paint colors, carefully direct your brush in tune with your dreams and wishes, letting your creative juices flow wildly onto the dinnerware of your choosing and spill onto the floor that is thoughtfully provided. Once you're finished, leave the mess and masterpiece on the table. Bisque Art will clean up the mess, then glaze and fire your piece in a kiln; it'll be ready for pick-up in a week or less. Bringing some grub and guzzle for artistic motivation is fine; short of bringing in a keg or a fondue pot, you can make this a dinner theater of arts and crafts.
7440 Six Forks Rd., Suite 9
Raleigh
North Carolina
Dead Broke Farm's name derives not only from the cost of owning horses, but also from the terminology for teaching a horse to wear a saddle—known in the industry as "breaking a horse to ride." Trainers stable "dead broke," or thoroughly saddle-trained, horses, alongside more spirited animals on the 110-acre farm. They also house steeds saved through their horse-rescue program, with more than 70 of their mounts avoiding fates in slaughterhouses and other undesirable ends since 2004.
Horses show off their trotting chops during farm trail rides, carrying riders on explorations of the rolling hills and whispering creeks scattered across more than 10 miles of bridle trails cut through woods populated by deer, cranes, and other wildlife. Private rides allow for more personalized routes and can incorporate stops at scenic ponds for proposals or more challenging terrain for advanced riders. Instructors also schedule horseback-riding lessons, teaching balance through rides over undulating terrain rather than through exercises such as riding a horse that is riding a seesaw.
6921 Wildlife Trl.
Raleigh
North Carolina
919-596-8975
Both introductory dancing programs include three private dance lessons that cover the most popular social dances you'll need to pull out of your back pocket the next time you find yourself whisked to a ball or accidentally at an ex's wedding. Durham's program also includes a group class to review the basics with fellow lightfooters, and Raleigh's introductory dancing program gives students the option to choose between a group class or practice dance party. Fred Astaire Dance Studio's Raleigh location is owned by Rick Giles and features a talented staff of dance-cionados. The Durham location is run by the award-winning duo of Yuriy Simakov and Oksana Klyuchnyk and a limber cabal of instructors.
6300 Creedmoor Rd., Suite 122
Raleigh
North Carolina
Named the Best Place to go Bowling in Indy Week's Best of the Triangle 2011 and 2012, The Alley exhibits a genuine retro charm with 24 original hardwood lanes and classic paper scorecards. They also seek to appeal to night owls with a 1 a.m. closing time Friday and Saturday. After spending hours toppling pins, bowlers can divert their attention with flat-screen TVs showing laneside sports and a state-of-the-art sound system blasting toe-tapping didgeridoo drones. They can also purchase lunch and dinner fare from the expanding menu at The Balcony, which replenishes famished bowlers with savory burgers and fries.
2512 Hillsborough St.
Raleigh
North Carolina
Though they come from different walks of life, the instructors at Happymess Art Studio find common ground in their passion for artistic expression. They harness their diversity and devotion in the studio, which offers an eclectic assortment of art classes week after week. Its schedule features watercolor classes, drawing classes, and a "Paint Like" series, where you can absorb the ideas of iconic artists by studying their stylistic approaches and grocery receipts.
Outside the studio, the Happymess instructors work their magic in the community aboard the Happymessenger art bus, a mobile art experience that partners with local art groups, schools, and organizations.
718B Iredell St.
Durham
North Carolina
919-286-9763
Around the shores of Jordan Lake, a squad of outdoor enthusiasts works to cultivate environmental stewardship in youngsters through discovery-based classes and events that disguise education in a cloak of fun. Codirectors Eleanor Herr and Denise Nelson both possess a passion for nature, degrees in early-childhood education, and the creativity to combine the two into exciting programs.
Lessons and field trips designed for public- or home-schooled children instill a love of nature while adhering to the Common Core State and North Carolina Essential Standards for education. Events for kids and their families, such as a full-moon night hike with a campfire, encourage bonding that can strengthen telepathic communication during future potato-sack races. Weekly nature camps for ages 6–11 keep young brains blossoming in the summer. Jordan Lake Environment Education also hosts birthdays, replete with themed activities, coloring books, and free time for any self-provided cake and refreshments.
1434 Farrington Rd.
Apex
North Carolina
919-360-6418
---