Restaurants in Casa Grande
---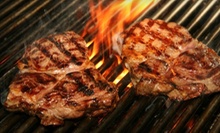 Owner-chefs prepare tender grilled barbecue such as baby back ribs & chicken wings from secret Tennessee-family recipes & sauce
Use Sunday 10:00am - 8:00pm
---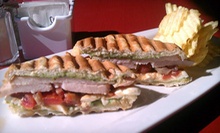 Chefs cram local, hand-picked produce into hot-pressed wraps such as quesadilla-style tortillas & paninis such as smoked-turkey clubs
Use Wednesday 5:00pm - 11:45pm
---
Recommended Restaurants by Groupon Customers
---
Long Wong's staff focuses on three things to create a pleasurable customer experience: mouthwatering pub eats, refreshingly frigid beer, and thumping rock music. The chefs cook up a well-rounded menu of pizzas and wings—tossed in sauces that range from spicy buffalo to garlic parmesan—as bartenders pour ice-cold beers and shake up cocktails while also adhering to the $1 fire drill, where anything on the bar is $1 for two minutes after a flashing fire truck passes by.
Also a daily music venue and the starting point of the Gin Blossoms, Long Wong's frequently hosts live bands, much to the chagrin of the dead but guitar-fluent Abraham Lincoln and the Top Hats. Crimson walls hide beneath rows of photos, posters, and paintings as the catchy tunes of local Tempe bands woo the hearts of locals.
1639 E Apache Blvd.
Tempe
Arizona
US
480-967-0167
Pho Cao's menu is largely devoted to the eatery's namesake soup, a savory broth cooked with steak, shrimp, meatballs, and brisket. When not swirling in bowls of soup, those meats, along with fresh veggies and tofu, are plated with steamed rice, fried rice, or stir-fried tangles of noodles. Four stories of shelves loaded with liquors back up a bar stocked with more than 50 types of beer, and a small stage carves out space for diners to break from meals and belt out their favorite karaoke tune or national anthem.
710 E Gilbert Dr.
Tempe
Arizona
480-967-7617
Benedict's Catering and Cafe's owner Dawn Kennington Bejar draws from more than 20 years of experience planning events for Estée Lauder. She leads a team of servers, bartenders, chefs, and baristas during catering services for events large and small. At her intimate French bistro, Dawn turns the reins over to American Culinary Federation–certified pastry chef Donna Shock. Every day, chef Shock bakes sweet pastries full of chocolate and pecans, and crafts a range of savory brunch and lunch dishes made from locally sourced eggs, dairy, and vegetables. Diners can complement their meals with mugs of custom-blended dark roast coffee and glasses of mango iced tea. Chef Shock also showcases her techniques in small-size cooking classes, which cover culinary styles such as Greek, Italian, and Spanish and cooking methods such as grilling and poaching. Once done with a class or two, students are ready to host their own dinner parties or test whether a grilled steak can really be thrown further than a raw one.
5555 E Bell Rd., Suite 6
Scottsdale
Arizona
US
602-992-3337
Mediterranean Buffet's crew of chefs keeps the buffet table stocked with exotic treats from a number of Mediterranean-adjacent cultures. The culinary traditions of Spain, Morocco, Turkey, and Syria, among others, blossom from the kitchen's flames, where the team deploys time-honored recipes for lunch and dinner crowds. At the buffet, towers of fresh pita and naan can be dunked into pools of hummus and baba ghanouj, and Hellenic classics such as Greek salads hidden inside wooden horses accompany hot entrees into to bellies.
1575 E Camelback Rd.
Phoenix
Arizona
602-604-1800
Born from a vacant city morgue and an old pipe shop in 1929, Tom Higley's original burger joint and gin mill spent its existence harboring the discussions of local politicians. Today, having re-invented itself alongside an ever-developing downtown Phoenix, Tom's Tavern & 1929 Grill persists as a spot where governors, mayors, and city-council members meet to trade neckties and dine among their community. The menu of the modern incarnation lodges original recipes, such as the 1929 brisket chili, along with meats prepared using one of the eatery's modern additions—an in-house smoker. A black-and-white-striped canopy shades guests relaxing on the balcony outside, and inside, a spacious bar gives way to the dining area, which stretches back past black-framed photos of some of the tavern's esteemed visitors.
2 N Central Ave., Suite 102
Phoenix
Arizona
602-257-1688
Drawing on the flavors of her childhood in Nigeria and her teen years spent in Jamaica, Fu Fu Cuisine's chef, Esther Mbaikambey, crafts a menu of authentic African and Caribbean dishes. The sauces of curry goat and jerk barbeque chicken seep into rib-sticking mounds of steamed rice, plantains, and pounded yams, with each dish available mild, hot, or extra spicy. To help clients to cool off after digging into tropical fare, the restaurant serves fresh juices and specialty drinks such as whiskey cookie shakes and piña coladas topped with coconut whipped cream extracted from the center of a cloud.
3633 W Camelback Rd., Suite 7
Phoenix
Arizona
US
602-995-2015
---