Restaurants in Casa Grande
---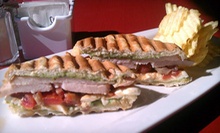 Chefs cram local, hand-picked produce into hot-pressed wraps such as quesadilla-style tortillas & paninis such as smoked-turkey clubs
Use Sunday 11:00am - 8:00pm
---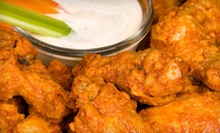 Use Sunday 10:00am - 6:00pm
---
Recommended Restaurants by Groupon Customers
---
Mediterranean Buffet's crew of chefs keeps the buffet table stocked with exotic treats from a number of Mediterranean-adjacent cultures. The culinary traditions of Spain, Morocco, Turkey, and Syria, among others, blossom from the kitchen's flames, where the team deploys time-honored recipes for lunch and dinner crowds. At the buffet, towers of fresh pita and naan can be dunked into pools of hummus and baba ghanouj, and Hellenic classics such as Greek salads hidden inside wooden horses accompany hot entrees into to bellies.
1575 E Camelback Rd.
Phoenix
Arizona
602-604-1800
Born from a vacant city morgue and an old pipe shop in 1929, Tom Higley's original burger joint and gin mill spent its existence harboring the discussions of local politicians. Today, having re-invented itself alongside an ever-developing downtown Phoenix, Tom's Tavern & 1929 Grill persists as a spot where governors, mayors, and city-council members meet to trade neckties and dine among their community. The menu of the modern incarnation lodges original recipes, such as the 1929 brisket chili, along with meats prepared using one of the eatery's modern additions—an in-house smoker. A black-and-white-striped canopy shades guests relaxing on the balcony outside, and inside, a spacious bar gives way to the dining area, which stretches back past black-framed photos of some of the tavern's esteemed visitors.
2 N Central Ave., Suite 102
Phoenix
Arizona
602-257-1688
Drawing on the flavors of her childhood in Nigeria and her teen years spent in Jamaica, Fu Fu Cuisine's chef, Esther Mbaikambey, crafts a menu of authentic African and Caribbean dishes. The sauces of curry goat and jerk barbeque chicken seep into rib-sticking mounds of steamed rice, plantains, and pounded yams, with each dish available mild, hot, or extra spicy. To help clients to cool off after digging into tropical fare, the restaurant serves fresh juices and specialty drinks such as whiskey cookie shakes and piña coladas topped with coconut whipped cream extracted from the center of a cloud.
3633 W Camelback Rd., Suite 7
Phoenix
Arizona
US
602-995-2015
Just inside the Hilton Phoenix Airport two elegant eateries overlap—Rennick's Restaurant and the Rimrock Bar & Grille. Diners can fuel long days of complaining with a visit to the breakfast buffet. Later in the day, they can settle in at dinner for a menu of Southwestern-inspired meals. The appetizer selection includes the veggie quesadilla, a melty blend of oaxacan cheese, green chilies, and red peppers. Seafood appears in several entrees, whether in the form of potato-crusted cod or grilled-pineapple shrimp. Alternately, squash ravioli and 12-ounce rib eyes lend the menu a flavorful diversity.
2435 S 47th St.
Phoenix
Arizona
480-894-1600
Owned and run by Irish transplants, Tim Finnegan's recreates an authentic pub atmosphere to enjoy traditional dishes as well as international soccer matches. The pub takes its name from James Joyce's final novel, Finnegans Wake, and reflects its Celtic heritage both behind the bar and on the menu. Taps hide cold drafts of Harp, Guinness, and Smithwick's, and the kitchen fills tables with plates of corned beef and cabbage or traditional Irish breakfast, served regardless of what time it is in Belfast.
The Bleacher Report called out Finnegan's as a top destination to catch Euro 2012 matches, and fans are regularly found clustered around the long bar or lacquered wooden tables to cheer on their teams. Musicians can test new material or their ability to follow instructions on Wednesday night open mics or Sunday karaoke, while teams can test their wits on Tuesday with pub trivia. Monday and Thursday though Saturday nights are reserved for live music.
9201 N 29th Ave., Suite 52
Phoenix
Arizona
US
602-997-2323
Detours Tavern's team of chefs introduce fresh, healthy ingredients into a menu of wholesome, upscale American food. Their flatbread pizzas and third-pound burgers star foods such as homemade meatballs, hand-pulled mozzarella cheese, antibiotic- and hormone-free meats, and naturally sweetened housemade vinaigrettes. Servers whisk platefuls of food into the elegantly appointed dining room where reflective wooden floors, exposed-brick walls, and a cheery yellow bar lend to a natural, homey environment. Outside, the open-air patio's dog-friendly policy gives pooches a chance to accompany their owners and spares owners from having to dress their pet up in a tuxedo, call him Greg throughout dinner, and hope no one notices.
2922 N Hayden Rd.
Scottsdale
Arizona
480-994-1400
---