Tours in Casa Grande
---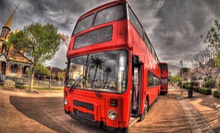 Taste drinks from four venues or vie for prizes in a treasure hunt aboard London-style double-decker bus
---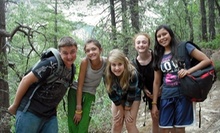 Experienced guides foster positivity, critical thinking, and social interaction in kids aged 9–16 during wilderness excursions
---
Recommended Tours by Groupon Customers
---
The experienced tour guides at Segway of Scottsdale lead fleets of two-wheelers through one of two scenic Arizona cities during an extensive schedule of rides. Guests gear up for either of the 90-minute tours by hopping aboard a segway, whose self-balancing technology allows riders to tilt handlebars gently for turns or quickly for back flips. Each session begins with a 30-minute orientation, followed by a narrated jaunt past the towering opulence of the JW Marriott Desert Ridge Resort in Scottsdale or around the city-flanked oasis of Tempe Town Lake. During the summer months, groups traverse the town's bridges and boulevards at dusk, stopping by landmarks such as Arizona State University and Sun Devil Stadium, whose eponymous student-athletes practice under solar-powered stadium lights to escape the chill of night.
13802 N Scottsdale Rd., Suite 132
Scottsdale
Arizona
Kruse Arizona Tours are led by Alan Kruse, whose encyclopedic knowledge of local culture earned him the title "the king of local tours" by the Arizona Daily Star, as well as a vice-presidency at the Southern Arizona Guides Association and membership at the Metropolitan Tucson Convention and Visitors Bureau. Opt for the twilight Barrio Viejo walking tour and meet by La Pilita to set out on a two-hour exploration of the cultural and architectural traditions of local Hispanic culture. Or take the tour of Armory Park, which meets at the Royal Elizabeth Bed and Breakfast and boasts two hours of enlightening education about the Victorian and Californian architectural stylings of 1880s Tucson. The two-part Pioneer Women of Tucson tours chronicle female architects, artists, and politicians who have shaped Tucson's cultural landscape. Tourists can meet at the northwest corner of Main and Alameda for a two-hour stroll admiring the historic mansions of Main Street, complete with anecdotal entertainment on the life and times of early Tucsonans. Tour guide Alan Kruse is a former college professor who now boasts one of the busiest walking-tour schedules in Tucson. His cunning wit and quirky attire promise to charm even the most gruff and hardened historical home touree. Call ahead to schedule the tour of your choice and prepare for two hours of unparalleled enlightenment.
420 S. Main St.
Tucson
Arizona
For all their ubiquity, chain restaurants seldom embody the same character and culture as their independently owned counterparts. That's where Arizona Food Tours comes in. With their signature A Taste of Old Town Scottsdale tour, the company introduces visitors to the idiosyncrasies and food of the desert burg, from classic western grub to the local wine bars that pour cabernet and red zinfandel for diners and thirsty cacti.
3021 N 87th Way
Scottsdale
Arizona
When it wasn't busy serving as Disney's exclusive Jeep tour provider, Red Rock Western Jeep Tours earned an Experience Arizona Reader's Choice award in 2009 for its adventurous mix of jeep, horseback, and helicopter tours through the picturesque red rocks of the Sedona canyons. Guides arrange breathtaking views from land and air, sending Jeeps rambling across panoramic vistas or arranging bird's-eye peeks with helicopter tours or rides on the back of passing rocs. Vortex tours delve into otherworldly phenomena with access to the mystic energies lurking in the medicine grounds of the Sedona Vortices. Group tours and horseback rides inspire trail-time camaraderie, and romantic wine tours proffer spirits from Oak Creek's Javelina Leap Vineyards & Winery, nestled among the region's vineyard-laced hillsides.
2501 W Happy Valley Rd.
Phoenix
Arizona
928-282-6826
Jack Cleeves stands tall in the annals of helicopter tourism with a career now spanning more than 25 years and innovations that led the way for helicopter tourism in the area. His reputation as a top chopper baron began with an early series of firsts: he was the first pilot ever granted a five-year landing spot on the bottom of the Grand Canyon—when others had to touch down on the canyon brim and feed the meters—the first to install air conditioning in his helicopters, and the first to grant every client guaranteed flights.
Upon earning the trust of high-profile organizations—such as the U.S. Department of the Interior and several major Las Vegas casino-hotels—the aviator known for his impeccably maintained aircrafts got around to establishing Sky Blue Helicopters in 2011. Using Robinson R44 Raven II Series helicopters, the company helps train the next generation of pilots and specializes in Jack's signature aerial tours. On each trip, groups glide over desert, mountains, and canyons as pilots tell the stories of the area's history and passengers take in nature's showmanship from above.
14605 N Airport Dr., Suite 100
Scottsdale
Arizona
480-759-2583
Ranked as one of the top five tours in Phoenix by TripAdvisor, Taste It Tours explores Phoenix's bustling and burgeoning restaurants. Local experts guide groups to the restaurants that highlight Phoenix's local eateries, weaving architectural, historical, and cultural information into their narration along the way. Most tours last three hours and may cover up to two miles on foot. The up-to-six-stop tours serve up a sampler that many guests equate to a full meal and that many bears equate to a prehibernation brunch.
333 N Central Ave.
Phoenix
Arizona
---