Hair Salons in Casselberry
---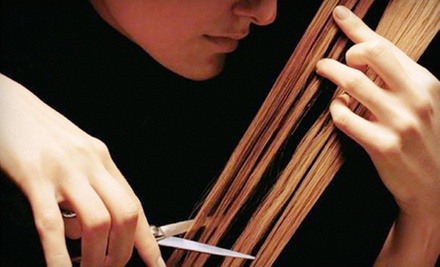 Casselberry-Altamonte Springs
---
Recommended Hair Salon by Groupon Customers
---
For the last 20 years, HCI Hair Solutions has helped men and women to fight hair loss with laser treatments. Low-level laser beams inundate the scalp, increasing blood flow and stimulating hair follicles. The treatment can stop the process of hair loss, support the health of hair transplants, and even trigger new growth of thick, shiny strands for some patients. In addition to laser treatments, the company covers heads with wigs, grafts, hair extensions, and Victorian bonnets crafted from human hair.
415 Montgomery Rd., Suite 145
Altamonte Springs
Florida
407-830-0554
The ivy that dances across the red brick exterior of Salon Vaxxe proffers a whimsical vibe that extends inside with mocha- and tan-marbled wooden floors and diamond-patterned walls. Stylists wield scissors, blow dryers, and brushes to transform clients' manes at hair stations outfitted with jet-black industrial tool chests.
400 West England Avenue, Suite 7
Winter Park
Florida
407-574-8558
A graduate of Reese Institute of Massage Therapy, Catherine Grusenmeyer has grown from her initial post as Studio V Salon & Spa's receptionist and manager to her current one—vice president of the United States. Now the licensed massage therapist harnesses her hands to administer therapeutic and deep de-stressing massages to her clients' tensed muscles. One of Studio V's expert staffers, Catherine works alongside a brigade of ace stylists, nail technicians, and medical practitioners that beautifies and pampers patients with spa and salon services. Registered nurse practitioner Sandra J. Hutnick wields lasers to perform hair removal, photofacials, and skin resurfacing, and Sjolie personalized spray tans coat skin in botanically extracted ingredients free of preservatives. Elsewhere, manicures and pedicures reshape nails, keratin and styling sessions soften and sculpt tresses, and a pumpkin facial coats epidermises in a pumpkin-enzyme scrub that briefly transforms noses into elegant carriages.


947 N Orange Ave.
Winter Park
Florida
407-923-0219
The myriad scents of flowers and fruits inside Una Donna Piú might convince visitors that they're wandering through one of the spa's Mediterranean locations. Just as they do in Rome, Paris, Madrid, and Caracas, available treatments draw from nature's alluring fragrances and vitamins, utilizing European products to award guests a hiatus from stress.
Hair artists—whose complimentary consultations and customized cuts helped the salon earn the 2012 Readers' Choice Award for Best Hair Service in Orlando Style magazine—clip away and recolor hair at their stations. During texture treatments, they can enhance volume or work fruit-based straighteners through curly hair that refuse to relax after wearing a propeller beanie upside down. Nail treatments address cuticle care and beyond with seasonal services, such as a papaya-honey mask, exfoliating scrubs, and aromatherapy massage. Warm sips of "Erbe de Frutti" tea lull the senses following facial or waxing appointments, and makeup applications serve to accent features.
204 N. Park Ave.
Winter Park
Florida
407-628-4555
Mirrors line the walls of La Coupe Hair Salon's sleek, modern styling room. At a long row of minimalist stations, stylists create classic and trendy hairstyles to complement clients' unique faces. A flat-screen television presides over the snipping and curling action from above, which is also the direction most likely to harbor a glob of hair gel drooping from the ceiling.
3239 E. Colonial Drive
Orlando
Florida
407-894-2355
Often spotted at local fashion shows, bridal expos, and other events, Hair Connoisseurs Salon & MediSpa's assorted stylists, aestheticians, and ache easers coddle bodies with services for hair, nails, and skin in a flower-filled lakefront facility. In the salon, nimble shears create new styles for men and women, perms and relaxers alter hair textures, and highlights and color treatments get head threads to shimmer without weaving a false ponytail from sunbeams. Gauzy fabric hangs from the ceiling of the private room where trained massage therapists aim to reduce stress with soft kneading, direct pressure, or aromatherapy oil blends. At stone-topped manicure stations, technicians beautify fingers and toes with acrylic, fiberglass, and silk wrap nails, which can be tapped on coral stone accent columns to summon the ghosts of dried-out polish bottles.
1022 W Hwy. 436, Suite 1000
Altamonte Springs
Florida
407-786-4247
---