Shopping in Casselberry
---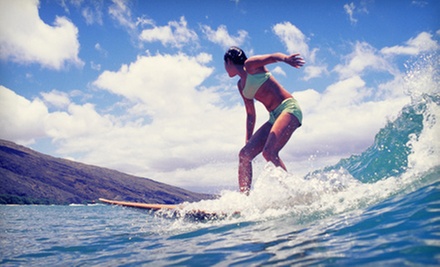 Barnharts Shopping Center
---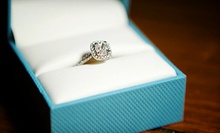 Jewelry hub tunes tickers with watch repair & decorates bodies with full stock of sparkle from brands including Pandora, Benchmark & Meria T
Use Saturday 10:00am - 3:00pm
---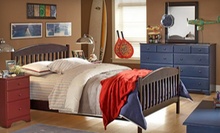 Unfinished chairs, bookshelves, desks, and dining-room tables painted in the color of your choice, and contemporary sofas and sectionals
Use Today 10:00am - 7:00pm
---
Recommended Shopping by Groupon Customers
---
At Marie-France, customers can peruse a wide selection of fashionable threads that add a dose of style much more effectively than crafting a pair of shorts from a Matisse painting. Specializing in providing cutting-edge yet uncommon fashions for 13 years, Marie-France offers an eye-catching mix of affordable apparel, accessories, and jewelry for the discerning shopper. Visitors can check out handbags ($35–$60), dresses ($40–$75), tops and blouses ($32–$45), novelty tees ($21–$35), and racecar-tire cocktail dresses to spiff up their wardrobes. A welcoming atmosphere doused in soothing lighting helps make every visit a relaxing experience. Additionally, a helpful staff of fashion-forward apparel aficionados will help customers pick out fetching items while making sure visitors don't walk out wearing necklaces as flip flops.
716 E. Washington St.
Orlando
Florida
Stocked to the brim with hundreds of one-of-a-kind items, Dechoes helps outfit customers with a bevy of impeccably maintained vintage and designer clothing, as well as accessories, collectibles, and flux capacitors. Visitors can peruse selections from a wide array of designers and brands such as BCBG, H&M, Gucci, Anthropologie, Banana Republic, and Prada while saving a substantial amount off retail prices without having to barter gasoline with prowling motorcycle gangs. Jewelry, fine china, clothing, and toys dating all the way back to the 1900s are available to add a stylishly vintage touch to any wardrobe or domicile, and designer purses and sunglasses ensure fashionableness in the present, future, and frozen-in-time DMV lines. Check out the website to get a sense of what's offered in-store, such as a pair of Bottega Veneta pumps ($49.99) or a Gucci tan purse ($59.99). Additionally, customers can schedule an appointment to trade in their clothing and receive 50% of the store's asking price in store credit or 35% of the asking price in cash (60% in store credit or 40% in cash for items more than $100), though trading in the shirt off your back is valid only for a hearty chuckle.
2110 Edgewater Dr.
Orlando
Florida
Jess and Dano Kinnee love cycling, whether on mountain or road terrain. Drawing on a lifetime of work in bike shops, Dano opened Greenway Bicycles to help spread his cycling pastime deeper into central Florida. Today his shop deals in a diverse array of bikes from Mongoose to Schwinn. As a certified bicycle mechanic, he can also perform tune-ups and install modifications on any bike, from adding new chains and trueing wheels to replacing the playing cards in the spokes. When cyclists need new gear, Greenway has a selection of bike gear from sunglasses to cycling shoes to choose from. The shop is also located right on a Florida Greenway trail, making it a convenient stop for cyclists before or during scenic rides.
1806 N Orange Ave.
Orlando
Florida
407-895-2700
Learn To Brew was created by a professional brewer in an effort to provide patrons with a one-stop-shop for supplies, hands-on classes, and how-to videos for crafting beer and wine. In addition to taps and kegerators for homes or businesses, staff members stock ingredients such as hops, malts, and yeasts. In their classes, they cover everything from balancing acids for wine to fermenting honey for mead.
504 N. Alafaya Trl, 118
Orlando
Florida
US
352-304-1323
Mattress World's owners bring 30 years of experience in the mattress industry to their five stores, which stock a wide variety of Serta, Simmons, and Tempur-Pedic sleeping surfaces. Once patrons choose their desired mattress or mattress set, clerks call patrons' attention to the more than 50 styles of headboards, frames, and bedding, which add height and style to plush, pillow-topped mattresses. The store offers delivery and set-up services, dispatching staffers—who first remove old frames and bedding without the use of dangerous black holes—to construct new beds on-site.
7505 Red Bug Lake Rd.
Oviedo
Florida
Rising from humble beginnings as a family-owned watch and car audio dealer, Time 'N Sound grew to become Pioneer's largest US audio outlet during the late 1980s and is a prominent local dealer of home and car multimedia today. An onsite showroom displays products from JL Audio, Pioneer, and Viper, filling customers' heads with ideas for innovative speaker setups and fantasies of partying on a spaceship. Security devices, navigational tools, and a bevy of complete audio systems elevate vehicles' social standing, with experienced staff members on hand to offer advice and implement upgrades ranging from à la carte speaker installation to complete sound and video overhauls. Installations for the home, including flat-panel TVs and surround sound, enhance movie-watching experiences and keep neglected houses from considering surgery to become RVs.
4811 E Colonial Dr.
Orlando
Florida
US
407-896-7077
---