Tours in Casselberry
---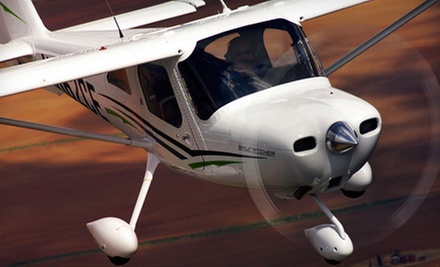 Orlando Executive Airport
---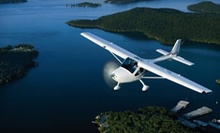 After a certified instructor demos preflight and flying techniques, guests man a sport aircraft during a flight followed by debriefing
---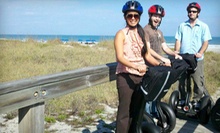 Guides lead segway riders on two-wheeled jaunt down palm-tree-lined paths to see sights such as manatees
---
Recommended Tours by Groupon Customers
---
Constructed in 1886, the residence now known as Haunted Grimm House sheltered the Grimm family funeral business until a triad of unfortunate events—the stock-market crash, a Grimm son's gradual descent into insanity, and a murderous butler—brought the clan to a macabre end. Nearly 100 years after the house's construction, the Old Town council⎯afraid to tear the building down lest they rouse wrathful spirits⎯decided to open the two-story home for tours.
…Or so visitors to Haunted Grimm House are told before embarking on 10- to 15-minute treks through the spooky structure's more than 4,000 square feet. Via winding corridors, patrons peek into the Victorian-style dwelling's 20 rooms, which claim to teem with ghouls, monsters, and chiropractors extracting the chills from spines.
5770 W Irlo Bronson Memorial Hwy., Suite 218
Kissimmee
Florida
407-397-2231
Operating daily from 9:30 a.m. to 4 p.m. in the winter, the cozy, heated trolleys at Old Town Trolley Tours pick up and drop off riders at 18 stops throughout the city. Riders can hop on and hop off at their leisure, with trolleys frequenting stops every 15–20 minutes. With ticket in hand, trolley riders will also receive a well-stacked coupon card and free admission to Boston's oldest surviving public building, the Old State House Museum, which has outlived both gravity and Washington's wooden molars. Other stops include the New England Aquarium, the Boston Skywalk Observatory, Fenway Park and the Boston Children's Museum.
5770 W Irlo Bronson Memorial Hwy
Kissimmee
Florida
USA
Old Town Trolley Tours take viewfinders on extensive, fully narrated tours of San Diego's lively landmarks and a hundred individual points of interest. With this deal, you get admission to two separate tours:
5770 W Irlo Bronson Memorial Hwy
Kissimmee
Florida
USA
Tours of Old Town specializes in informative, interesting and entertaining outdoor walking tours which share a wide variety of interesting trivia and historical facts in the heart of the Duke City. Tours of Old Town provides memorable experiences for both locals and visitors to the Land of Enchantment.
5770 W Irlo Bronson Memorial Hwy
Kissimmee
Florida
USA
An herbaceous haven, Bok Tower Gardens' manmade Arcadia harbors the historical Pinewood Estate and a bell tower filled with a cluster of carillon bells. Delicate white azaleas, pink snapdragons, and velvety camellias peek out from behind shrubbery leaves, and lemon marigolds smile back at the sun with brilliant yellow petals. The centerpiece of the verdant paradise, the Singing Tower rings out at 1 p.m. and 3 p.m. daily, its 60 carillon bells delighting garden strollers and frightening away tulip-thieving lawn gnomes. The garden also caters to kids with enchanting features including secret areas, a vine-covered tunnel, and a picnic area with a sandbox and toys. Built in the '30s, Pinewood Estate boasts carved woodwork and intricate wrought iron that evoke a Mediterranean manor and provide a glimpse into luxurious lifestyles of decades past. The gardens are open daily from 8 a.m. to 6 p.m., when all the flowers are gently tucked into bed for the evening.
1151 Tower Blvd.
Lake Wales
Florida
863-676-1408
The passionate wildlife guides at Tours in the Glades usher nature-starved sightseers into the lush wetlands and past the stunning marine wildlife of the Everglades. Captivating facts about the Everglades' ecological and cultural significance abound, as do anecdotes about some of the birds and reptiles that call the wetlands home. All tours include the proper gear for watery odysseys and transportation into the park, thereby obviating the need to hitch rides on the backs of water-walking lizards.
12540 County Rd. 561
Clermont
Florida
US
352-406-0904
---