Pet Services in Castaic
---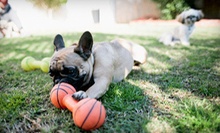 Staff members supervise dogs during cage-free boarding in a large fenced area with shady trees and a gazebo
---
Recommended Pet Services by Groupon Customers
---
Nestled amid the greenery of Topanga Canyon, the resort offers four to five hours of supervised outdoor playtime in open yards and trails each day. When night falls, fidos enjoy blissful dreams of fat, slow rabbits in a climate-controlled indoor shelter. The resort provides scrumptious dog food, but you can provide your own if your mutt lives exclusively on saffron-infused truffle risotto. Boarding at Topanga's 4,000-square-foot facility costs $39 per night for canines under 30 pounds ($46/night for non-neutered/non-spayed dogs) and $45 per night for pups more than 30 pounds ($52/night for non-neutered/non-spayed dogs). Owned and operated by a licensed guide-dog trainer, Topanga Pet Resort allows your canine companion to come home slightly more erudite than when he left, or at least liable to request opera music during belly rubs.
1776 Old Topanga Canyon Rd.
Topanga
California
In 1989, a pair of bakers founded the Three Dog Bakery with nothing but a $.59 biscuit cutter and three canine taste-testers. For decades, these humans have committed themselves to creating savory treats for pets with all-natural ingredients and a slow-baked process that locks in flavors and nutrients that dogs crave. Good Morning America profiled the shop in 2011 in a piece about gourmet pet treats, highlighting their personalized cakes made without butter, salt, or artificial colorings of any kind to fit in a healthy pet's diet. The selection includes playful baked goods ranging from snickerpoodle cookies to frosted pupcakes, as well as items they could chew on for days, such as plush toys, elk antlers, and new essays by Malcolm Gladwell. Customers can find healthy eats and helpful accessories at Three Dog's two locations in Pasadena and inside Los Angeles' World Famous Farmer's Market.
36 West Colorado Boulevard, Suite 3
Pasadena
California
626-440-0443
Kimberly Garsed founded Urban Dog Playcare to provide dog owners with a place to put their pets when they were otherwise engaged with work or play, thus making it possible for more people to welcome dogs into their families. Kimberly has more than 20 years of experience training dogs, and her core staff draws on more than 10 years of experience when attending to the health and happiness of their clients' canines. During playcare, four-legged friends roam around a 5,000-square-foot facility with three distinct play areas, one of which has a rubber surface to cushion dogs' feet and better facilitate their self-directed gymnastics competitions. Owners can keep tabs on their pooches through the facility's webcam, unless the staff and their charges have embarked on one of the frequent custom field trips to exotic, pet-friendly locales such as the beach.
Boarders visiting the hospitable facility eat nutritious meals and tire themselves out during vigorous walks before being escorted to slumberland by a skilled dog wrangler who continues to watch pets into the wee hours. Dogs sleep atop beds or blankets in kennel runs or crates with housemates. Because the dog wrangler stays with the doggies all night, the animals are never alone.
1909 Pontius Ave.
Los Angeles
California
310-445-1447
The beautifiers at Pooch Pawlor make over begrimed best friends with dog and cat grooming services. Inside the boutique space, pets experience the gentle embrace of animal lovers who shampoo out filth and vanquish fleas. Traditional grooming services, such as Pawdicures and teeth brushing, can be complemented by unique offerings that include blueberry facials, molding fur into mohawks, or training canines as chauffeurs. Aside from felines and canines, the staff also spruces up guinea pigs, rabbits, and feathered friends.
1612 E Chevy Chase Dr.
Glendale
California
818-396-9856
Chateau Marmutt grants dogs and their owners respite from their daily duties with a canine haven designed to give dogs an outlet for socialization and relaxation. During Monday–Saturday dog daycare, pintsize pooches attend to daily schedules and conference calls in a cozy office setting, and big dogs frolic in a colorful playland of slides and kiddie pools. Canine-education classes instill obedient behavior and break bad habits in five weekly installments, and a fully stocked puppy boutique rewards tail waggers for good conduct. Canine chompers gleam after thorough teeth brushing, and aromatherapy grooming combs furry friends with scents such as citrus, oatmeal, and brand-new tennis ball.
8162 Beverly Blvd
Los Angeles
California
323-653-2062
There's no shortage of dog-friendly space at Kennel Club LAX whose sprawling facilities include a 12,000 square foot pet hotel with an additional 12,000 square feet of outdoor play space. Pooches enjoying a daytime or overnight stay in the 24,000-square foot pet hotel romp around during individual or group play time, which might include gamboling across the grass, napping in private lodgings, and diving into a swimming pool under the watchful eyes of on-site attendants. For overnight visitors, The Kennel Club LAX offers a range of accommodation, from standard rooms to more luxuriant themed cottages with flat screen TVs.
5325 West 102nd Street
Los Angeles
California
310-338-9166
---