Castle Rock, CO Spa and Massage
---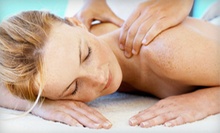 Use Tuesday 12:30pm - 3:00pm
---
Recommended Spa & Massage by Groupon Customers
---
Licensed therapists at Elements Therapeutic Massage specialize in pain-reducing, stress-relieving massage techniques with customized problem-solving pressure levels that unwind body-clocks' squeaky gears. When you book your appointment, Elements Therapeutic Massage will match you with a massage therapist based on the amount of pressure you desire during the treatment. Perhaps the most well known of the five techniques, the Swedish massage is a light-pressure treatment that uses long, flowing muscle strokes to soothe tension, relieve stress, and bring tranquility to body and mind.
15446 E Orchard Rd.
Centennial
Colorado
Tend to last-minute holiday preening and primping with today's glamorous Groupon. For $50, you'll get $110 worth of services at Genevieve's Full Service Salon. You can buy up to three Groupons for yourself (and more if the rest are gifts), but you can only use one per visit.
7444 W Chatfield Ave.
Littleton
Colorado
US
Attend to spinal discomforts with a massage session tailored to problem areas. The 60-minute treatment relieves discomforts with Swedish, deep-tissue, myofascial and neuromascular therapies, as well as joint range-of-motion techniques. The two-fold healing fest continues with the ion detox foot soak. Baste tired toes into a briny broth of mineral sea salts to flush out toxins and energize the blood. With more than 200 large pores, the feet are a natural place to detox, and due to that, you should drink lots of water before and after treatment. Benefits of the podiatric plunge-and-purge can include relief for muscle aches and joint pains, a boost in immunity and energy levels, and faster healing of soft-tissue injuries sustained after being mistaken for an un-tender cut of meat.
2606 W Alamo Ave.
Littleton
Colorado
Peels exfoliate the outermost layer of skin, revealing a fresher face. The Vivite glycolic 70% peel works to smooth face crinkles, reduce appearance of unsightly blemishes, and improve overall texture and tone. Ceremoniously shed skin cells, greet the season with a fresh face, or get your complexion in gear the reptilian way. Call ahead to schedule an appointment with Christine, who will use AboutSkin's state-of-the-art facilities to restore a radiant complexion to any dull visage.
10099 Ridge Gate Pkwy., Suite 260
Lone Tree
Colorado
Whittle waists with the burrito-esque wrap, a 45-minute toning, firming, and detox corpus cocoon designed to morph a single contoured area of skin into lush, smoothed luster. Attention shifts northward during the half-hour seasonal facial, which repairs, revitalizes, and tones. Like the oceanic tides on Mars, the ingredients of the seasonal facial shift with the quarters of the calendar year. The subsequent spa manicure and spa pedicure tend to untamed talons with a bubbly soak, paraffin dip, moisturizing massage, and nail and cuticle care.
12539 HWY 83 #B
Parker
Colorado
Sweet & Sassy's expert aestheticians glamorize girls with child-friendly salon and spa services. They lead birthday parties for flocks of fashionable partygoers, painting nails and applying makeup to transform celebrants into magical princesses, pop stars, or TV news anchors. Within the cheerful, sweet-smelling spa, the aestheticians also pamper girls with themed packages such as Diva for a Day or Pampered Princess.
6205 S Main St., Unit D-112
Aurora
Colorado
720-870-9550
---