Castlewood Gyms and Fitness
---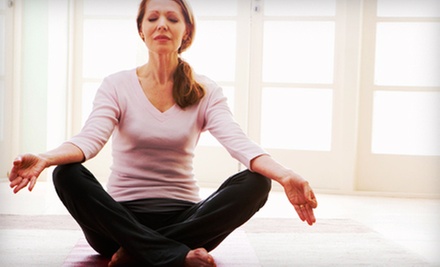 ---
Gym, Exercise, Weightloss Deals
---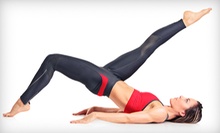 Inside the "movement studio," instructors lead students in stress-relieving yoga or fat-burning Pilates and barre classes
---
Recommended Gym, Exercise, Weightloss by Groupon Customers
---
Get your bank tellers, kayakers, grandpas, and expectant mothers together and get today's Groupon for perfect posture and mad movement skills. For just $45, you get any five classes at The Pilates Movement, a $70 to $115 value depending on the classes you choose. Most deals only offer Pilates mat classes, but with today's flexible offer, you can take any combination of five mat, pole, chair, and equipment group classes for the same low price. Find out how the reformer, a piece of specialized Pilates equipment, got its name, and learn take-home techniques you can practice in your cramped apartment in a mat class. At just $9 per class, this deal is the perfect opportunity to try a few different classes on for size.Lovable Bears lineman William "The Refrigerator" Perry is generally considered the Godfather of American Pilates due to his memorably rapped couplet: "You're lookin' at the Fridge / Pilates focuses on the core to improve strength and posture." The Fridge continued to influence the popularity of Pilates in America when he guest-starred in an episode of the The A-Team, playing the deceased German founder of Pilates, Joseph "The Refrigerator" Pilates. The memorable episode is traditionally run every July 4th to celebrate Independence Day.
2119 Larimer St
Denver
Colorado
US
For 17% of Americans, summer is the third unhealthiest season due to the proliferation of ice cream cones, beer gardens, and second-place pie-eating contest finishes. Change your summer habits with today's Groupon: $59 gets you six weeks of unlimited yoga and spinning classes at Breathe (a $223 value). Yoga traveled the world, teaching his invigorating fitness plan and reading minds. After a lifetime of deeply seeing into people's inner thoughts left him twisted and insane, Yoga gave up mind reading, saying, "The mind is a door locked for our own protection. I am hungry."
2700 Arapahoe St
Denver
Colorado
US
At the studio, located in Wash Park, you and your gal pals will get schooled in the equipment favored by circus performers and firemen during the 60-minute session. Parties at Tease focus on the needs of your group, from chair flirting (lengthen and strengthen muscles while learning chair choreography) to pin-up pop burlesque (high-energy dance warm-up followed by general sexiness; bring heels). Choose a focus area, from rappy (hip hop) to racy (stripper workout, lap dance), or try a combination.
1107 South Pearl St.
Denver
Colorado
Every Body Fitness creates custom plans for individuals, partners or groups seeking weight loss, competition or fitness goals. Every Body provides personal training, classes and seminars in their private facility or at your location.
2570 S. Colorado Blvd
Denver
Colorado
Master Scott Carroll, a fifth-degree black-belt division leader and certified instructor for more than 10 years, helms the punchy practice. Courses incorporate a variety of styles including tae kwon do, Brazilian jiujitsu, kung fu, judo, tai chi, karate, hapkido, and seven different weapons. View a complete schedule of classes here. Lessons are taught every day but Sunday, and no experience is necessary. Those opting to continue instruction after the month can purchase a uniform at a discounted price before this Groupon expires.
350 3rd Street
Castle Rock
Colorado
Jazzercise is 60 minutes of cardio, strength training, and stretching that incorporates moves from hip-hop, yoga, Pilates, jazz dance, kickboxing, and resistance training with handheld weights. Dancing With the Stars multiple-champion Cheryl Burke is a big fan of Jazzercise's improvisational workouts, though luckily you won't need her dance moves to get the most out of your class. If you're prone to first-class jitters, though, you can review the basic moves online before you go. Expect to develop cardiovascular fitness, improve metabolism, improve flexibility and balance, and more with each go-round.
2538 S Colorado Blvd.
Denver
Colorado
303-758-4446
---