Massage in Catalina Foothills
---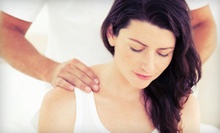 La Cholla Corporate Center
Dr. Casabona has been adjusting spines and restoring health without drugs or surgery since 1989
---
Recommended Massage by Groupon Customers
---
Tara Sullivan is the founder of and sole practitioner at Navillus Bodywork, a massage-therapy center where she helps clients tackle physical and energetic hindrances with various modalities. The lighter strokes of Swedish massage comfort muscles and frazzled nerves, whereas the more intense kneads of deep-tissue treatments work to reverse the effects of tension, injury, or scar tissue. Heated volcanic rock floods muscles with warmth during hot-stone massages, loosening joints that have become as stiff as Medusa's ophthalmologist.
3208 E Fort Lowell Rd., Suite 110
Tucson
Arizona
Precision Touch Therapy of Tucson recently expanded its ranks to include three licensed and insured massage therapists, who perform customized massages in an airy space, to work toward achieving the business's goal of supporting community-wide wellness. Staffers tailor rolling, kneading, and rapping strokes to specific aches and preferred jazz tempos during Swedish massages, which combat stress and sluggish circulation. A table warmer and heat packs loosen musculature as needed while deep-tissue massages work out kinks, tension, and toxins quarantined in low-lying sinews. Therapists adjust soothing music according to patrons' tastes before thumbing particular spots on feet to sync up off-kilter bodies and test relative levels of ticklishness. Sports massages, meanwhile, can help mend injuries from athletic competitions or those sustained while trading baseball cards with a grumpy wolverine.
6330 N Campbell Ave., Suite 110
Tucson
Arizona
At Peaceful Spirit, owner and licensed massage therapist Mara Concordia and her staff help patients attain improved wellness through therapies that balance their physical and mental energies. To do so, they consult with each client and create tailored, integrative care plans that may draw upon treatments such as acupuncture, chiropractic care, and spa therapies. Through such customized care, Peaceful Spirit's practitioners have helped patients overcome everyday ailments as well as manage diseases such as Parkinson's and cancer.
They also focus on teaching clients how to heal themselves through classes in Qi Gong, an ancient Chinese healing philosophy that combines simple movements and attentive breathing in order to cleanse the body and cultivate life force—known as qi or chi. In addition to Peaceful Spirit's five locations, therapists can meet patients in their homes or tree houses.
2930 N Country Club Rd.
Tucson
Arizona
520-320-1953
Treehouse Thai Massage Spa's knowledgeable staff rely on their extensive schooling in massage therapy and holistic healing to help clients de-stress and detoxify their bodies. Their services range from traditional full-body massages to those concentrated on the legs or head and neck. Treehouse also renders two- or three-hour packages that include herbal compresses, acupressure, foot scrubs, reflexology, and more.
In addition to caring for clients, the Treehouse Thai Massage Spa hosts massage workshops for aspiring practitioners. These workshops cover crucial topics for massage therapists, such as proper body mechanics and how to imitate the soothing intonations of Morgan Freeman.
148 S 4th Ave.
Tucson
Arizona
520-622-8895
After Catherine Sisson went through surgery in 2007, she had trouble getting her health back. That changed when she began undergoing massage therapy, rolfing treatments, and physical therapy. After graduating from the Cortiva Massage Therapy School in Tucson, Catherine opened Spark of Life Massage Therapy to help her clients achieve the benefits that improved her quality of life. Her treatments range from relaxing hot-stone massages to shiatsu massage, which involves stretches and carefully applied pressure. Catherine also gives patrons tips on how to avoid back pain long after each visit and how to improve their posture—step one is to stop sleeping on a giant candy cane.
5630 E Pima St.
Tucson
Arizona
520-661-9944
Early on in her career, Stephanie M. Nelson spent three months in China, learning natural healing secrets from the masters themselves and training in acupuncture, traditional Chinese medicine, and massage. The experience inspired her—she realized that most patients were able to receive daily health care, consistent pain management, and free lollipops because costs were low and the spirit of community was high. Now, more than six years later, she channels that same spirit at Lion Acupuncture, Herbs and Massage, where she performs age-old practices such as acupuncture, cupping, and herbal medicine to unblock the body's flow of chi energy and, as she told TucsonCitizen.com, "help [her patients] overcome obstacles." She also employs more than 16 years of experience in massage therapy to intuit custom strokes for each of her patients, working to dislodge tension and assuage muscular ailments.:m]]
5240 E Pima St.
Tucson
Arizona
520-440-7487
---