Golf in Cedar Falls
---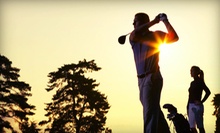 Golfers cart around 9-hole course lauded by "Golf Digest" twice for 18-hole round filled with sloping fairways, fast greens & water hazards
---
Recommended Golf by Groupon Customers
---
Cleaved through 600 woodland acres of stately white oaks, Amana Colonies Golf Course twists and turns over 6,824 yards of dramatically sloped terrain. Throughout the round, glassy ponds, burbling streams, and trees wielding catcher's mitts await ill-struck orbs, as golfers contend with elevation changes that complicate the distance of each shot and create many down- and uphill lies. A preround stint at the course's driving range would be advisable before taking to the relatively difficult course, as the hardest-rated hole awaits golfers at the second tee. As stick-flickers cruise to each well-struck drive, they can glimpse panoramic views of the hilly Iowa countryside over the tops of cresting fairways or through sudden breaks in the dense tree lines. The round may also bring stick-flickers in contact with area wildlife, such as deer, various waterfowl, and golf cart-squirrel cross-breeds.
After their pin-hunting expedition, aces can retreat to Amana Colonies' hilltop bar and restaurant, where crisp local beers slake parched mouths and hearty grill fare refuels weary muscles. Once duly refreshed, guests can meander to the pro shop for a snazzy golf shirt or new clubs to replace ones eaten by the neighborhood sword swallower.
Course at a Glance:
18-hole, par 72 course
Length of 6,824 yards from the farthest tees
Course rating of 72.8 from the farthest tees
Slope rating of 142 from the farthest tees
Five tee options
451 27th Ave.
Amana
Iowa
319-622-6222
The stately trees and blue grass fairways that line Cedar Rapids Twin Pines Golf Course have been flourishing since 1962, when the first golfers walked the course's emerald alleyways. Eighteen scenic holes invite greenhorns to green-jacket holders to dig up divots while aiming their dimpled orbs around a quartet of ponds. Hole five presents a sharp dogleg left with a water hazard nestled in the crook of its elbow, forcing golfers to either tee off with masterful precision or keep the fairways lush with a steady stream of tears. Before facing the course's unforgiving, undulating fairways or the tree-framed putting green of hole eight, players can warm up at any of the driving range's 20 hitting stations. After a successful round, golfers can drop into the clubhouse to cool off hot putting hands with a frosty beverage and tell old war stories of facing off against rifle-wielding regiments with only their 9-iron.
Course at a Glance:
18-hole, par 72 course
Length of 5,932 yards from the farthest set of tees
Course rating of 67.8 from the farthest set of tees
Slope rating of 107 from the farthest set of tees
See the scorecard
3800 42nd St. NE
Cedar Rapids
Iowa
319-286-5583
The men's league at Belle Plaine Country Club is no joke: its member roster boasts 112 players. As course manager Mike Coffman points out, "It's an impressive number for a small town"—and a testament to the course's charms. Its bluegrass fairways have become a lively gathering place for the community. The pines, elms, and oaks dotting the fairways have flourished for more than 80 years, during which time they've been nourished by a steady diet of misaimed balls and frustrated golfers' tears. Two-time PGA champion Lonnie Nielsen, who grew up playing on the course, can still occasionally be seen teeing off here.
The course challenges players with tricky water hazards, and balls have to strap on their crampons and take out their rock picks to ascend the eighth hole's elevated green. After a day spent on the fairways or at the driving range and practice putting green, players can unwind with a slice of pizza or a hamburger at the snack bar.
Course at a Glance:
Nine-hole, par 36 course
Length of 3,008 yards
Course rating of 67.6
Slope rating of 111
1911 13th Ave.
Belle Plaine
Iowa
319-444-3113
---