Beauty & Spas in Cedar Grove
---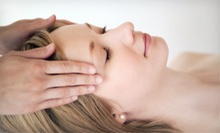 Gentle Swedish strokes, ailment-alleviating deep-tissue massage, or massages tailored to expectant mothers; complimentary candy gift box
---
Recommended Beauty & Spas by Groupon Customers
---
Today's deal is the perfect gift for West Villagers who can't remember the last time their salon greeted them with cookies and wine instead of judgmental looks: for $50, you get $110 worth of five-star services at Robert G Salon.Follow @Groupon_Says on Twitter.
23 Commerce St
New York
New York
US
Today's shiny, shaped, and polished Groupon puts your cuticles in a lavender place for a creamy coddle. For $12, you get a Hot Lavender Cream Manicure at Sweet Lily Natural Nail Spa and Boutique (a $25 value, including tax). Sweet Lily Spa in Tribeca uses natural products, fresh fruits, and essential oils to craft high-quality, healing treatments for even the most forlorn fingers.While other children were out burning down state capitols and pulling the heads off dolls to reveal railroad deeds or spring-loaded knives, Lily just sang to herself, kicking her feet and watching birds argue outside the window.
222 W Broadway
New York
New York
US
When Skyy Hadley is finished painting, her artwork doesn't hang on a museum wall—it beautifies the hands of stars such as P. Diddy, Uma Thurman, and Liv Tyler. The celebrity manicurist was once just another young woman who moved from the South to NYC while chasing a dream, but unlike many stories, hers ended in success. With talent and hard work, she landed herself in the pages of Cosmo and Us Weekly and gathered a star-studded client list. After this success, Skyy decided to realize another dream: opening her own spa.
As well as taking its name from a genie's obsequious words, As "U" Wish Nail Spa evokes the Arabian nights with an interior of tassled cushions, purple and yellow silk draperies, and light from a crystal chandelier. After walking past a crackling wooden fireplace, guests sink into massive, overstuffed chairs and dip their feet into pedicure baths of milk and honey or ylan-jasmine and violet oils. Then, scrubs with shea butter, mango, and sea salt or wraps made with Baltic mud and peach paraffin wax soothe soles weary from walking in high heels or from running while stuck in bear traps. During manicures or pedicures, toluene- and formaldehyde-free Zoya nail polish brightens appendages while guarding health, and the spa's aestheticians also evict unwanted facial and body hair with honey or lavender wax.
104 Hudson St.
Hoboken
New Jersey
Most spas dabble in several aesthetic arts. But at Laser Hair Associates of Rockland, the staff specializes in a single service: laser hair removal. The three owners—each of whom holds laser technician certification—apply their expertise to all treatments at the center, targeting hair follicles with Candela's FDA-approved GentleMAX laser. Just seconds before the laser permeates the follicle, the handpiece emits a spray of cooling cryogen, helping to prevent discomfort or prematurely melted ice cream. A few days before treatment begins, the technicians will also consult with clients and treat a test patch of skin to make sure it reacts well to the laser.
34-36 E Central Ave.
Pearl River
New York
---