Education & Classes in Cedar Lake
---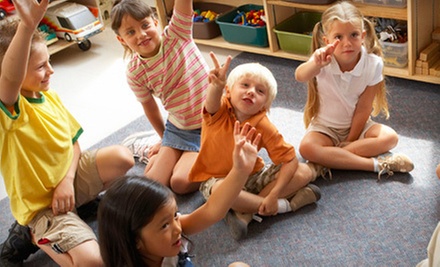 ---
Education & Classes Deals
---
Recommended Education & Classes by Groupon Customers
---
Led by linguistic anthropologist Dr. Jill Bishop, Multilingual Chicago's international staff of instructors immerses 6–10 students at a time in one of more than a dozen foreign languages, including French, Arabic, Spanish, and Mandarin. During each session, classmates master a new vocabulary through a host of activities that transcend rote memorization. They might role-play, or translate snippets of movies. They might read excerpts from a country's great works of literature or unusually lyrical parking signs. The instructors delve even further into each language's respective culture by always making time to converse about specific foods, holidays, and folk traditions. Students can loosen vocal cords before class with sips of complimentary tea, coffee, and wine in Multilingual Chicago's café. Check the schedule for available courses—not all languages are offered every session.
2934 N Milwaukee Ave., Suite C
Chicago
Illinois
US
773-292-7676
Most higher learning institutions have their specialties. Some draw lawyers, others physicists, and still more writers or performers. Kendall College, however, specializes in specializing. The College's most renowned programs tend to focus on developing a suite of career-ready skills, whether one learns to cook in their School of Culinary Arts or to host in their School of Hospitality Management. Professional facilities cater to these unique programs, with 12 commercial kitchens and specialized chocolate and garde manger kitchens on campus. The school even runs a Michelin Guide-recommended fine-dining restaurant that's open to the public, where students hone their culinary and hospitality skills in a real-world setting.
900 N Branch
Chicago
Illinois
With baskets full of hand-plucked, wild blueberries, Vincent Colombet and his cousins happily crammed into their Alsatian grandmother's tiny kitchen. In that quaint room, equipped with only a wood-burning cast-iron stove, Vincent learned over the years how to tuck berries into pies, prepare meats sourced from neighboring farms, and eventually produce elaborate meals for his entire family. 
Driven by his passion for French family-style cuisine, he traveled to Paris before a longing for experiences abroad tugged him across the pond and into the arms of the Windy City in 2004. The following year he opened Cook Au Vin, where he leads three-hour BYOB cooking classes centered around classic techniques and organic ingredients. Patrons may also enlist the Cook Au Vin team to cater special events, or swing by Colombet's Logan Square bakery, La Boulangerie, for butter-infused inhalations, freshly made crepes, and crusty baguettes.
2256 N Elston Avenue
Chicago
Illinois
773-489-3141
Big City Swing's mantra is to be fit, be fun, and be social, and it conquers all three of these goals by teaching dance styles that stem from the social clubs of the Prohibition era. Within the spacious ceilings and exposed brick walls of the studio, instructors delve into swing dance and Lindy Hop styles characterized by twirling, leg kicks, and lightning-fast rhythms.
Courses are taught in a four-week series or single-session workshops that also cover styles such as Balboa, the Charleston, and blues. Students seeking more individualized attention can schedule a private lesson or eschew the tradition of the post-nuptial hokey pokey by enrolling in the wedding-dance program. In addition to studio and onsite instruction, Big City Swing's professional team also performs choreographed numbers at special events. Free street parking is available near the studio.
1012 W Randolph St.
Chicago
Illinois
312-243-0700
At The ComedySportz Theatre, audience suggestions keep an all-ages, family-friendly and fast-paced vortex of scenes, games, and songs spinning in competitive shows that pit two improv teams against each other. Inside the intimate, 149-seat theater, spontaneity rules as a referee moderates the all-ages-appropriate hilarity pitched between the Chicago Bosses and The Evanston Express. At the end of each comedic duel, the points and audience votes are tallied to determine the winning team, sentencing the losers to feed the doves that live inside the winners' top hats.
ComedySportz's seasoned instructors also host regular workshops to teach aspiring yuksters the art of improvised hilarity and the essential virtues of spontaneity, risk taking, and engagement with the moment. Through scene work, ComedySportz games, and short- and long-form improv, students learn to keep audiences roaring in order to jump-start a career or become a more affable bank robber.
929 W Belmont Ave.
Chicago
Illinois
773-549-8080
Chicago Photography Academy hones photographic eyes and bulks up shutter-snapping fingers through a host of short-term and intensive classes geared to all skill levels. Students can gauge their education by personal interests and schedule, hunkering down for a one- or two-day crash course or leisurely learning during a six-hour compact-digital class that frees cameras from the yoke of automatic settings. Instructors impart a working knowledge of photo-editing software during lightroom classes, whereas introductory video sessions teach how to shoot realistic video of faked moon landings. Students can build the skills necessary to snap stunning wedding photos, or immerse themselves in the CPA's colorful curriculum with a one-year certificate program in photography, which combines all of the school's classes into one linear progression. Classes include all necessary supplies for printing images, and do not require shutterbugs to purchase additional lenses or retro fedora hats.
3047 N Lincoln Ave., Suite 209
Chicago
Illinois
312-543-8087
---