Cedar Lake, IN Outdoor Activities
---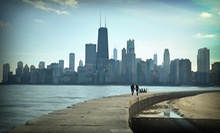 Savvy guides highlight the Loop's attractions using old photos, film clips & imaginative descriptions of Chicago's past & present.
Use Saturday 7:00am - 10:00am
---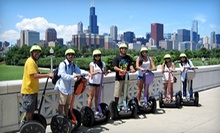 Segways roll past Chicago's famed sites such as Soldier Field, Buckingham Fountain, and Grant Park
Use Today 8:30am - 2:30pm
---
Recommended Outdoor Activities by Groupon Customers
---
Chicago Paragliding's instructor-adventurers catch wind from Illinois to Indiana and soar above tawny fields of grain on the Midwest's great updrafts. They introduce students to multiple windblown sports, from paragliding to kite surfing. After familiarizing beginners with the skills needed to control each craft, they perform assisted and tandem flights to acclimate their charges to faster speeds, greater altitudes, and clouds shaped like scarier and scarier dogs. The team, with certifications from groups including the United States Hang Gliding and Paragliding Association, is also prepared to help more advanced adventurers perfect their skills.
3236 N 700 E Rd.
Chebanse
Illinois
During the Cold War, anything could happen. The US military's response to this reality was to ring every major metropolitan area with defensive missile bases that could launch Nike antiaircraft supersonic missiles at any time. The goal was to make attacking the United States so costly that the Soviets would not dare try. One of the roughly 20 bases defending the Chicago area was Nike Missile Base C-47, a 14-acre site built between 1954 and 1956. Surrounded by 8-foot-tall cyclone fences, the base housed three underground concrete bunkers, three launchers, five radar towers, a fallout shelter, and day barracks.
Today, the Cold War is safely tucked in the nation's memory, but much of C-47 still remains. However, instead of military personnel coming and going throughout their 24-hour shifts, it's paintball and Airsoft players who creep along the 10 sprawling fields, simulating the warfare that luckily never occurred on the base. The terrain includes many of the original features—such as a mess hall, army barracks, and satellite towers, which host strategic meetings and midbattle naps. Referees enforce special safety rules for minors to keep games safe and organized.
563 W 600 N
Hobart
Indiana
219-947-7733
The gravity-savvy professionals and instructors at Air Indiana Skydiving Center oversee safe and controlled adrenaline rushes every year between late March and early November. In addition to a comprehensive ground school, they also teach practical skills with training jumps that leave from Delphi Municipal Airport. Over time, they help familiarize students with skydiving by leading controlled tandem jumps, instructor-assisted deployments, and accelerated free falls that exit planes from as high as 9,500 feet.
In addition to its staff of instructors, Air Indiana Skydiving Center also hosts a professional skydiving team. The team of pro jumpers can perform demonstration jumps for company picnics or groundbreaking ceremonies for the neighborhood's new wind tunnel.
8296 W Division Line Rd.
Delphi
Indiana
765-414-1261
From May until winter, the USHPA-certified instructors of Hang Glide Chicago spend their weekends accompanying passengers on tandem hang-gliding flights. Flight school sessions acclimate beginners to the sport before they board gliders, which are then towed into the air by a small plane. As flyers are released for their 2,500-foot free flight, they can steer their glider or let instructors guide the way as they take in the surrounding vistas. Students are welcome to bring their own cameras (wrist straps are recommended) or arrange to have their flight recorded by Hang Glide's HD-panoramic video equipment or their instructor's photographic memory. Flights take place from sunrise to sunset, and patrons can extend their experience by taking advantage of facilities that include camping grounds, bathrooms with showers, and a lake for kayaking or catch-and-release fishing.
3236 N 700 E Rd.
Clifton
Illinois
219-746-1480
Founders Damien and Rita Gabis, as well as countless volunteers, have built Taltree Arboretum & Gardens into more than 360 acres of forested pathways, themed gardens, and natural amphitheaters. The vast gardens span many different climates, from the Savanna wetlands to a monarch butterfly way station filled with pollen-producing flowers. A miniature train set snakes through a one-acre formal garden, mimicking real-world locations from Michigan City or Santa Fe.
The staff at Taltree leads guests through these luscious surroundings in hosted hikes and tours that explore the grounds and illuminate scientific and botanical principles. From the rose garden to the animal habitats, the tour guides opine on the biology behind their specimens. Guests can even learn to make their own garden with educational classes on how to plant seeds, prune plants, and teach flowers to sing.
450 W 100 N
Valparaiso
Indiana
219-462-0025
Designed by Chicago architects Holabird & Roche, Soldier Field flung open its gates for visitors on October 9, 1924, under the name Grant Park Municipal Stadium. After adopting its current alias in 1925, Soldier Field hosted the 1926 Army-Navy Game, sheltered the famed Jack Dempsey and Gene Tunney heavyweight rematch of 1927, and presented the first-ever nu-disco concert in 1928. The venue has gone on to host an impressive array of guests during its nearly 90-year history, from President Franklin Roosevelt and the first Special Olympic Games to the Chicago Bears and The Rolling Stones. Soldier Field Tours' expert guides evoke the stadium's star-studded past as they accompany families, groups, and single patrons on treks through the recently renovated facility. Snaking along the south courtyard's walls, the Grand Concourse is lined with medal-embedded benches commemorating the service of American military personnel. The golden channel of memorial benches finally culminates at a World War I–era Doughboy statue crafted from sheet metal and cast bronze. On the north end, the green granite Memorial Waterfall continuously flows in memory of U.S. armed-service members and to the delight of the wild salmon attempting to flow up its 280-foot-long wall.
1410 S Museum Campus Dr.
Chicago
Illinois
---