Restaurants in Cedar Lake
---
Recommended Restaurants by Groupon Customers
---
Giuseppe "Joe" Scalzo had to turn down his first opportunity to manage a restaurant, a small trattoria in Calabria he'd been working in as he attended school. He had spent his entire professional career working in Tuscan eateries and wanted the job, but his educational path led him to Chicago's Loyola University in pursuit of a business degree. It didn't take him long to realize that the thing he missed most about home was working in a restaurant. With his newly acquired business acumen, he began his foray into opening Italian restaurants: first Piazza Bella, then Via Carducci, and finally his most recent labor of love, Ciao Bella Ristorante.
The kitchen is nestled behind a black-and-white photographic mural, which hints at the sunshine that sparkles along the Mediterranean coastline. Greenery flanks the piece, providing contrast along with the warm, saturated red walls painted with real marinara sauce. As guests revel under dim lighting amid the elegant atmosphere, plates of carefully crafted Italian cuisine arrive at tables alongside traditional thin-crust pizza. The restaurant recently expanded its bar and lounge areas and added a new banquet area for private parties that can seat up to 70. Joe's personal favorite pie is the quattro stagioni, for its savory blend of prosciutto, artichokes, and black olives.
1514 US-41
Schereville
Indiana
219-322-6800
At Tequila Restaurante, green peppers and onions sizzle and snap in steaming skillets, as much a soundtrack to any traditional Mexican restaurant as mariachi and corrido music. Many of the other sensory details of an eatery in Mexico fill the Crown Point restaurant, including the citric bite of ceviche and the aromas of carne asada. Tequila Restaurante serves up traditional margaritas as well as those made with fresh banana, banana liquor, brown sugar, cinnamon, and other unorthodox ingredients. The dining room is alive with the vibrant colors associated with the country; crisp white table linens complement the red, orange, and green walls, and a string of white vine lights curlicues across the restaurant's ceiling.
110 S Main St.
Crown Point
Indiana
219-661-8226
An oversize photograph of a rhinoceros hangs on one of the walls at White Rhino Bar & Grill, serenely surveying a kingdom accented by natural stone and brightened by the glow of 21 flat-screen televisions. With the noble beast's blessing, diners can tear into savory American food ranging from griddled steaks and slow-cooked ribs to pizzas layered with andouille sausage, shrimp, and gouda. Bartenders mix cocktails, host wine tastings, and serve more than 110 beers, and DJs spin music that often leads to nighttime dancing and spontaneous daytime jazzercise sessions.
101 Joliet St.
Dyer
Indiana
A smattering of 20 sauces and seasonings dripping from handspun wings coats patrons' fingers as they cheer on their favorite professional sports teams broadcast on Buffalo Wild Wings' TVs. Eyes are torn between watching teams dribble a ball, shoot a puck, and land a grand jeté, and plates of plentiful wings, burgers, wraps, salads, and ribs. For more entertainment, trivia games exercise brains, and the Blazin' Challenge offers recognition for those brave enough to down a dozen wings slathered in the eatery's hottest sauce in 6 minutes.
2515 Southlake Mall Dr.
Merrillville
Indiana
219-794-9453
One of the many goals of the chefs at Taste of India is to clear up the misconception that all Indian food is extremely spicy. They do so by keeping customer preferences in mind while customizing offerings from a menu that includes vegetarian, vegan, and gluten-free options.
As evening settles in and dinner guests begin to arrive, peach- and grapefruit-hued walls take on a riper shade beneath sprays of painted leaves. Miniature tabletop lanterns cast buttery light on plates of lamb and fish kebab, rice biryanis, and tandoori chicken cooked in the heat of an open-hearth oven. While sopping up a goan shrimp curry with warm naan bread, guests can sip on beer, wine, or a cocktail from the bar. The clatter of serving utensils drifts from the dinner buffet, where patrons eat all they desire without having to help James Bond destroy his old yearbooks.
761 E 81st Ave.
Merrillville
Indiana
US
Taste of India's culinary connoisseurs, who first learned to cook in Northern India, harness their talents as they prepare savory lentil dishes and traditional curries flavored with daily-cut veggies, earning the restaurant multiple nods from the Colorado Springs Independent as the city's Best Indian Food. A clay oven bakes tandoori and tikka delicacies more effectively than a fire-breathing dragon with a chef's hat, and breads puffed with cheese and spices stand ready to escort seafood masalas on their digestive journeys. Individual diets find accommodation with halal meat, gluten-free options, and vegan food, and a lunch buffet sates the deepest of stomachs.
Entering the dining room, customers take in the sight of a flower-bearing camel statue, a majestic ceramic swan, and a white partition stenciled with intricate tree designs. A sprawling red-and-yellow tapestry and festive Indian music imbue the 60-seat space with an atmosphere livelier than a caffeinated jester.
761 E 81st Ave.
Merrillville
Indiana
US
---
---
Restaurant Deals - Recently Expired
---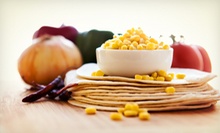 Housemade corn tortillas hold traditionally seasoned steak and chicken, accompanying dishes such as ceviche
---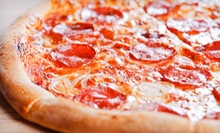 Spicy wings, half-pound burgers, housemade pastas, and signature pizzas in deep-dish and thin-crust pies with fresh toppings
---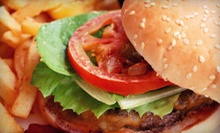 Cooks sling pure-beef burgers, Vienna hot dogs, and barbecue dinners at quick-service eatery
---
---