Cedar Mill, OR Health and Fitness
---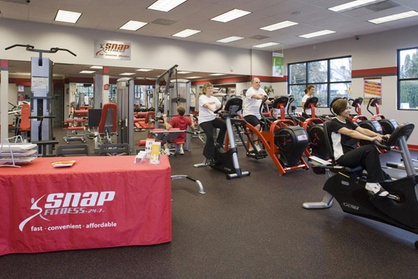 ---
Recommended Health & Fitness by Groupon Customers
---
The staff at Lipolaser of Portland prioritizes treatments that help clients shed weight to improve both their looks and their moods. It specializes in noninvasive lipolaser treatments, which aim gentle Yolo Curve laser light at stomachs, arms, and thighs to scold away stubborn cellulite. A menu of body wraps infused with detoxifying vitamins and oils also work to slim and tighten bodies while simultaneously conditioning the skin. For those seeking to revamp their lifestyles as well as their exteriors, a team of nutritionists dispenses thoughtful, custom advice, while acupuncturists and massage therapists ease stress and anxiety.
6230 NE Halsey St.
Portland
Oregon
503-887-3351
The Bridgeview Dental Associates themselves—Drs. Briles and Parks—have both traveled to Cambodia, volunteering with the Northwest Medical Team to brighten smiles halfway around the world. Here in Portland, the duo helm their own team to conduct services ranging from cosmetic procedures to specialized treatments such as Invisalign braces and professional dental implants to replace existing orange slices.
511 SW 10th Ave. , Suite 1305
Portland
Oregon
US
503-224-9130
The certified pedorthists at Arch Fitters use state-of-the-art technology to provide healthcare professionals, retail facilities, and individual patients with a variety of pain-relieving orthotics. They craft each custom-made pair by employing products such as advanced pressure-mapping software, malleable foam, and digital foot scans. Their raster-vector 3-D software captures 900 control points on the foot, measuring the effects of body weight and providing the outline for the frame of the orthotic. Senior orthotic designers then use SolidWorks software to edit the orthotic to each patient's specifications, adding custom options such as metatarsal pads to relieve pressure on the ball of the foot, heel wedges that improve spinal alignment, and rear oil-slick sprayers to elude the Fratellis. Finally, computerized machines carve out the wooden molds and cut the orthotics themselves from polypropylene plastic, carbon-fiber graphite, or ethylene vinyl acetate (EVA).
9932 NE Halsey Rd.
Portland
Oregon
US
503-467-4672
With more than 10,000 eye exams under her belt and an arsenal of high-tech preventative care equipment at her fingertips, Dr. Ann Woods helps her patients protect their precious peepers. After thorough exams, guests can peruse a selection of designer frames from brands such as Michael Ryan, Jaguar, Smith Optics, and Fendi lining the clinic's sunny yellow walls. An eco-friendly office, Modern Eyez opts to keep digital records instead of wasting paper and never makes lenses with the fruit of endangered monocle trees.
18750 Willamette Dr., Suite C
West Linn
Oregon
US
503-697-8879
Former gymnast and avid downhill skier Julie Ralston stumbled across CrossFit while searching for an exercise routine that would motivate her mind and push her body to the pinnacle of fitness. After achieving her CrossFit certification, attending countless seminars, and co-founding CrossFit StumpTown in Portland, Ralston developed a training technique suitable for customers of any body type, age, or level of ability. Her program offers increasingly challenging reps of lunges, sprints, throws, and lifts, backed up by the positive vibes and friendly support of a community of like-minded athletes. Visitors to the 4,700-square-foot gym won't find treadmills or weight machines, but kettlebells for swinging, pull-up bars for intense upper-body conditioning, and enough open space to halter-break a horse and train it to love CrossFit.
6104 SE King Rd
Milwaukie
Oregon
US
503-260-7641
---