Shopping in Cedar Mill
---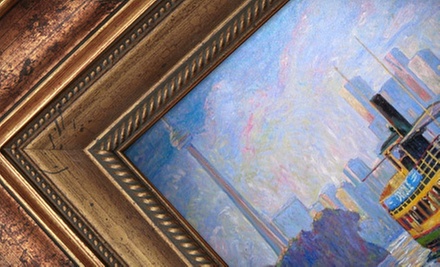 ---
Recommended Shopping by Groupon Customers
---
At Young Art kids' boutique, staffers fill shelves with designer children's clothing and premium art supplies that encourage creativity and self-expression. BioChalk, for instance, advances chalk beyond the boundaries of the chalkboard: the dust-free sticks leave their mark on walls, whiteboards, windows, mirrors, and invisible friends with easy wipe-up cleaning. Ensuring creativity remains a safe pursuit, Young Art offers versatile supplies with easy cleanup, many of which are AP-certified nontoxic by the Arts and Creative Materials Institute.
Kids use their tools at home to expand on lessons learned during the shop's art classes, where students as young as 4 create masterpieces depicting child-friendly subjects, such as animals and flowers. Some imagination-centric locations also encourage kids to wear their creativity on their backs with a selection of clothing, such as vibrant accessories, colorful dresses with graphic prints, and outerwear.
420 W 8th St.
Vancouver
Washington
360-699-3050
Though you might have seen one hiking Tamanawas Falls and the other helming the Doctor Zhivago –themed float as a Battle Ground Rose Princess, the self-described spankettes of Spanky's are typically found hawking consignment items or chatting enthusiastically with sellers at their shops in Vancouver and Beaverton. As managers at their respective locations, Rhonda and Erika train their eyes on the latest fashion trends and watch out for functional yet flattering apparel to resell to local women, men, and families. Their collections change frequently, though they are known to snag duds from major brands such as Armani Exchange, Ann Taylor, and Coach. They also manage consignment drives at schools where parents, teachers, and undercover cops posed as students can drop off their gently used clothing and accessories.
13503 SE Mill Plain Boulevard, Suite 114
Vancouver
Washington
360-260-0791
Thatcher Loen, president of the eponymous plant nursery, stocks an inventory of more than 50,000 flowers, shrubs, trees, and other vibrant, botanical life. Lush foliage explodes from every corner of the 3.5-acre nursery, home to more than 1,000 plant varieties in need of horticultural adoption. Row after row of plants ranges from rare and unusual to contemporary and traditional, a selection that includes annuals, perennials, vines, and organisms resembling flytraps fond of crooning Motown tunes. In addition to helping patrons navigate the nursery, helpful staff members can answer any lingering questions.
18710 SW Pacific Dr.
Sherwood
Oregon
503-625-2222
[[m:####Baby to Baby
Baby to Baby's selective buyers examine the offerings of many consigners, filling the shop with useful equipment and toys for kids as well as with garments for infants, teens, and women in the midst of maternity. Strollers, car seats, and high chairs by brands such as Bugaboo and Graco keep children or prized teddy bears safe and comfortable. Maternity blouses clothe swelling bellies, and apparel by companies such as Abercrombie and Nike make shopping trips desirable for all ages. Patrons can bring in outgrown baby equipment or apparel to receive monetary compensation, store credit, or a vest woven out of gold stars.:m]]
8685 SW Canyon Rd.
Portland
Oregon
503-296-6055
Inspired by the glamorous pinups of the 1940s and '50s, such as Bettie Page, The Foundation stocks alluring underthings in vintage styles. Lime-green walls highlight enticing displays of colorful panties, lacy bras, and corsets and bustiers from brands such as Empire Intimates. Sleek mannequin legs, bent in the seductive style favored by models and drum majors, show off sheer stockings, fishnet tights, and other hosiery. The Foundation also helps outfit burlesque performers with ensembles such as pettipants and ruffled panties and adorns ladies with outerwear such as voluminous sun hats and dainty necklaces.
4831 SE Division St.
Portland
Oregon
503-926-4150
Although most chefs have their own unique style of peeling, dicing, and julienning veggies, they all have one thing in common: they each require precise, sharp knives. At Excalibur Cutlery and Gifts, the staff ensures that tools remain as close to their factory condition as possible. During sharpening services, a water-cooled belt system and buffing wheels restore a piercing blade while removing a minimal amount of steel. They can sharpen kitchen, pocket, and hunting knives, as well as dull scissors and razors.
The shop also stocks premium models of nearly every edge they sharpen. The cutlery department stocks German-made Wusthof and Henckels, Swiss-made Forschner, and Oregon-grown Kershaw knives. Ideal for camping trips, pocket knives come in both blade and multitool varieties. More genteel wares include manicure sets and old-fashioned shaving kits. Excalibur also boasts a collection of swords for the collector or CEO whose business suit needs extra panache.
8700 NE Vancouver Mall, Suite 163
Vancouver
Washington
360-254-6177
---