Things to Do in Cedar Mill
---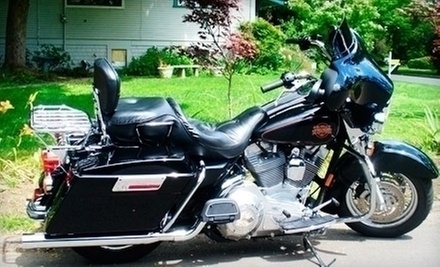 Portland International Airport
---
Recommended Things to Do by Groupon Customers
---
A young woman is 30 feet in the air as she slowly stretches for a bright-colored grip. Grabbing hold, she makes a series of methodical movements, her limbs pushing and pulling her core up a vast wall. Her belay partner below takes up the last bit of rope slack as she climbs to the top of the wall. The climber raises her arms in triumph just as Johnny Cash sings the last few bars of "Folsom Prison Blues."
The Source Climbing Center staff often spins records by "the man in black" and other favorite artists. Playing tunes on the 6,000-square-foot facility's booming sound system is part of cofounders Michael Lary and Guruhans Kroesen's effort to create a pleasurable indoor ambiance for their clientele of outdoorsy climbing enthusiasts. The building, developed specifically to be a climbing center, keeps members busy with top-rope and lead climbing walls, plus 1,200 feet of bouldering terrain. They designed their air-conditioned rock scaler's paradise with a wall of east-facing windows 32 feet tall, allowing early morning sun to wash over visitors enjoying daybreak climbs, just as they do when climbing a faraway mountain or helping the Mount Rushmore presidents floss.
A short online video presentation and a computer-generated animated tour provide a closer look at the building's design features.:m]]
1118 Main St.
Vancouver
Washington
360-694-9096
Oregon Inflatables' fleet of bouncy chambers, water slides, games, and obstacles courses brightens birthday parties, graduations, and backyard barbecues with an old-school carnival flair. Each bouncy structure decks out air-filled cavities with themed decorations, dressing up playpens to resemble sunny stacks of crayons, turreted castles, or formidable pirate fortresses. Water slides and dunk tanks cool off partiers with romps through refreshing molecules of H2O, while obstacle courses, sumo suits, and games add a touch of friendly competition to gatherings. Oregon Inflatables couples its castles and water spouts with rentable cotton candy and snow-cone concessions that entertain taste buds with the sweet notes of spun sugar and flavored snowman meat.
1909 E 5th St.
Vancouver
Washington
503-446-3269
Running between towering buildings and vibrant gardens, Gray Line of Portland's trolley sightseeing tours connect visitors with more than 11 of the Rose City's storied landscapes and buildings. As guides regale them with historic facts, anecdotes, and Herbert Hoover's credit card number, passengers look out onto Pioneer Courthouse Square, Washington Park, Powell's Books, and the Lan Su Chinese Garden. Participants can disembark and re-board at any point along their tour, allowing them to explore each site up-close or grab a bite to eat. Guides also lead combination tours via bus outside city limits to Multnomah Falls and Columbia River Gorge or jet boat along the Columbia River, with both routes tracing the original journey of Lewis and Clark. Operating as a member of Gray Line Worldwide––which leads tours in more than 700 destinations on six continents––Gray Line of Portland donates a portion of all ticket proceeds to the Breast Cancer Research Foundations' efforts in supporting awareness and research.
780 SW Broadway
Portland
Oregon
503-241-7373
At Greenlight Bikes LLC, Kalkhoff electric bikes propel cyclists at speeds of up to 25 miles per hour. The German-born bikes sprang from the imagination of Heinrich Kalkhoff in 1914, who hatched the idea when he delivered mail riding a cycle instead of a carrier pigeon. During the ensuing 30 years, Heinrich and an ever-growing staff honed his initial design and ultimately ventured into electric bikes. The company unveiled the motor-powered fleet to Europe in 2005. Stateside, Greenlight Bikes both rents and sells them, in addition to traditional cycles.
The eBikes are available in designs that range from comfy cruiser to high-performance two-wheeler, and they bolster riders' pedaling at three different levels. A sensor in the bike's bottom bracket gauges manpower and, with the help of a brushless motor, boosts it for up to 50 miles—the typical amount of time it takes to escape an angry corgi. Riders can also switch off electric assistance and complete excursions using their own cardiovascular electricity.
528 NW 11th Ave.
Portland
Oregon
503-220-2300
A former three-sport standout at the University of Oregon and current Oregon sports commentator, Jordan Kent employs his athletic experience to lead kids' day camps filled with football, basketball, and soccer drills and competitions. Part of the nonprofit Jordan Kent Foundation, Jordan Kent Skill Camps seek to build self-confidence and discipline in young athletes of all ability levels. For one week, campers train under Jordan and his team of coaches comprised of local high-school athletes, former college athletes, and adult volunteers. The camps aim to teach boys and girls ages 7–13 the value of character and hard work as they engage in a series of scrimmages and contests. A nutritious lunch is provided each day to keep energy levels high, and coaches also build nutrition education into the camps to jumpstart healthy eating habits. On the last day, campers leave with a cookbook full of good snack and meal ideas, as well as a SportHill T-shirt, helping kids remember their time at camp without having to create elaborate cave paintings on the walls of their forts.
11300 SW Hazelbrook Rd.
Tualatin
Oregon
541-621-2155
---