Things to Do in Cedar Mill
---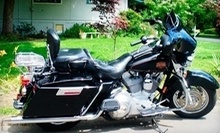 Portland International Airport
Use Today 6:00am - 9:00pm
---
Recommended Things to Do by Groupon Customers
---
Sprawling within the bustling confines of a shopping center, the Lloyd Center Ice Rink invites skaters of all pirouette proficiencies to careen across its slick surface, carving intricate lines through the thick, frozen layer of ice. Open-skate sessions allow amateur ice-dancers to hammer out routines, or frolicking families to test theories of friction. The seasonal vista can be rented out for private parties, and guests can amp up their Olympics resume during skating lessons for all ages.
953 Lloyd Ctr.
Portland
Oregon
Having reeled in 25 years of experience as a licensed fishing pro, Steve Roberts shares tricks of the trade during half-day and full-day fishing trips, welcoming avid anglers and beginners alike onto his fully equipped fishing vessels. Throughout the year, Steve and company track down seasonal targets. Winter trips focus on chinook, or winter steelhead, and autumn trips chase after coho salmon—a feisty fish notorious for fighting under water and starting bar brawls on land. No matter what the target, every trip with Steve includes all the necessary gear and an endless stream of expert advice.
16488 Main St.
Oregon City
Oregon
Pet lovers congregate inside the Portland Metropolitan Expo Center's 72,000-square-foot expanse for the 11th annual Northwest Pet and Companion Expo, featuring a weekend's worth of pet-centric exhibitions and more than 120 vendors. Now entering its second decade, the locally owned event entertains kids with face painting, bounce houses, and demonstrations by pet experts, while adults enjoy live entertainment and informational resources about adoption opportunities. Pets can accompany their owners through the fair's walk-through aviary and exotic animal display, and a truffle-dog tournament lets canines test their sniffing abilities in discerning pinot noir from chardonnay.
2060 N Marine Dr.
Portland
Oregon
503-736-5200
A young woman is 30 feet in the air as she slowly stretches for a bright-colored grip. Grabbing hold, she makes a series of methodical movements, her limbs pushing and pulling her core up a vast wall. Her belay partner below takes up the last bit of rope slack as she climbs to the top of the wall. The climber raises her arms in triumph just as Johnny Cash sings the last few bars of "Folsom Prison Blues."
The Source Climbing Center staff often spins records by "the man in black" and other favorite artists. Playing tunes on the 6,000-square-foot facility's booming sound system is part of cofounders Michael Lary and Guruhans Kroesen's effort to create a pleasurable indoor ambiance for their clientele of outdoorsy climbing enthusiasts. The building, developed specifically to be a climbing center, keeps members busy with top-rope and lead climbing walls, plus 1,200 feet of bouldering terrain. They designed their air-conditioned rock scaler's paradise with a wall of east-facing windows 32 feet tall, allowing early morning sun to wash over visitors enjoying daybreak climbs, just as they do when climbing a faraway mountain or helping the Mount Rushmore presidents floss.
A short online video presentation and a computer-generated animated tour provide a closer look at the building's design features.:m]]
1118 Main St.
Vancouver
Washington
360-694-9096
---