Auto Service in Cedarburg
---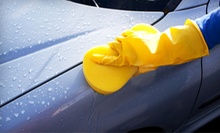 Cars sparkle with cleanliness after exterior wash and wax and interior cleaning complete with vacuuming and window polishing
---
Recommended Auto Service by Groupon Customers
---
We provide the highest quality car cleaning service available today. Our 10 years in business and growing multiple locations make us the perfect choice when it comes to auto detailing and car cleaning.
1825 S Kinnickinnic Ave.
Milwaukee
Wisconsin
Scrub A Dub carwash and oil-change centers have been popping up around the Metro Milwaukee Area since the company's origins in 1947. A team of AOCA-certified lube technicians mans each garage, expertly administering professional oil changes and a wide range of transmission, radiator, and other automotive repair services. Each center is home to an advanced automated carwash system, which uses gentle cleaners, conditioning waxes, and premium polishes to gussy up automobile exteriors.
1515 S. Main St
West Bend
Wisconsin
Unlike library books, cars protest by not working when you don't adhere to their due dates. To keep your vehicle in top shape, you should get your car's oil changed every 3,000 miles or six months, or after every seemingly coincidental encounter with that mysterious goat. Beyond swapping out the oil and filters, Fazio Automotive's friendly, experienced technicians will give your vehicle a meticulous 12-point inspection designed to help you ride it safely, confidently, and stoically into the sunset.
2037 N Farwell Ave.
Milwaukee
Wisconsin
The inclusion of the word "buff" in Johnny Buffit's name is no coincidence—the staff relies on the high-speed machinery to restore dull, oxidized, scuffed, or scratched vehicular exteriors. Buffing is just one step in the detailing process, which the staff provides for cars, boats, recreational vehicles, motorcycles, and the occasional show car. They also specialize in auto-glass replacement.
350 N Plankington Ave.
Milwaukee
Wisconsin
414-271-8161
Express Auto Spa's skilled staffers rejuvenate grime-ridden rides with automated wash tunnels and Armor-All products. After the pulsing jets dislodge grit and caked-on stoplight glare, the technicians gently towel-dry vehicles by hand. Their detailing services require even more attention to detail as they shampoo floor mats, hand-wax exteriors, and remove tar and road scuzz. Those in need of regular cleanings due to entering their vehicles into mud-wrestling competitions can enlist in the VIP Wash Club, which entitles members to unlimited washes each month.
169 Northwest Barstow Street
Waukesha
Wisconsin
262-544-4350
If your shady parking spot rests beneath bird-filled trees, or someone scrawled carpetbagger into the layer of grime on your car window, today's Groupon can give your vehicle its original off-the-lot shine. For $18, you'll get Auto Spa Hand Car Wash's Wax Works Way package, including a complete hand wash, wax, and interior clean, a $38 value. Baltimore Magazine's Best Car Wash of Charm City, Auto Spa is located a cool 15 miles outside the city in Cockeysville, making the return trip in your newly perfected vehicle a ride you'll wish would never end. This Groupon isn't just great for sprucing up your own car: it also makes the perfect passive-aggressive gift for your dirty carpool driver.
160 W Layton Avenue
Milwaukee
Wisconsin
US
---