Celina, OH Outdoor Activities
---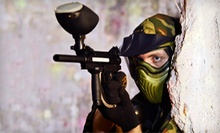 An expansive paintball facility hosts colorful clashes on indoor and outdoor fields with air bunkers and WWII-inspired obstacles
---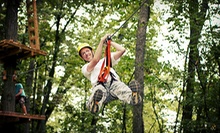 Fast-paced zips weave through forests, over ponds, and past rivers on an 80-acre farm, with a double-zip setup at the finish
---
Recommended Outdoor Activities by Groupon Customers
---
Noble Hawk Golf Links brings the haggis-flavored flair of Scottish course design to this 6,817-yard Northeast Indiana haunt. A moderate-length opener, hole 1 (par 4) tests club-wielding precision from the first tee with a series of deep bunkers hugging well-contoured fairways. From there, a round gets rowdier with diverse challenges such as a drive between water at hole 4, a huge mound bisecting the green at hole 5, and an over-water tee-shot into a large, undulating green at hole 15. Click here to take an online tour of the course, or let the innovation, diversity, and slumbering deer on the luscious greenery surprise you while you play. Pre- or post-round, practice drives with the large bucket of balls to fine-tune form and eliminate embarrassing mid-swing pirouettes.
3005 Noble Hawk Dr.
Kendallville
Indiana
Racket-wielding instructors at Schroeder Tennis Center help elevate players' tennis acumen with clinics and leagues for athletes of all ages and experience levels. Children's classes acclimate younger players to the game with smaller-sized racquets and courts, and this helps develop basic, size-appropriate skills at an earlier age. Adult classes range from beginner basic courses to high-level clinics, which teach players to smash tennis balls and small planets into orbit. The facilities include climate-controlled indoor courts—five in the summer and seven in the winter—as well as six outdoor courts.
1459 Harmony Dr.
Tipp City
Ohio
937-669-5552
The Westcott House Foundation celebrates its charge's history through continuing preservation efforts, safeguarding the house as both a museum and shrine to Frank Lloyd Wright's vision for Prairie-style homes. One of 260 of Wright's remaining houses in the world, the pristinely restored structure entices visitors from far and wide with its architectural allure and unparalleled hide-and-seek spots. The grounds embody Wright's love of melding a building with its site, boasting a terrace, a pool, and period-inspired gardens. An intricately latticed pergola connects the carriage house to the main building, a rare and interesting gem among Wright's normally trellis-free Prairie homes.
1340 E High St.
Springfield
Ohio
937-327-9291
Originally built as a one-room house in 1816, the Morse Mill Hotel grew to 5,300 square feet under the watchful eye of engineer John Morse, a former Confederate officer and suspected warlock. In its present state, the hotel may house ghostly figures who once took up residence in one of its 33 rooms. Jesse James and company signed their marks in the guest register, and a famous female serial killer, Bertha Gifford, was kept in the hotel's employ; a nearby gravesite marks her resting place. A burial ground for Confederate soldiers, relics of Al Capone's old brothel, and a dungeon also add to the sinister air. An expert paranormal guide leads amateur ghost gumshoes through the 33-room, four-story Morse manse, providing advice on where to find the friendliest demons. If they dare, guests are encouraged to snap photos to document their occult encounters with phantoms, specters, or eerily expensive minibars.
1001 N Washington St.
Marion
Indiana
US
765-664-4637
The flowing waters of the Maumee River gird the northernmost fairways of River City Links' 18-hole putting course, inviting misaimed golf balls to plop alongside the aquatic artery's cargo ships floating down from Lake Erie. The waterway nestles alongside the course without cutting through it, enabling the course to maintain its straightforward layout. This, in turn, lets golfers focus on the fundamentals of their game without the distraction of elaborate hazards such as lava pits and ball-eating goats. After a relaxing day on the course, players can lounge on the clubhouse's white wraparound deck and look out over the river, listening to the breeze that whispers through the weeping willows.
4735 Honey Oak Run
Fort Wayne
Indiana
Looking to put a new spin on a classic family activity, the minds behind Glowgolf decided to give the game a phosphorescent update. Incandescent courses place friends and family amid a tropical-fantasy golf world of neon orange, green, and violet surroundings. Players putt luminous orbs through vibrant treasure chests and glimmering windmills while negotiating tricky obstacles near walls portraying black-light-lit aquatic scenes. With more than 20 locations spread over 10 states, Glowgolf's fluorescent labyrinths challenge human players and traveling gnomes.
4201 Coldwater Rd., Suite LOO
Fort Wayne
Indiana
---