Centralia, WA Outdoor Activities
---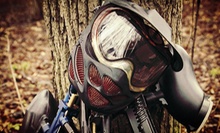 Equipped with rental markers, 200 paintballs, and protective masks, duos engage in combat across six fields marked with obstacles and towers
Use Saturday 9:00am - 4:00pm
---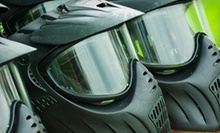 Three courses challenge wizards of paint firing to intense rounds of colored combat replete with ammo & gear & air refills
Use Saturday 10:00am - 8:00pm
---
Recommended Outdoor Activities by Groupon Customers
---
Apex Karting satisfies your undernourished need for speed by letting you experience the thrill of finally outracing your cheetah half-sister on one of the Pacific Northwest's longest indoor racetracks. And you'll do it all behind the wheel of an 11-horsepower Stratos Kart, a clean-burning conveyance that can reach speeds of 40 miles per hour. Races may be split between family, friends, and medieval scholars, and after you retire from the tracks for the evening, you can unwind in Apex's beer garden; while sipping one of their barley-pop selections (starting at $3), you can reflect on how much more thrilling engine-powered speed is compared with leg-powered penny-farthing rides. Your Groupon may also be redeemed for a $110 credit toward private-track rental (usually $725–$800 per hour).
7960 Center St. SW
Tumwater
Washington
A day at Emerald Downs can take on many forms. Some visitors sprawl across blankets in the facility's park, while some scoot to the edge of their reserved seats in the grandstand. Still others relax in the Redhook Turf Club, an all-inclusive, members-only area for dining, wagering, and watching the races. It's this flexibility that has made Emerald Downs a popular summer destination since 1996. On every level, the stadium features self-service or clerk-operated betting windows, and its programs come packed with jockey bios, postpositions, and other bettor-friendly tools. Even during non-racing season, Emerald Downs offers full-card simulcasting so fans don't have to resort to betting on slowly drifting clouds.
2300 Emerald Downs Dr.
Auburn
Washington
You and your golf pal will receive a wealth of feedback from Tacoma Firs' PGA- and LPGA-certified instructors over the course of each of your hour-long lessons. They tailor instruction to individual needs, so novices can learn the fundamentals of the game, and expert ball-swatters will season their swing, perfect golf posture, and hone alignment. The staff's careful instruction, observation, and friendly demeanor make it easy to make balls to soar more gracefully than an ultralight made of dreams.
4504 S. Tyler Street
Tacoma
Washington
As Seattle Food Tours takes you on a two-and-a-half-hour perambulation of Pike Place Market, they'll introduce you to their handpicked favorite restaurants, chefs, farmers, gourmet shops, and artisanal food purveyors. Depending on the tour, you might try award-winning local clam chowder, sample fresh English crumpets, or lick authentic Italian gelato made with fresh local fruit. Past tours have also included Chinese herb teas, locally produced cheese, alder-wood-smoked salmon, and a whole bunch of other James Beard award-winning chefs, organic seasonal fruits, international wines, and more. The surprise is much of the fun, so buy extra Groupons for up to three friends, and spend an afternoon telling each other, "Here, you have to try this."
12721 Renton Avenue South
Seattle
Washington
206-725-4483
The buzz of motors rises and falls as bright-red blurs zip around the track at PGP Motorsports Park. Here, in the shadow of Mount Rainier, racers ages 15 and older loop around an 8/10-mile track at speeds of up to 48 miles per hour, leaning back in the ergonomic seats of Italian-built Birel N35 karts. The 30-foot-wide asphalt track can be altered to take on 12 different configurations and is centered in a velodrome, which puts spectators at an elevated angle so they get a good line of sight no matter where they sit.
For safety reasons, drivers should wear long sleeves and pants and closed-toe shoes. Drivers are equipped with helmets and driving suits, and since races take place rain or shine, they will also be provided with rain gear that includes waterproof gloves and booties.
31001 144th Avenue SE
Kent
Washington
253-639-7223
The gridiron showdown will commence at the ShoWare Center in Kent. Redeem your Groupon at the stadium's will call for the best available seats in your chosen section. Check out the seating chart here.
625 W James St.
Kent
Washington
---