Centreville, VA Drs and Health Practioners
---
Drs & Health Practitioners Deals
---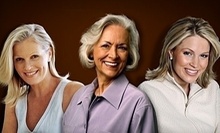 Use Monday 8:00am - 4:00pm
---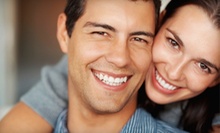 Dr. Khattak & her staff of highly trained clinicians beautify & restore smiles while ensuring long-term tooth health
Use Monday 9:00am - 2:00pm
---
Recommended Drs & Health Practitioners by Groupon Customers
---
Under the direction of Dr. Farida Khattak, the Dynamic Family Dentistry team maintains high standards in training, safety, and patient education to keep teeth in mint condition. The dentists and hygienists recognize the unease some patients may feel about going on dental visits, which is why they try to create a comforting atmosphere with personalized care and positive demeanors. As the mother of two young girls, Dr. Khattak is particularly skilled in the art of putting children at ease during appointments, as well as synchronized french braiding. They perform preventive services such as x-rays, cleanings, and periodontal exams, along with more involved procedures such as dental implants and porcelain crowns.
159 Hillwood Ave.
Falls Church
Virginia
703-531-0010
After seven years honing his skills in the general- and plastic-surgery divisions of Charity Hospital in New Orleans, Timothy Mountcastle, MD, returned to his native Virginia to devote himself full-time to body beautification as head of Mountcastle Plastic Surgery & Vein Institute. Mountcastle couples a keen eye for aesthetic detail with years of experience in specializations that include ultrasound-guided sclerotherapy, DIEP breast reconstruction, and insurance-covered mole and cyst removals. With a laser-like focus on patient satisfaction, the doctor commences aesthetic journeys with a consultation in which he patiently discusses the client's wants and needs. Along with a small staff of registered nurses, the Institute boasts highly trained injectionists who send facial wrinkles running scared during Botox treatments supplemented by scary Richard Nixon masks.
44095 Pipeline Plaza, Suite 430
Ashburn
Virginia
703-858-3208
Doctor of Chiropractic Richard Piorkowski and his staff at Evergreen Chiropractic Center practice all types of treatment, both ancient and modern. Their chiropractic services range from x-ray-based spinal screenings to corrective exercises that patients can perform at home. This allows the staff to personalize treatments to match patients' needs, comfort, and refusal to remove the parrot on their shoulder.
6924 Little River Tpke., Suite D
Annandale
Virginia
703-642-1555
In an office peppered with lime-green-accented exercise equipment, Doctor of Chiropractic Tran Khuu](http://gr.pn/ebVBOh) smoothes spinal curvatures and rids bodies of chronic pain without drugs or surgery. Her consultations help pinpoint spinal trauma brought on by past injuries or weeks spent folded inside the glove compartment. After thorough corporal documentations, she constructs treatment regimens tailored to individuals' wellness goals. She uses a ProAdjuster tool to make adjustments, instead of manipulating bodies by hand.
7202 Arlington Blvd., Suite 301
Falls Church
Virginia
US
703-204-4798
Doctor of Chiropractic Ed Carlton found chiropractic care at age 23 after he had spent years suffering severe pain caused by an accident and nearly lost all hope. Not only did a chiropractor alleviate his pain, but the experience also inspired him to study at Texas Chiropractic College. Today he works alongside his wife and fellow alum, Dr. Paola Carlton, to alleviate symptoms of ailments such as carpal tunnel syndrome, arthritis, and herniated disks.
In a caring and personal environment, they employ traditional and technologically advanced methods to heal patients. Far-infrared light treatments soothe aching feet, whereas adjustments help to correctly position joints and eliminate their interference with the nervous system. The chiropractors also use procedures such as electrical muscle stimulation and neuromuscular reeducation to treat maladies caused by the g-forces involved in car accidents. In addition, they employ an advanced LiteCure Class IV system to penetrate deep beneath the tissue with FDA-cleared lasers in an effort to reduce pain and inflammation better than a cold compress filled with melted ice cream.
8805 Sudley Rd., Suite 200A
Manassas
Virginia
703-335-9149
Board-certified plastic surgeon Dr. Jamal Yousefi's attention to aesthetic detail telegraphs his belief that plastic surgery is an art. Assisted by the staff of Younger Image Plastic Surgery Center, Dr. Yousefi flattens fine lines and wrinkles with precise injections of Botox and Dysport. He also fashions slimmer silhouettes with traditional and laser liposuction and redesigns façades with procedures such as face lifts, eyelid surgery, and chin and cheek implants. The doctor even enjoys using his free time to hone his artistic skills by drawing and sculpting with clay.
502 Maple Ave. W
Vienna
Virginia
703-552-4894
---