Cerritos, CA Beauty and Salons
---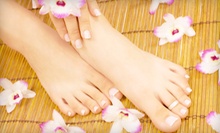 Podiatrists brandish FDA-cleared PinPointe lasers to clear up irksome nail fungus in as little as one treatment
---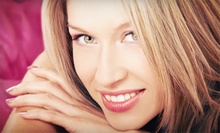 After a consultation, the stylist clips envisioned cuts and either deep-conditions locks or dyes them a brand-new color
---
Recommended Beauty by Groupon Customers
---
Since opening its doors, LaserAway has accumulated 12 California locations and the patronage of celebrities such as the Kardashian clan. At different settings, the clinic's state-of-the-art lasers can treat signs of sun damage, tattoos, body hair, and glued-on glam-rock wigs with comfort and efficiency. The clinic's medical professionals are all fully licensed to administer laser pulses, and fully glad to educate clients on the intricacies of skincare.
369 E 17th St.
Costa Mesa
California
949-548-2929
Jabez's staff of professional stylists studies at the Bumble and bumble University in New York City to equip themselves with the most artful and effective tress-taming techniques. The shaggy strands of men's manes surrender to unyielding, razor-edged scissors with a men's haircut, which mellows unruly mops or trims rebellious follicles into a well-kept whole. Clients possessing dual x chromosomes indulge in a women's haircut, relaxing in the high-ceilinged, naturally-lit salon while a professional hair sculptor shears, blow-dries, and shapes follicle sprouts into a face-framing curtain of pure glossiness. Both men and women celebrate the reformation of unruly locks with a scalp massage and a tension-relieving head rub to spoil the skull or ease residual soreness from the competitive ear-wiggling semifinals.
18513 Yorba Linda Blvd
Yorba Linda
California
US
714-970-5239
When people think of you, the first thing that comes to mind is most likely your face, closely followed by your puggle, then by a really weird commercial they saw on Monday Night Football. Make your mug memorably shiny-fresh and give your designer lapdog a run for its kibble with today's skin-restoring deal: $35 for a one-hour customized facial at Flawless Faces Makeup & Skincare Lounge (a $75 value).
124 Broadway, Suite D
Costa Mesa
California
While everyone's torso has enjoyed the warm embrace of another, only very short people with very tall friends have felt the pleasure of face hugs. Skin Technology's licensed aestheticians have more than 10 years of experience when it comes to pampering visages with premium exfoliation and hydration tactics. A microdermabrasion with facial shoos away the unwanted dead skin that congregates around an individual's cheeks, chin, and forehead, making way for happy parades of fresh and youthful new skin without invasive therapy.
1158 Sunflower Avenue
Costa Mesa
California
During the no-chip manicure, a stylist paints nails with successive layers of a gel that, when exposed to UV light, becomes harder than performing calculus on a diamond. Once applied and treated, this glistering coating can only be removed by soaking in a hot tub of acetone or by a skilled micro-Zambonist.
2626 Dupont Dr., Suite A-30
Irvine
California
The OC Tan brings the sparkling soulshine lingering within each customer to the surface through a variety of tanning services. The Elixir tanning bed ($20 per session) envelops tanners in 51 body bulbs—one for each U.S. state—for 12 minutes of air-conditioned tanning. Disappear into the Mystic Tan spray booth ($35) as a pale newspaper reporter and emerge 60 seconds later as Supertan, the poorly named hero with a healthy glow. For those who love the taste of tanning bulbs but hate the sound of laying down, the Solarforce 652V ($20) offers a 10-minute tan in a stand-up unit that can accommodate clients up to seven feet tall. The ultimate in tan architecture at The OC Tan, however, is the King 420 bed ($40), which combines aromatherapy, aquatherapy, and a non-claustrophobic design into 12 minutes of high-pressure tanning. A five-minute airbrush tan is also available ($55), with custom application and results lasting up to a week.
4296 Katella Ave.
Los Alamitos
California
---