Chalco, NE Health and Fitness
---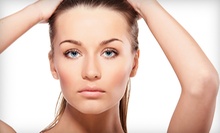 Radiofrequency energy and magnetic pulses catalyze collagen production to rejuvenate the face, arms, and neck
---
Recommended Health & Fitness by Groupon Customers
---
Chiropractic isn't like astrophysics, where any quack with a telescope can set up shop; doctors of chiropractic receive at least four academic years of education and pass national board examinations before receiving their ceremonial telescopes. Dane Becker, D.C., is a graduate of the Texas Chiropractic College, where he logged thousands of classroom hours and developed a work ethic that drives him to enroll in continuing education classes. Perfect for headaches, back pain, neck pain, whiplash, sports injuries, and hand strains from Greco Roman thumb-wrestling matches, treatment at Becker Chiropractic & Acupuncture will leave patrons as limber as a cybernetic super squirrel.
17785 Mason St., Suite 101
Omaha
Nebraska
Jazzercise is 60 minutes of cardio, strength training, and stretching that incorporates moves from hip-hop, yoga, Pilates, jazz dance, kickboxing, and resistance training with handheld weights. Dancing With the Stars multiple-champion Cheryl Burke is a big fan of Jazzercise's improvisational workouts, though luckily you won't need her dance moves to get the most out of your class. If you're prone to first-class jitters, though, you can review the basic moves online before you go. Expect to burn off up to 500 calories with each go-round.
20332 Husker Drive A
Omaha
Nebraska
Body Love whips up self-confidence, fitness, and positive body image via fun saucy dance moves in pole-dancing and Zumba classes. The one-hour classes make for a vivacious girls' night out as well as a strengthening, flexibility-increasing workout and a sultry setting for chess tournaments. Zumba's music is inspired by Latin and world beats that gets hearts pumping, feet moving, and calories sent to early retirement in the Caribbean. Pole classes, set in a non-intimidating atmosphere, combine cardio, flexibility, and strength training in a fun, sexy lineup of flowing, pole-centric flourishes. Yoga helps fitness twisters extend their skill sets as they extend appendages. Students limber up limbs to become more toned and flexible while connecting with the mind of a pretzel.
2819 S 125th Ave., Suite 353
Omaha
Nebraska
402-932-8390
The certified personal trainers at Endless Possibilities use simple training methods and equipment to turn regular people into regular people who can lift much heavier objects. Each customer's three training sessions are customized based on a discussion of personal fitness goals, from casting a slimmer shadow to crushing anvils with one's six-pack. Under the motivational guidance of an experienced trainer, learn the art of contractile tissue cultivation through a fun, variety-filled session of lifting, pushing, pulling, crawling, flipping tractor tires, and swinging sledgehammers. Endless Possibilities' certified trainers use their extensive education and plenty of encouragement to help clients become personal-trainer lookalikes without acquiring a closet full of neon leotards.
8410 K Street, Suite 12
Omaha
Nebraska
Trained at Bascom Palmer Eye Hospital and Indiana University—one of the nation's top-ranked optometry schools—Dr. Jeff Brewer now leads a trio of doctors whose backgrounds include pediatric eye care and volunteer work in Guatemala and Afghanistan. The doctors put their varied experiences to work during routine eye exams, utilizing Optomap retinal-scan technology to create a map that, in about one-fourth of a second, reveals 80% of the retina's surface and 90% of the terrible things witnessed at Six Flags. This process gives an accurate window into the health of the eye without the need to dilate the patient's iris, a process that can be uncomfortable for children or people who are sensitive to light.
After issuing a fresh prescription, the team also helps patients select frames from racks stocked with designer eyewear from brands including Armani, Coach, and Maui Jim.
17520 Wright St., Suite 105
Omaha
Nebraska
US
402-614-3200
Dr. Nick Crom's interest in chiropractic medicine began in college, when a quick series of visits to a chiropractor relieved him of chronic nausea that had eluded the testing and prescription drugs of his doctors. Now, motivated by the effects the gentle spinal adjustments had on his own health, Dr. Crom helps alleviate patients' ailments with holistic approaches.
Rather than prescribing drugs to mask a disease's symptoms, Dr. Crom adjusts the spine in a way intended to stimulate the body's own self-healing capabilities. Acupuncture, massage therapy, and detox treatments, meanwhile, help to further unlock internal recuperative powers, which can be encumbered by the toxins that accumulate during daily life or attempts to eat top-secret Etch-a-Sketch drawings. His clinic also helps clients shed excess pounds via Lipo-Light treatments, which unleash toxins lodged deep into bodies without needles, pain, or down time.
1109 S 180th St.
Omaha
Nevada
402-502-6888
---