Restaurants in Chalco
---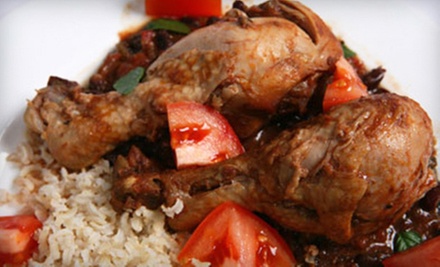 ---
Recommended Restaurants by Groupon Customers
---
Clay ovens quietly roast yogurt-marinated chicken, and cooks scurry about the kitchen of Tanduri Fusion, mixing exotic curries and sautéing ginger and garlic to coat tender cuts of lamb. Chefs use natural, fresh ingredients to prepare each dish, with inventive offerings including the tanduri top sirloin with cilantro-peppercorn butter and lamb sirloin wraps in grilled naan. For traditional Indian thali dinners, servers deliver large round dishes filled with a bounty of tandoori chicken or curried vegetables, complemented by sides of yogurt sauce and chutney.
Patrons may enjoy their meals tucked inside wooden booths or head out to the patio to soak up sun and satellite emissions while eating. A full bar offers some stool seating, perfect for casually sampling from the extensive wine list.
2537 S 174th Plz.
Omaha
Nebraska
402-505-9209
Aron Mackevicius can still conjure vivid memories of his childhood spent in Omaha's Lithuanian Bakery, when ovens of baking sourdough bread would warm him as he whisked up flaky tortes. While working at his family's bakery, Aron developed a talent and appreciation for the culinary arts. He would go on to work in fine eating establishments throughout Omaha, developing and refining a style that he described to reporters from the Omaha World-Herald as "a new approach to comfort cuisine everybody can relate to." Aron earned his position at 7M Grill by dazzling owner Graeme Swain with an original dish—a coconut-crusted chicken with corn salsa and mango-jalapeño sauce.
Today 7M Grill features Aron's winning coconut-chicken dish on the menu, alongside a wide variety of internationally inspired comfort dishes—including the 2011 Art and Soup–celebrated caribbean chicken-and-rice soup. The innovative fusion dishes pair with bottles of fine wines out in the chic dining room, where glowing walls bathe the hardwood floors and abstract paintings in a warm orange light. The restaurant also offers an intimate chef's table service experience, where guests sample numerous courses of exclusive dishes while sipping on wine in an elegant, secluded back room, ideal for guests looking for a way to commemorate a special occasion or a place to practice whale impersonations in privacy.
15808 W Maple Rd., Suite 101
Omaha
Nebraska
402-614-4100
Born and raised in France, chef Cedric S. Fichepain carried his family recipes and passion for traditional French fare across the pond in 1997. Four years later, Cedric cut the ribbon at Le Voltaire Restaurant, which serves up classics such as croque madame sandwiches and coq au vin stewed in white wine. The cellar's 1,000-bottle inventory of French wines has earned the Wine Spectator Award of Excellence eight years in a row, and the eatery was also recognized as one of the city's best French dining experiences in _Omaha Magazine'_s Best of Omaha 2012. The restaurant's lemon-yellow walls and rough-hewn wooden door create a rustic feel, and beneath a unique glass bar top is a display of carefully arranged dried flowers.
569 N 155th Plz.
Omaha
Nebraska
402-934-9374
Named business of the year in 2010 by Heritage Nebraska, patrons sit down at the Heartland Cafe for breakfast and lunch amid traces of local history inside a building constructed in 1919. In this setting, diners dig into fresh-made pancakes and made-to-order omelets, conversing and creating new memories. The quiche florentine brims with bacon, spinach, and mushrooms baked in a housemade pie crust and covered with hollandaise. For lunch, the cooks whip up reuben sandwiches, fish 'n' chips, and elk burgers. Heartland Cafe's owner, Sharon Janovsky, was also named 2012 business person of the year by the Western Douglas County Chamber of Commerce for the cafe's active role in the community, such as hosting the annual tree lighting ceremony.
2615 N Main St.
Elkhorn
Nebraska
402-289-4844
At Dante Pizzeria, chef Nick Strawhecker calls upon his experience at the Italian Culinary Institute for Foreigners to craft a rustic Italian menu featuring wood-fired pizza. Pizza professionals toss dough disks in accordance with Neapolitan culinary tradition, baking the pies in a wood-fired oven that burns at about 800 degrees Fahrenheit, the approximate body temperature of Chewbacca. The salsiccia pizza ($16) ferries grilled sausage, anaheim peppers, and homemade cheeses, and the Parma pizza ($13.50) totes prosciutto, arugula, tomato, and mozzarella. The dinner bell rings at 5 p.m., calling to attention homemade pasta, such as the oxtail and gnocchi with roasted mushrooms ($15) and pappardelle bolognese ($14), which combines pork, beef, and red wine. The wine list stars a distinguished cast of Italian wines, including Northern Italy's 2009 Alois Legeder chardonnay ($9/glass; $36/bottle). For patrons who dine in, an indoor bocce court awaits, tempting eaters to ignore the age-old advice to wait 30 minutes before strategizing.
16901 Wright Plz.
Omaha
Nebraska
United States
402-932-3078
Chocolatier Melissa Stephens, owner of The Cordial Cherry, began her chocolate shop with a recipe for cherry cordials passed down from her Grandma Sheldon. Today, Stephens—along with her mother and sister—works to turn out her signature cherries hand-dipped in chocolate and filled with a liquid cordial center. In addition to the specialty dessert, Stephens also crafts satin fudge, chocolate -dipped goji berries, and sea-salt caramel loaves.
1223 S 180th St.
Omaha
Nebraska
US
---