Theme & Amusement Parks in Chalco
---
Theme & Amusement Park Deals
---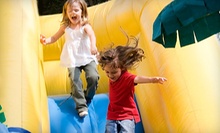 Inflatable bounce houses, slides, and moonwalks
---
Tots scale play sets, bounce in inflatable jumpers, and dive into foam pits, and guests of all ages maneuver through Lost Laser Temple maze
---
Recommended Theme & Amusement Parks by Groupon Customers
---
On a sweltering day with the air abuzz with mosquitos, Eddie Reznicek stood on a miniature golf course marveling at how many people were outside putting. Determined to create a more comfortable mini golfing space, he opened The Family Fun Center XL in Omaha in 1982, where guests could play indoor golf and nearly 100 video games in the arcade. These days, a new facility shelters a black-lit 18-hole course themed around video-game heroes, heroines, and the windmills who loved them, and the arcade enthralls gamers with classics such as air hockey, skeeball, and four-player Mario Kart on 27-inch flat-screen TVs.
At the Lazer Maze, participants channel their inner spy while swiftly snaking through alarm-system lasers. This spy theme also is evident in the three-level laser-tag arena, where players dodge enemy fire amid flashing lights to soundtracks from James Bond movies. Elsewhere, a 2,500-square-foot arena littered with bunkers, crumbling brick walls, and sniper towers accommodates 7-minute paintball games or bazooka-ball battles.
7052 Dodge St.
Omaha
Nebraska
402-554-1925
From bounce houses and jumpers to inflatable slides and moonwalks, Jumpin' Jax Bounce & Party Center's humming air blowers are a siren call to kids and adults for safe family fun. A mecca for parties and leisurely afternoons, the bouncy playplace lets kids roam free while under the supervision of both parents and employees, and parties are augmented with pizzas and a private room. The facility also hosts a summer-camp program with field trips to the zoo, forest, and museums, and emphasis is always placed on keeping kids active and afraid of cubicles.
1712 Charleston Dr.
Papillion
Nebraska
Wooden picnic tables and park benches nestle against sky-blue walls and ceilings adorned with clouds, trees, and woodland creatures, including Lost in Fun's mascot, Scotty the Squirrel. Inside Lost in Fun's frolic-friendly environment, toddlers, kids, and teens navigate a variety of age-appropriate play areas. With the Mini Fun Pass, toddlers can waddle through play sets, bounce on inflatable jumpers, and fall safely through space in the foam pit before building ornate monuments with blocks and studying the laws of motion on the fun slides. Children of all ages dodge brilliant beams while maneuvering through the Lost Laser Temple, and older kids can use the Mega or Mini Fun Passes to access the indoor playground's attractions or play basketball. When energy wanes, staff members serve up snacks from a menu overflowing with pizza, burgers, chicken nuggets, and ice cream. Adults may enter and play for free or rest on Adirondack-style wooden chairs as they observe their children brachiating in their natural habitat.
8431 Cody Dr., Suite D
Lincoln
Nebraska
402-261-0440
A licensed and insured company, Fun Services has equipped events with entertainment and eats for more than 30 years. Within Fun Services' inventory, concession stands with Fun Services–supplied catering await to dot midways alongside carnival sports games such as a basketball toss and high-speed pitching. A Lil Bubba train showcases its ability to escort visitors from parking areas or transport tots in ovular trips around fairgrounds, and mechanical bulls compete to fling riders higher into afternoon skies. Additionally, a menagerie of bounce houses and a 22-foot rock-climbing wall stand ready to test gravitational pulls
8942 J St.
Omaha
Nebraska
402-393-7393
At Defy Gravity, jumpers of all ages bounce, flip, and pirouette atop their massive 6,000 sq. ft. trampoline designed with NASA-developed rebound material and a laser-cut steel frame to support as many as 74 people. Though the trampoline's most traditional uses include simple jumping or amateur gymnastics, Defy Gravity also uses it to introduce vertical feints to dodge-ball and volleyball matches and add a gently forgiving floor to fitness classes. A flexible support system reduces the impact of jumps on delicate joints and flawless high ponytails, while angled walls alleviate worries of falling off the sides. Trained court monitors stay ever-vigilant, making sure jumpers follow safety rules with complimentary helmets and ankle-support shoes and size-specific jumping zones.
When visitors call a ceasefire with gravity, they can check out a laser maze. Inspired by Mission: Impossible, the maze challenges participants to climb, duck, crawl, and shimmy through a 3-D web of laser lights. If they fail, a buzzer sounds and, somewhere, Tom Cruise begins to smile but doesn't know why.
10421 Portal Rd.
La Vista
Nebraska
402-934-3394
When it opened in the late 1970s, Fun-Plex enticed patrons with a single go-kart track. Since then, the park has accumulated a wealth of attractions, including a tilt-a-whirl, bumper boats, and Nebraska's only roller coaster. Kiddie Land accommodates youngsters with a mini coaster and express train; Wet & Wild Water Park soaks visitors with a lazy river, kiddie pool, and two five-story water slides every summer from Memorial Day weekend to Labor Day weekend.
After toweling off, guests can take to the 18-hole miniature-golf course to putt past water hazards, sand traps, and gophers on vacation. Visitors craving indoor fun can try their hand at pinball or Pac-Man in the arcade or wander through a haunted house during the Halloween season. When it's time to reenergize, patrons can choose from four restaurants with food ranging from carnival snacks to pizza and breadsticks.
7003 Q St.
Omaha
Nebraska
US
---