Things to Do in Champaign
---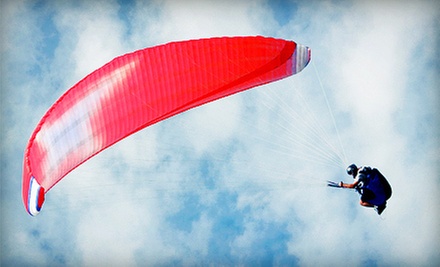 ---
Recommended Things to Do by Groupon Customers
---
Illinois Skydiving Center trains aspiring daredevils through a trio of tandem, static-line, and accelerated-free-fall classes. AFF classes teach solo skills under the direction of instructors and coaches who jump with you, teaching stability and proper deployment skills. Static-line progression jumps prepare sky mavens for the pressures of a solo career with an ascending series of jumps that impart the art of free fall. During tandem jumps, students are strapped to a certified instructor who pulls the cord and directs the movements of parachute as guests take in breathtaking views of the landscape, local tributaries, and central-state volcanoes before feet land safely on the ground.
1962 County Rd. 2500 N
Thomasboro
Illinois
217-841-8881
Chris and Pam Schmick had spent six months cleaning out the scrap metal from their abandoned silos and just finished drilling thousands of holes in its walls. With little time to spare, they prepared for their climbing gym's grand opening on September 2, 1995—a date on which they had already agreed to hold a regional JCCA competition. The effort they've expended in the nearly 20 intervening years shows: today, climbers scramble on top ropes, lead ropes, and more than 20,000 square feet of lava-free climbing surface.
Instructors prepare visitors to surmount the gym's features in a range of classes, such as Rock Gym 101, which is an introduction to top-rope climbing that covers climbing safety, basic technique, and equipment. Once climbers are equipped with gear from the pro-shop, staff shows them around a multi-level bouldering cave, a main climbing area with 30-foot walls shaped by arêtes, cracks, and waves, and the building's five original silos. Elsewhere inside the gym, six auto-belays safely cradle visitors who wish to climb without taking a class.
1304 W Washington St.
Bloomington
Illinois
From May until winter, the USHPA-certified instructors of Hang Glide Chicago spend their weekends accompanying passengers on tandem hang-gliding flights. Flight school sessions acclimate beginners to the sport before they board gliders, which are then towed into the air by a small plane. As flyers are released for their 2,500-foot free flight, they can steer their glider or let instructors guide the way as they take in the surrounding vistas. Students are welcome to bring their own cameras (wrist straps are recommended) or arrange to have their flight recorded by Hang Glide's HD-panoramic video equipment or their instructor's photographic memory. Flights take place from sunrise to sunset, and patrons can extend their experience by taking advantage of facilities that include camping grounds, bathrooms with showers, and a lake for kayaking or catch-and-release fishing.
3236 N 700 E Rd.
Clifton
Illinois
219-746-1480
---