Restaurants in Champlin
---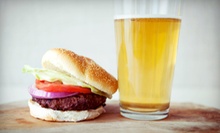 Burgers made from third-pound patties pair with a glass of Blue Moon, Coors Light, or other draft beer
---
Recommended Restaurants by Groupon Customers
---
Shawn Richardson and his hunting buddies were on a fishing trip, exchanging stories and admiring the natural beauty of Lake Superior when one of the fellas struck on a crazy idea. Fun as it was to traipse around the coniferous wilderness—he explained as his friends' rapt expressions held steady through intermittent bites of newly caught walleye—it seemed a shame that lake-fresh fish and wild game had to be wrested from the cruelly indifferent hands of nature. What if a person need only reach out a fork to enjoy nature's spoils?
Long after the trip had ended, that notion reverberated down the mental corridors of Shawn, himself a seasoned chef. Every time he joylessly cut a piece from a flavorless slab of frozen fish, or played an idle game of Oregon Trail it would return anew, like an unscratched itch. Finally, one morning—with resolve etched into his steely face—he said goodbye to his mounted yeti head, threw sand over the bonfire flickering on top of his living room coffee table, and strutted out the door to open up a neighborhood joint of his own, where he could serve fresh and local wild game.
Today, Woodsmans Gril's kitchens sizzle with 13 types of unique game, including elk, bison, walleye, and quail. Shawn smokes his the meats himself onsite, while conducting a kitchen staff as they prepare an innovative menu that has enticed the palates of ABC Newspapers. Servers carry the weighty plates out into the dining room, where Shawn's taxidermy mounts gaze down from brick walls, and color photographs of wild deer, flapping fish, and rugged escaped bank tellers adorn the tables.
1918 S 1st Ave
Anoka
Minnesota
US
763-323-6588
Described as an "unlikely savior" of a "decades-old bar," by the Star Tribune, retired research analyst Bob Rick took over when the former Bullwinkle's shuttered its doors in early 2011. After myriad updates to the kitchen and bar, Bullwinkle's reopened as Bullwinkle Saloon, a neighborhood pub that serves Coney Dogs alongside wings and full glasses of beer. A lineup of daily specials ranges from 33-cent wings to 400-cent buckets of Lucky IPAs.
1429 S Washington Ave.
Minneapolis
Minnesota
US
612-338-2855
Chefs at Copper Pot Indian Grill fire up clay tandoori ovens to bake yogurt-marinated chicken and prawns seasoned with carom seed and red-chili powder. The chefs pick recipes from different parts of India to feature the country's varied flavors, rotating their selections every four to six months, or whenever they complete a game of Monopoly. They stock a lunch buffet with fresh naan and pudhina paratha and maintain a well-rounded wine list with varietals from California, France, New Zealand, and Argentina.
10 S 5th St
Minneapolis
Minnesota
612-331-5577
The chefs at Hot Wok Delivery stir-fry Chinese and Cambodian dishes before whisking them to diners' tables or homes. During lunch and dinner rushes, they man flaming stovetops, sautéing chicken, pork, beef, shrimp, and vegetables to thread into noodle entrees and combination plates. Before meals fly from the kitchen, the chefs finish them with a quick splash of sauce, adding either sweet or savory notes or imbuing them with a fiery sauce spicier than a jalapeño's memoirs.
Although the red-walled dining room includes three booths at which customers can sit, the staff also delivers orders, shuttling food to family dinners or lengthy daguerreotype posing sessions.
12035 Hanson Blvd. NW
Coon Rapids
Minnesota
US
763-201-0777
---