Restaurants in Chandler
---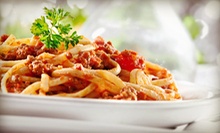 Italian restaurant specializing in classic dishes such as chicken parmigiana and baked ziti, along with less traditional items like gyros
---
Recommended Restaurants by Groupon Customers
---
The Tavern On Mill's 7,000-square-foot grounds, bar, restaurant, and open-air patio set the scene for long afternoons or nights of craft brew-fueled sports watching and feasts of Southwestern–inspired fare enjoyed over specialty cocktails. HD widescreen TVs⎯37 of them⎯entertain guests with all the major satellite packages plus video games. At tables, diners feast with relish on fish tacos, carne asada burritos, and jerk chicken sandwiches. All the dishes shine with little touches of Southwestern flair including lime and cilantro or the earthy notes of chipotle en adobo, and the restaurant's colorful decor boasts surfboards and tiki carvings to celebrate Arizona's well-established surfing and seafaring traditions. Two full-service bars deliver frosty glasses of craft and domestic beer, fueling friendly socialization on the two outdoor patios and energetic high-fives after memorable football plays.
404 S Mill Ave.
Tempe
Arizona
Long Wong's staff focuses on three things to create a pleasurable customer experience: mouthwatering pub eats, refreshingly frigid beer, and thumping rock music. The chefs cook up a well-rounded menu of pizzas and wings—tossed in sauces that range from spicy buffalo to garlic parmesan—as bartenders pour ice-cold beers and shake up cocktails while also adhering to the $1 fire drill, where anything on the bar is $1 for two minutes after a flashing fire truck passes by.
Also a daily music venue and the starting point of the Gin Blossoms, Long Wong's frequently hosts live bands, much to the chagrin of the dead but guitar-fluent Abraham Lincoln and the Top Hats. Crimson walls hide beneath rows of photos, posters, and paintings as the catchy tunes of local Tempe bands woo the hearts of locals.
1639 E Apache Blvd.
Tempe
Arizona
US
480-967-0167
For 18 years, David Fliger lived the life of an adman, traveling the world and eating fine foods. But inside the Thailand-born foodie lurked a restaurateur, a seed perhaps planted by his mother, Nicha, who also left a career in advertising to start a restaurant. Today, Nicha and David work together in the kitchen of Latitude Eight Thai Grill, named after a region in southern Thailand known for fresh seafood. This regional specialty is reflected in the menu's ocean-centric dishes, such as crab fried rice, grilled halibut, and garlic prawns. Servers stride from table to table, recommending dishes and wine pairings inside what Phoenix Magazine dubs a "modern and minimalist" dining room. The dark wood floor and tables serve as a stark contrast to the white banquettes and walls. Spotlights illuminate an oversized piece of art that's textured to resemble rolling waves or a wall made out of pasta.:m]]
11 W Boston St., Suite 5
Chandler
Arizona
480-722-0560
Pho Cao's menu is largely devoted to the eatery's namesake soup, a savory broth cooked with steak, shrimp, meatballs, and brisket. When not swirling in bowls of soup, those meats, along with fresh veggies and tofu, are plated with steamed rice, fried rice, or stir-fried tangles of noodles. Four stories of shelves loaded with liquors back up a bar stocked with more than 50 types of beer, and a small stage carves out space for diners to break from meals and belt out their favorite karaoke tune or national anthem.
710 E Gilbert Dr.
Tempe
Arizona
480-967-7617
Mediterranean Buffet's crew of chefs keeps the buffet table stocked with exotic treats from a number of Mediterranean-adjacent cultures. The culinary traditions of Spain, Morocco, Turkey, and Syria, among others, blossom from the kitchen's flames, where the team deploys time-honored recipes for lunch and dinner crowds. At the buffet, towers of fresh pita and naan can be dunked into pools of hummus and baba ghanouj, and Hellenic classics such as Greek salads hidden inside wooden horses accompany hot entrees into to bellies.
1575 E Camelback Rd.
Phoenix
Arizona
602-604-1800
Born from a vacant city morgue and an old pipe shop in 1929, Tom Higley's original burger joint and gin mill spent its existence harboring the discussions of local politicians. Today, having re-invented itself alongside an ever-developing downtown Phoenix, Tom's Tavern & 1929 Grill persists as a spot where governors, mayors, and city-council members meet to trade neckties and dine among their community. The menu of the modern incarnation lodges original recipes, such as the 1929 brisket chili, along with meats prepared using one of the eatery's modern additions—an in-house smoker. A black-and-white-striped canopy shades guests relaxing on the balcony outside, and inside, a spacious bar gives way to the dining area, which stretches back past black-framed photos of some of the tavern's esteemed visitors.
2 N Central Ave., Suite 102
Phoenix
Arizona
602-257-1688
---