Chanhassen, MN Indoor Activities
---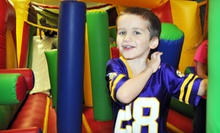 3,600-square-foot play center houses ball pit, inflatable obstacle courses and bounce houses, and air-hockey tables
---
Recommended Indoor Activities by Groupon Customers
---
At AirMaxx, age really does become just a number. Here, adults and teens giggle and frolic alongside their kid counterparts, channeling the unbridled energy stores from their youth years. The indoor facility houses multiple lanes of trampolines, which each incline into a slope at their trail's end, waiting to propel bouncers into spectacular flips and aerial tricks. The staff members readily teach jumpers a host of impressive moves, educating them in both awesomeness and safety. In addition to family-friendly open-bounce times, the facility dedicates late Saturday nights to teen dates, filling the space with lower lights, louder music, and more regrettable haircuts. They also host an Extreme Dodgeball league during which competitors face off on the bouncy surfaces and avoid blazing tosses with impressive aerial stunts. During Maxxercise classes, the trampolines transform into workout havens as instructors lead sessions that combine aerobics moves with high-flying fun.
3900 Roosevelt Rd.
St. Cloud
Minnesota
320-281-5599
Debut feisty kicks and perfect punches learned from using today's Groupon and dazzle fellow holiday partygoers into a standing ovation. For $35, new students can get one month of unlimited classes in martial arts, self defense, kickboxing, and more at Minnesota Kali Group, a state-of-the-art, multi-level, martial arts multiplex that will not only teach you the skills to enter a Mortal Kombat tournament, but also teach you why you shouldn't.Follow @Groupon_Says on Twitter.
4532 Chicago Ave S
Minneapolis
Minnesota
US
Pilates is fast becoming the number-one exercise in America, right after walking and cow tipping. Join the craze with today's Groupon, which gets you five Pilates mat classes for $35 at Alotapilates, a $100 value. The certified instructors at Alotapilates have been shaping bodies, attitudes, and adorable clay ashtrays since 1997. Mat classes are offered on Monday, Tuesday, Wednesday, Thursday, and Saturday at convenient morning and evening times, so it's easy to slip in a workout before work or after a long day of bow hunting. Check out Alotapilates' class schedule for class times and call ahead to schedule your class. The neighbor's dog has eaten all of your prized flowers: Don't fly off the handle and create a rift between you and your neighbor that no amount of friendly fence talk and accidental-mail exchange can heal. Simply compromise by asking his dog to marry you. The bonds of matrimony will be even stronger than those of pet ownership, and soon the phrase "that filthy mutt is tearing up my flowers" will be replaced with "my lovely spouse is working in the garden." Congratulations!
6418 W Lake St
St Louis Park
Minnesota
US
Discover your inner Davy Crockett with today's Groupon. For $5, you get admission to the 40th Annual Minnesota Sportsmen's Show any day from Wednesday, January 13, through Friday, January 15, at the Saint Paul River Centre. Gawk at great outdoorsy goods (RVs, motor homes, travel trailers, fishing boats), attend free fishing and hunting seminars, plan your next excursion, and witness a water-skiing squirrel purchasing a motor home.
175 W Kellogg Blvd
St Paul
Minnesota
US
---