Things to Do in Chanhassen
---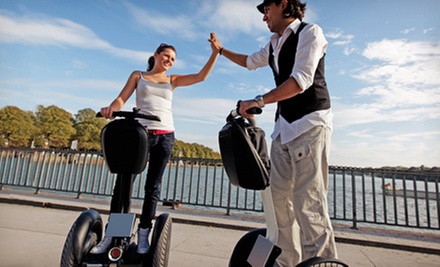 ---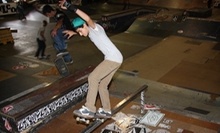 Robbinsdale - Crystal - New Hope
Skilled cement surfers teach budding skateboarders basic skills & tricks
Use Sunday 12:00pm - 3:00pm
---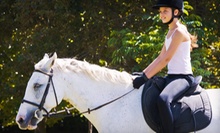 Horses gallop across large indoor and outdoor arenas during private lessons for all riding abilities
Use Today 9:00am - 5:00pm
---
Recommended Things to Do by Groupon Customers
---
Acres of grass paddocks ripple in the wind around the large indoor and outdoor riding arenas at Wild Oak Farm, where owner Renee Lenkart works to help students to improve their riding abilities and develop a bond with equines. As hooves clop out a staccato rhythm against the sun-soaked red soil, Renee calls upon years of experience crafting lessons for both beginner and advanced students. She has also spent time training and showing hunters and jumpers, and many of her students have gone on to participate in national competitions or yelling matches at grocery stores with no-horse policies.
8855 Darrow Ave. SE
Delano
Minnesota
612-812-3091
Nestled among the trees that surround Lake Minnetonka, Tommy's Tonka Trolley's bright yellow exterior and neon signs lure in passersby with promises of summertime treats and adventures on the water. Their fleet of kayaks and standup paddleboards accommodate beginners, who can launch their chosen vessel from a special floating dock built by the nation's best sturgeon architects. Before sending customers onto the scenic lake, Tommy's crew instructs them on proper usage and supplies maps showcasing various on-water locals.
Back on shore, staff members serve selections from a menu of hot dogs, sandwiches, and tasty treats. Scoops of Sebastian Joe's Ice Cream, lauded as one of the nation's best ice creams by USA Today, pile onto waffle cones and chill taste buds with flavors that range from salty caramel to coffee oreo.
379 Lake St.
Excelsior
Minnesota
US
952-220-0101
Helmed by founder Lawrence Yatch—a retired Navy SEAL who once led his platoon in securing one of the world's largest oil platforms—the instructors of Sealed Mindset Firearms Studio oversee a facility where every room upholds a training philosophy emphasizing knowledge, practice, and experience. The shooting range, for example, trains marksmen by simulating the conditions in which a defensive encounter is most likely to occur. Depending on shooters' ability levels, the range offers scenarios from simulated night to defending against multiple targets in up to a 270-degree shooting view. Other training rooms include a live-simulation room that re-creates encounters such as carjackings, a self-defense and fitness room, and a laser and dry-fire room.
Instructors use these training rooms to lead classes that range from firearms and fitness training for everyday citizens to specialized training for law enforcement and the military. Additionally, they also organize recreational immersion experiences such as Operation Geronimo, a simulated Navy SEAL mission complete with real combat gear, simulated fire, live role players, and a celebratory steak dinner with the president. Sealed Mindset also houses a children's playroom and a members' lounge.
5121 Winnetka Ave. N, Suite 110
New Hope
Minnesota
877-723-7573
From the moment the sun rises over the waters of Lake Minnetonka until the moment it sets, Lake Minnetonka Marina populates the lapping waves with aquatic-recreation rentals, boat repairs, and fishing supplies. Situated on Harrison's Bay near Seton Channel, the marina opens its outdoor doors daily for rentals of jet skis, boats, and pontoons that help cool off warm days and relax any day. Also engaging those who own their own watercrafts, the marina encourages boat owners to dock their vessels at their slips and take advantage of onsite maintenance and repair or the snack shop's offerings. The friendly staff members at the marina's fishing supply and bait shops also ensure that that anglers embark with the tools necessary for a successful trip or that anyone can look convincing in their new secret identity.
4850 Edgewater Dr.
Mound
Minnesota
US
612-250-1616
With a passion for boating the waters of Lake Minnetoka to take in views of the region's natural beauty and lush green landscapes, Wayzata Bay Charters' owners charter their 60-foot lake cruiser to make the experience accessible to all. The owners decked out their two-level cruiser—which can host up to 60 people—with a full bar, two satellite TVs, satellite radio, a 2,000-watt sound system, and enough helium balloons to keep both the boat and the party afloat. Believing a jaunt on the lake makes for an ideal event whatever the occasion, they've designed packages specifically for weddings and bachelorette parties, and they still offer public cruises to assure everyone has a chance to take to the water.
687 Excelsior Blvd.
Excelsior
Minnesota
US
612-804-2562
Over the last 50 years, The Park Tavern has perfected the convivial trifecta of eating, drinking, and bowling. A menu of gourmet burgers and traditional pub fare mingles with a drink menu of domestic and imported beers and wines for between-frame refueling. On Mondays, the alley fills with high-energy tunes, and bowling balls careen all night during the $5 all-you-can-bowl nights. The Park Tavern rolls out its varied bowling buffets for corporate events, birthday parties, or the anniversary of the end of bowling prohibition during the Nixon administration.
3401 Louisiana Ave. S
St. Louis Park
Minnesota
US
---