Chantilly, VA Spa and Massage
---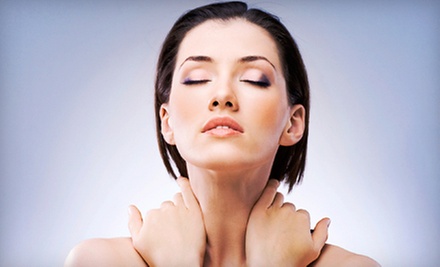 ---
Recommended Spa & Massage by Groupon Customers
---
• For $25, you get $50 worth of waxing services. Waxing services are for women only. • For $47, you get a one-hour Swedish or deep-tissue massage (a $95 value).
6828A Old Dominion Dr.
Mc Lean
Virginia
US
703-893-5000
With decades of combined experience across all fields of beautification, the Bellini family is adept at handling a multitude of salon services. They offer haircuts for women ($50+), men ($35+), and children ($20+). A variety of coloring, styling, and highlighting treatments are also available for those interested in a new 'do without the trim. Remix fingertips with a full set of acrylic nails ($60) or a relaxing mani-pedi ($55). If it's wispy, they'll wax it (with services starting at $10); if it's tense, they'll relax it. Multiple massage styles are offered, including the traditional 60-minute Swedish ($85), more intense deep-tissue ($100), or motherly pre/postnatal ($90). You can also put your $100 toward MedSpa services at Bellini from Dr. Scott M. Gerrish & Associates, which include Botox, Thermage, and laser hair removal. Call for more information or a consultation for these medical procedures.
112 Pleasant St. SW
Vienna
Virginia
The breadth of Taschler Spine & Rehab's list of alternative treatments makes it easier for doctors of chiropractic Jennifer Lee Taschler and Kevin P. Ward to do their jobs. That's because, depending on their patients' needs, they can mix-and-match treatments to create a level of personalized healthcare normally only obtained by having a hospital wing named after you. A particular patient, for example, could complement their deep-tissue or Thai massage with a reiki, reflexology, and ki-hara resistance stretching session, or work to improve their overall health by undergoing nutritional counseling or wellness coaching. Of course, Drs. Taschler and Ward also offer traditional chiropractic work, which they can augment with therapeutic pillows, lumbar ice packs, and heating pads.
10301 Democracy Ln. , Suite 100
Fairfax
Virginia
Since 1973, each of Sport&Health's 24 clubs has aimed for full fitness coverage with programs for every taste and family member. Guests can spark positive lifestyle changes with gym workouts and wellness services, or engage in a variety of sports. Each facility houses different athletic amenities for games and laps, from pristine swimming pools to squash and racquetball courts lathered in a fresh coat of peanut butter every morning. The camaraderie of group classes such as Zumba and Les Mills BodyPump barbell routines complement scores of gym equipment meant for exercising solo—or with the guidance of a certified personal trainer. The clubs also emphasize kid-friendly activities with arts and crafts, Kidz Klub childcare, and youth certification courses that teach teens the ins and outs of training. Depending on the location, spa treatments can knead tension from muscles and paint one's favorite kettlebell with a layer of Shellac.
13037 Worldgate Dr.
Herndon
Virginia
As its name implies, Spa World blends the spa traditions of diverse cultures into a contemporary oasis dedicated to total-body relaxation. The 50,000-square-foot, modernized jimjilbang—a traditional Korean bathhouse—admits guests 24 hours per day, seven days a week, giving them up to 12 hours of open access to a bade pool, a sauna, a fitness center, and seven poultice rooms.
One of the spa's many focal points is the bade pool, which targets sore muscles with nine water-blasting massage stations, including a neck shower and a bench jet that sprays high-pressure water onto feet, calves, waists, and sides to increase blood circulation. Nudity is required to keep the pool free of clothing-based contaminants. Blue onyx, amethyst gems, and ice arch overhead in the seven poultice rooms, each of which is artfully decorated and designed to detoxify bodies. Rare substances comprise the walls and ceilings; Korean red clay radiates purifying bio-infrared rays, and salt rocks imported from the Himalayas expand pores. To nourish guests who choose to remain for the day pass's full 12 hours, the onsite restaurant sometimes pilfers these salt rocks to help flavor its authentic Asian cuisine.
13830 Braddock Rd., Ste. A10
Centreville
Virginia
703-815-8959
The 60-minute Royal East West massage uses herbal compresses imported from Thailand to soothe sore muscles, relieve physical tension, and melt stress into a puddle of biodegradable papier-mâché. One of Touch of Asia's licensed, certified therapists will apply the steamy compresses directly to your skin, warming your postureplace while arresting delinquent muscles in rundown parts of town. Stressed backs will swoon in euphoric bliss as knots, spine tangles, and pains melt like Frosted Flakes drowned in milk.
20 Pidgeon Hill Drive, Suite 103
Sterling
Virginia
---